American CockyBoys Gay Porn Star, Zak Bishop
Years Active: 2016 – 2020
COCKYBOYS INFO:
Zak Bishop is the type of guy you can tell has a lot of stories behind those beautiful blue eyes. He's young, but he's lived quite a life so far. Originally from a small town in the midwest, he grew up just like any typical gay teenager. Shy at first, he gradually learned to love himself and came out in high school where he first experimented with other boys. A few short years later, he made his porn debut at CockyBoys with Caleb King, showcasing his impeccable body, beautiful tattoos, and of course his skills as both an aggressive top and a hungry bottom.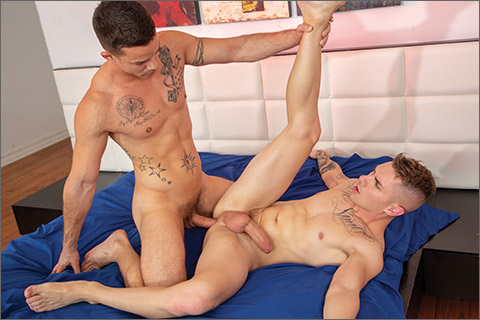 THE PLEDGE: Nic Sahara fucks Zak Bishop
Nic Sahara wants Zak Bishop to sponsor him to the fraternity, but Zak isn't willing to do so without some favors in return. Zak clearly has the upper hand with Nic and is going to take advantage of the pledge's offer to do anything it takes to get Zak's help. Having Nic's cock fill every hole bareback is Zak's sole desire. Nic quickly obliges by pulling it out, and Zak drops to the floor and takes Nic's big, uncut dick in his mouth. Zak works the big cock with his mouth and tongue getting the college stud hard as a rock before hopping on Nic's dick to ride it raw. Zak's love of cock kicks in even harder when he decides to let Nic have complete control and rolls over onto his side. Nic slides his bare cock into Zak once again and pounds the young frat guy's ass hard, making Zak yell out with each thrust from his thick, raw cock. Nic keeps drilling Zak's prostate and flips him onto his hands and knees to continue the relentless pounding. Nic doesn't stop until he's ready to blow and pulls out to blast his load on Zak's balls. Nic sticks his spent dick back into Zak's used hole and fucks the cum out of Zak, leaving the hunk covered. Will the hardcore fuck and a load up Zak's ass be enough for Nic to win his pledge?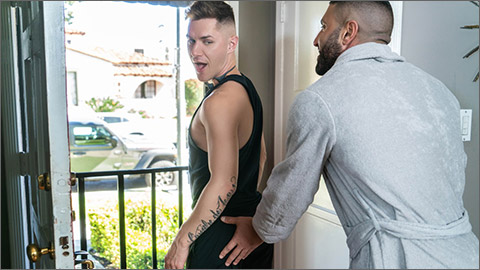 WORKING UP A SWEAT
Sharok tries to get some work done while his man, Zak Bishop, goes outside for a workout, but the sight of Zak's toned body sweating right outside the window is too distracting! When Zak comes back inside, it's Sharok's turn to work up a sweat as he sucks Zak's cock and eats his ass, then plays with Zak's hole while the bottom sucks his cock. Sharok gets his muscles pumping as he pounds in and out of Zak's pert ass in doggystyle, then Zak rides his man's big cock. The guys cool down with some spoon and Sharok fucks Zak in mish till the bottom cums, then pulls out and adds his spunk to the mix. Time to hit the showers!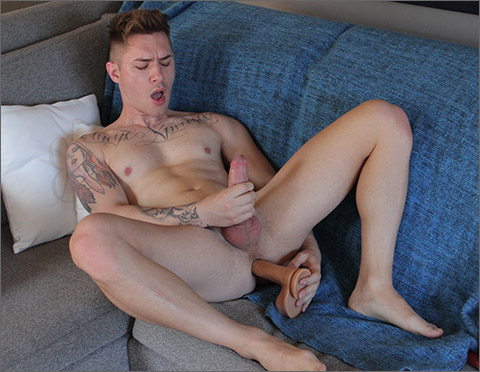 ZAK BISHOP BADPUPPY SOLO
Zak Bishop just turned 28 and he's looking hotter than ever. Zak identifies as gay and is currently single but actively looking to find that special someone. He stands up, pulls his shirt off and begins explaining his different tattoos and why he has them. He's got a nice lean body and is not too over-covered with tattoos. He quickly rips off his shorts and underwear. His cock is already completely stiff and standing straight up. Zak grabs his thick cock and starts jacking it. I'd swear his dick grows longer the more he jacks it. Zak turns around, bends over the sofa and spreads his ass so that Anthony can zoom right in with the camera. While we get an up-close view of Zak's sweet, tight hole Anthony tells Zak to look behind the pillow. Zak pulls out a dildo that's just as long and thick as his own cock. He wastes no time lubing up his new-found toy and it magically disappears right up his ass. Zak begins pushing the dildo in and out of his ass, moaning each time the toy hits that magic spot deep inside him. Zak lays back on the sofa and this time he starts jacking his cock while he continues fucking himself with the dildo. It's not long before Zak's nuts all but disappear and you can tell from the look on his face that he's about to lose it. With a long, deep moan and some heavy breathing Zak blows a thick load of creamy white jizz all over his chest and abs. Guess he knew how to work that dildo in his ass and now we know why he was nominated by GayVN for "Best Butt".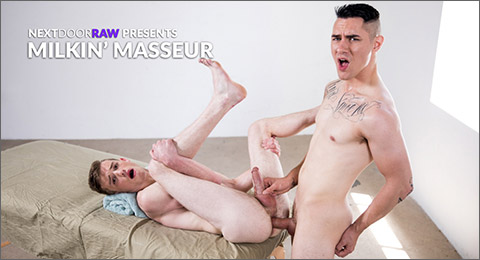 MILKIN' MASSEUR
Naked and stretched out on the massage table, Zak Bishop has Scott Finn right where he wants him. With Scott laid out, Zak has free reign to do whatever he wants to the perfect body in front of him, and as he begins to run his hands up and down Scott's body, both guys begin to get super horny. Reaching through Scott's legs, Zak fingers Scott's hole before slowly milking his cock as it hangs down. Scott's dick is rock hard as Zak plays with hit, before sinking his face into Scott's ass and tongue fucking his hole. Scott can resist no longer, so Zak flips him around and bends him over, plunging his raw cock deep into Scott. He pounds Scott from behind and Scott moans with pleasure. Not wanting to deprive Zak, Scott lets him have his fill before they switch places, and now Scott slides his half-milked cock into Zak. Zak proves to be even more adept at receiving than he is at giving, and he takes Scott's dick to the base as Scott pounds the cum out of him. Zak rides Scott's cock until he's ready to spit, launching his load all over Scott's chest just as Scott pulls out and blasts Zak's freshly fucked hole, coating him in cum as the two of them fall exhausted onto each other in a fit of sweaty, sticky laughter.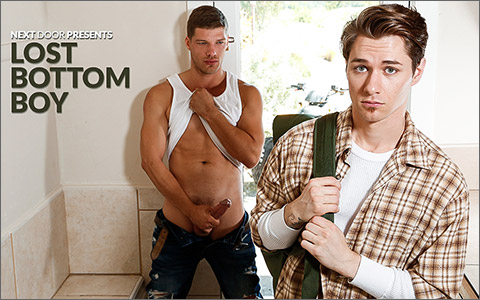 LOST BOTTOM BOY
As Bridger Watts tends the land one sunny afternoon, he spots what appears to be a vagabond drifter on his property, sneaking over by the barn. Inspecting the situation, he discovers a young and somewhat frenetic Zak Bishop trying to flee. After catching up with him, Bridger finds out that Zak is a runaway in need of some basic care. Figuring he can help out a stranger, Bridger offer the youngster a hot shower and a warm meal, but before Zak can indulge, Bridger lets him know that he expects something in return. Zak asks him if he can do some work around the farm, but Bridger has an idea for Zak to do some work in another area, as he unzips his pants and unfurls his giant cock, telling Zak to wrap his pretty little lips around it. Though he might not have any experience milking a cow, Zak shows immediate talent at sucking a cock bone dry, deep throating Bridger's raging hard on and gagging himself with it. Bridger is one kinky farmhand, and Zak's young body has him all worked up, so Bridger pushes him against a counter and returns the favor, slowly sucking Zak off as he massages his balls in his hands. Zak tells Bridger he's about to cum, but Bridger isn't even close to being finished, so he turns Zak around and proceeds to tongue his asshole, getting it nice and moist for Bridger's plow to do some work. Shoving his cock into Zak, the young runaway lets out a small gasp of pleasure. Having never felt a real man, Zak closes his eyes and takes in every inch, as Bridger fucks him every way possible, and as Bridger hovers above him, pounding him out in missionary, Zak loses his load all over his chest, exploding in a mess all over the bed, as Bridger pulls out and soaks him with his own load, before telling him to get cleaned up before the evening supper.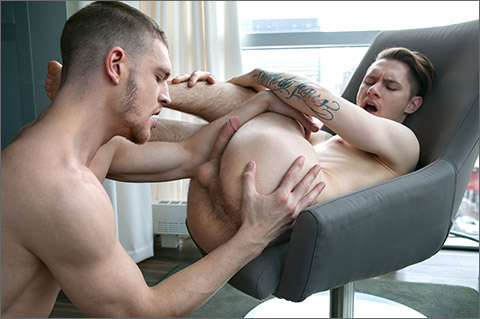 CALEB KING & ZAK BISHOP FLIP-FUCK
Zak Bishop is brand new to porn, and we're grateful he's chosen CockyBoys to make his big debut! While he may seem like a sweet, boy-next-door kind of guy at first, he proved to quite literally flip that perception on its head when he and the notoriously brutal top Caleb King flip-fucked!
   Everybody knows that a fuck from Caleb is not for the faint of heart, and at first it seemed like Caleb was going to initiate Zak as a sledgehammer top the whole way through. After they exchanged blowjobs, Caleb got to work on Zak's nicely rounded ass, rimming him before sliding his cock inside and fucking Zak doggy-style. And Zak was loving every thrust — the sound of Caleb's pelvic area smacking Zak's ass in shockwaves must have been going at ten times a second.
   But since Zak explained earlier he's a 50/50 versatile kind of guy, he decided it was time to take on Caleb's eager ass. He pounded him in the same position — taking a slightly gentler approach — and Caleb was in pure heaven. You'd think they would have flipped again and Caleb would reign as the top as they reached climax, but surprisingly, Zak positioned Caleb on his back and fucked him face to face until they both shot huge loads. While he might be a pup in training in the porn world, Zak sure proved himself a fast learner when he became the one initiating the already initiated!
CLICK HERE TO GO TO HIS NEXT DOOR STUDIOS DETAILS
CLICK HERE TO GO TO HIS COCKYBOYS DETAILS
VIDEO ON-DEMAND: Zak Bishop @ AEBN SMUTJUNKIES THEATER
DVDs & ON-DEMAND: Zak Bishop @ TLA VIDEO