Hung & Uncut, Black Gay Porn Super-Fucker, Cutler X
Known Aliases: Cutler, Cutter X, CutlerX
Years Active: 2004 – 2023
Produced by: Mr. Hankey
Year Produced: 2019
MR. HANKEY'S TOYS: CUTLER X REALISTIC LIFE CAST DILDO
The CutlerX was developed using Hankey's Toys very own proprietary lifecasting methods and was casted directly from CutlerX's very own massive member, capturing even the smallest detail. You may have seen CutlerX in the movies, destroying asses with no mercy! Now you can have every inch of CutlerX in your own bedroom, going balls deep and making YOU beg for mercy! This toy captures every actual detail from CutlerX's penis; you can see every vein and every wrinkle, even the skin texture! We are very proud to be able to partner with CutlerX on this toy and are overjoyed with the results! If you like realistic toys, it does not get any more realistic than this, this is the most realistic toy on the market today!
Specifications:
THIS TOY IS ONLY AVAILABLE IN DEEP BROWN COLOR
Specifications:
Color: Deep Brown ONLY
Circumference around head: 7.75″
Circumference near middle of shaft: 8.25″
Circumference near base: 8.50″
Overall length: 13.25″
Insertable length: 11.25″
Texture: Realistic Casting
Strapon Ring Size: 2.50″ or 3.00″
Hankey's Toys offers the internet's finest sex toys and dildos, and we've got the goods to prove it. From extra small to giant dildos, realistic or fantastic, you're bound to find something new to reinvigorate your sex life with. Thrill your partner in mind-blowing ways with realistic dildos or explore the truly exotic. Mr.Hankey has the goods in a wide range of sizes to pleasure all bodies.
GO TO: MR. HANKEY – BEST SEX TOYS IN THE WORLD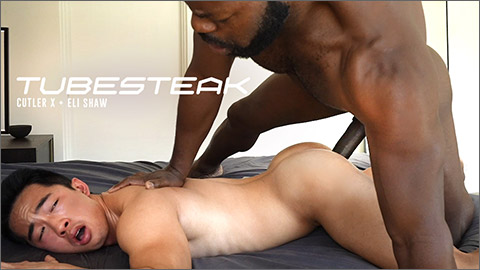 TUBESTEAK: CUTLER X + ELI SHAW
You know you fucking want that meat. Long AND thick – YOU NEED IT. Eli sure does, this guy is insatiable and will never say no. He loves to get fuck and Cutler X loves a sexy well used boy. Cutler will provide you will all the nutrition all the nutrition you need Eli. Let him wreck your throat before he REAMS OUT YOUR ASS.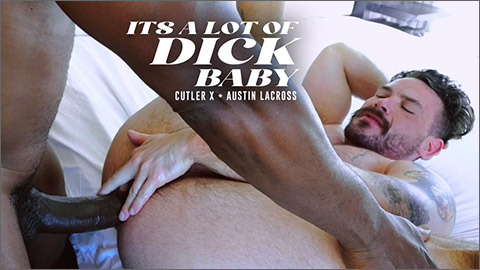 ITS A LOT OF DICK BABY: CUTLER X + AUSTIN LACROSSE
Austin Lacrosse is everything you could want in a guy. Strong, confident, perfect body and a complete pig. Did we say FUN? He loves being the center of attention, you will love him for it. Cutler is smitten when they meet and the two have instant chemistry so Cutler goes down on his hole. Give the people what they want right? Austin was a little nervous but as soon as Cutler gets in balls deep ITS ON. Austin is an animal and wants more and more and MORE. His legs shake, hes laughing, he even rides Cutler like his life depends on it! Cutler wants to know if we can keep him..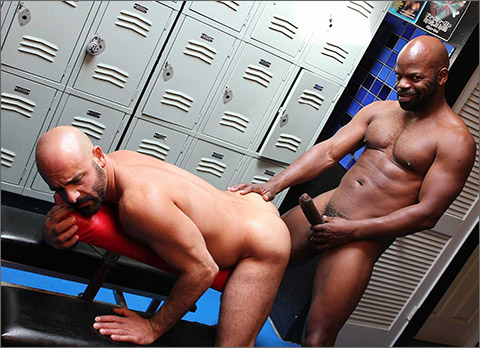 CUTLER X BREEDS ADAM RUSSO
They said it would never happen, but it did. Cutler X finally come over to do bareback porn and who better to pair up his massive uncut cock with than Adam Russo. Adam was ordered to his knees in the locker room to start swallowing Cutler's huge cock and deep throat the fucker until he was satisfied he did a good job. Cutler just wanted to start barebacking his first hole on film so didn't waste time to bending Adam over and shoving his raw cock in that hole he knew could take it. Adam was moaning so loud it shook the lockers. Cutler showed no mercy and fucked Adam senseless. We had to carry Adam out when it was all over – he couldn't walk off the set!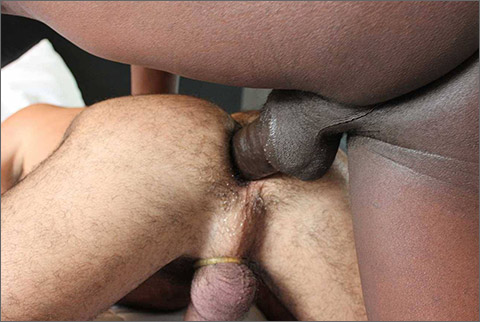 ADAM RUSSO TAKES CUTLER X UNCUT COCK RAW
Dropping to his knees for huge black uncut cock is the norm for Adam Russo. He hadn't seen his boyfriend Cutler X in over a week and when he did Adam got to his knees and power sucked that black monster until it was rock hard and ready for some serious bareback fucking. Adam then thru his ass up in the air for his daddy and let him abuse that slut hole any which was he wanted. Adam knows how to please a big black cock and does what he is told. Cutler punished that hole good with his uncut monster and made sure it was plugged deep!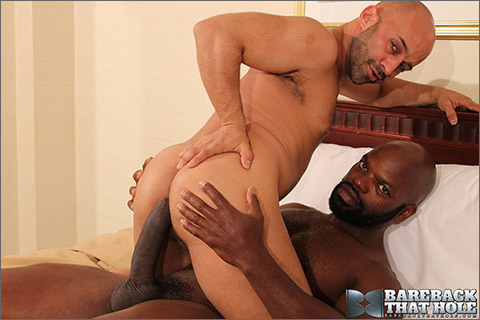 CUTLER X BREEDS IGOR LUCAS
CutlerX crosses over to bareback porn and makes his raw debut on our site with self declared bottom and longtime favorite, Igor Lucas. Passionate, scandalous, and extremely verbal this scene has all the makings of a fantastic fuck session. Igor is humbled by the size and girth of Cutler's massive cock but wastes no time getting on his hands and knees to service his throbbing tool. Rock hard and standing at full attention, Cutler's cock bounces and dances as it waits to plug his eager hole. Igor is only too willing to take on the challenge that is Cutler's 11×7 uncut shaft. He is poked, prodded, and fucked intensely as Cutler showed little mercy while using his bare butt…It was any wonder that Igor could stand up or even walk off the set. The stellar performances by both studs will keep you hard, horny, and absolutely amazed.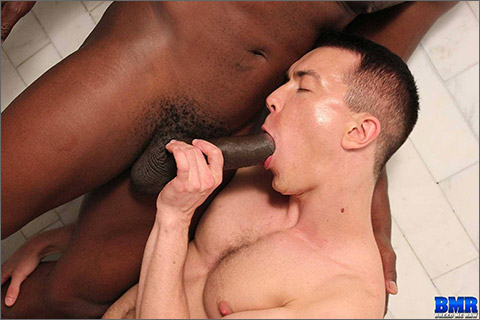 CUTLER X BREEDS DAVID LAMBERT
David Lambert was trying to get a nice relaxing warm shower in before heading to work but it was kinda hard when Cutler's huge black cock was rubbing his ass cheeks. So David felt he had to choice to start sucking that fucker in the hopes he would get to ride it before work. It didn't take long for Cutler to start shoving that bad boy up that slut hole raw and making David his little bitch!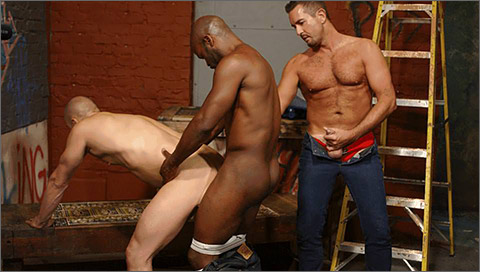 FISTICUFFS: Cutler X (top; anal & fist) Rik Jammer (bottom; anal and fist), Christophe Keller (top; fist), Nick Savage (top; fist / bottom; fist / self-fisting)
Rik Jammer returns in scene 4 and drops to his knees to service the unbelievable mammoth black dick of Cutter X. This has to be one of the biggest cocks in the business but Jammer, true to his name, manages to get every last inch of it jammed in his mouth. With his nose in the stud's black bush, Jammer's eyes begin to water – and his hole begins to twitch. Cutter moves behind him and begins to tease his ass with the monster meat. Rik's hungry hole opens up immediately and devours the 11-incher to the balls. Cutter pulls the cock all the way out of his ass and slams it back in repeatedly.
   Christophe Keller shows up and makes out with Jammer as he continues to get pummeled. Next, Jammer rolls back and lets Keller put his hand in him while he feasts on Cutter's giant cock. The two studs continue to stuff Jammer from both ends, occasionally leaning over to suck his throbbing cock. Nick Savage shows up and adds yet another hot muscle-butt to the mix. Christophe moves over to the newcomer and drops his hand in with no resistance, just one big slopped-up wet hole. The two bottoms lay back side-by-side as their respective owners take charge of their holes. The filthy action continues as Christophe sprays Rik down with a hot stream of piss.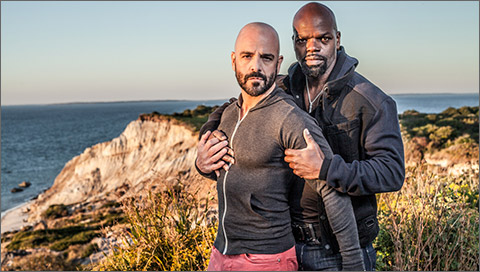 REAL COUPLES BAREBACK: Cutler X fucks Adam Russo
Adam just found out he's being cheated on and the trust he had in Cutler is broken. Trying to make up, Cutler leans in to kiss his resistant partner but Adam isn't ready to forgive him. Not wanting to throw their life away, Cutler needs to convince his love he wants him back.
   Trying to shift blame, Cutler brings up Adam's habit of making out with other guys at bars. Adam argues it's not the same, and doesn't want to forgive, but Cutler's insistent, passionate kiss works. They embrace, pulling off each other's shirts, Cutler kissing Adam's hairy stomach and nipples. Cutler pulls off their pants, and Adam takes the girthy black dick before him into his mouth, stroking the extra length with his hand.
   They 69, Cutler playing with Adam's balls before licking his ass, wetting down his hole, before slowly working his thick rod into his ass, bareback.
   Raw fucking Adam's ass deep, his hole is worked out to the max as the whole girthy length disappears into him. Cutler pulls Adam on top, his slick dick pushing into him from another direction. Adam rubs Cutler's ebony chest as he grabs his firm ass cheeks, plunging his cock deep into him.
   Cutler cracks a big smile, knowing the pleasure he's bringing his boyfriend. Cutler fucks him sideways, his thick cock sliding in and out of him as Adam jerks his cock. Cutler slows down the pace as Adam is about to come, teasing him. Picking back up in intensity, Adam's eyes roll into the back of his head as he's pounded out. Adam responds with a mix of pleasure and pain, the large cock almost too much for him, but bringing him closer and closer to the edge.
   Adam's whole body spasms with the release, unloading onto his stomach. Cutler and Adam make out, Adam's hand caressing Cutler's thigh as his boyfriend blows his big load all over his ebony stomach.