Lean Handsome American Gay Porn Star, Nick Fitt
Known Aliases / aka:
Years Active: 2018 – 2020
WEB SITE INFO:
Height: 6'1″
Position: Versatile
Size: 8 1/2″ Cut
Nick Fitt is a Public Figure, Porn Star, and Influencer who has a deep concern with fighting HIV and ending stigma through PrEP advocacy. Nick is a NASM certified personal trainer who specializes in body transformations and lean muscle mass gaining. Nick re-launched his Adult Industry career after a 10 year hiatus and is back on the scene. Nick has recently launched an athletic clothing and sexy underwear line to bring out your best features whether on a shoot or in the gym. Nick Fitt is somebody who can help change your life and entertain you online…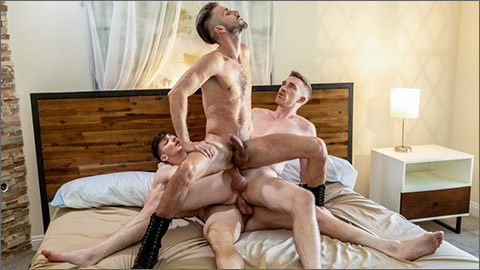 UNCLE RANDY – THE THIRST IS REAL: Nick Fitt, Michael Jackman, Ian Frost
When these three men aren't satisfied with each other and want more, the thoughts and feelings become too much to handle, so they have to take care of each other. Big dicks are coupled with tight throbbing assholes, hungry mouths, deep throats, train fucking, Eiffel towers and blistering cum shots. Award-winning performance by all three.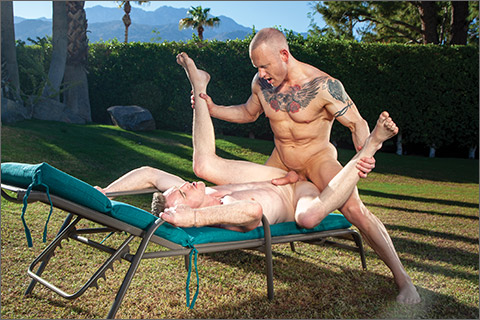 GET WET: Aaron Savvy fucks Nick Fitt
Aaron Savvy is out lying by the pool taking in the sun when Nick Fitt gets in the water. Nick can't seem to get Aaron's attention, so he throws water on the sunbathing stud. It gets the desired result and Aaron joins Nick in the pool. Nick goes down for an underwater blowjob that gets Aaron revved up and ready for more. Aaron carries Nick out of the pool and puts him on a lounge chair before taking Nick's long hard dick in his mouth. All the action is driving Aaron wild and he takes it to the next step by rimming Nick's tight ass. Aaron gets it nice and opened up before he slowly slides his hard dick into Nick's waiting hole. Aaron builds to a frenzy as he fucks his buddy faster and harder. The studs switch it up and after riding Aaron, Nick mounts up for a final run. This time there's no holding back and Aaron pounds Nick's ass until Nick blows a geyser of thick creamy cum. When Aaron sees Nick's load, it pushes him past the point of no return, and he pulls out to shoot his load all over Nick's eager face.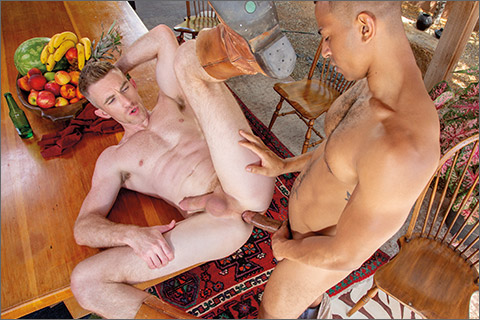 BAREBACK RANCH: Zario Travezz fucks Nick Fitt
The road to 'Bareback Ranch' is a happy trail, with Nick Fitt and Zario Travezz goofing off with a bit of innocent horseplay in the desert sunshine. Before long Zario's shirt comes off and he manhandles Nick, slinging him over his shoulder like a sack of potatoes and carrying home his prize. Back at the ranch, some ice-cold bottles await these two horny wranglers, who break open the brewsky to beat the blazing heat. Zario lets a gulp of beer trickle cool and damp down his pumped chest and rippling abs onto his raging boner, as Nick kneels and slurps up every drop. It doesn't take long till Zario is getting Nick's hole wet and ready for his unforgiving cock, then riding him raw and rough.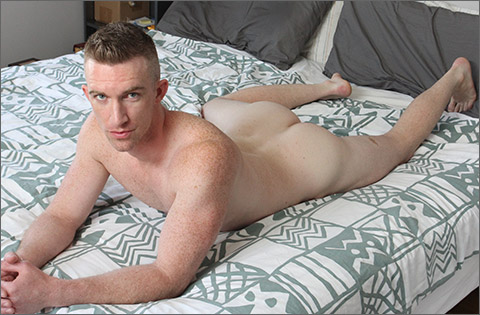 NICK FITT SOLO
Nick Fitt has the most outgoing personality to go with his extremely hot body. He works by day as a fitness trainer and when he's not helping others look hot he is working on himself. After a brief interview Nick kneels up on the bed, strips off his shirt and slowly pulls down his shorts. He massages his pecs and abs allowing his hands to slide beneath his shorts. Obviously already turned on, his cock appears to be rock-hard and creates quite the bulge in his underwear. He pulls down his underwear and his cock pops straight up. He grabs his big ol' cock and begins jacking its entire length. Nick lies back on the bed, pulls both legs up exposing his tight hole. His fingers begin probing his hole as he continues jerking his big, thick dick. All worked up and ready to blow, he rolls back over on the bed and begins pounding intently on his cock. In short order Nick is breathing deeply, his entire body tightens and he lets go with a load of creamy jizz which coats his cock, balls and six-pack.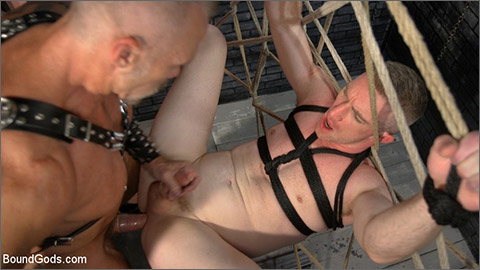 NEW TO KINKMEN NICK FITT GETS DOMINATED AND FUCKED BY DALLAS STEELE
New to KinkMen, Nick Fitt is a cute blond fucktoy, ready for whatever heavy hitting that KinkMen and Dallas Steele can dish out. First, Nick is bound with his hands behind his back, as Dallas uses and abuses his body however he pleases. He inspects his toy, front and back, peeling him out of his rubber shorts, sucking his hard cock, and eating and slapping his sweet ass. Nick's puckered hole is so hungry for cock that even a mess of hot wax all over his ass can't stop Nick from begging for it. But before he can get cock inside him he has to prove he's ready for it. He's blindfolded and bound to a web of rope while Dallas flogs him, then plugs him into a fucking machine that opens up that hungry hole. Dallas climbs up on the web of rope and slides his huge hard cock into Nick's throat, making sure he knows what he's getting himself into, and what his ass is in for. Finally, Nick is put into a makeshift rope-sling with his wrists bound above his head and his legs spread wide, so Dallas has easy access to that round, fuckable ass. Dallas pushes into Nick easily as Nick opens wide to take that huge cock. Nick can't contain himself with this big muscled stud on top of him, fucking his ass deep and hard, so he blows his load all over himself. But Dallas isn't done with him yet. He keeps fucking him, slamming his hole again and again until he finally cums. He shoots his load all over Nick, then feeds it to him.
VIDEO ON-DEMAND: Nick Fitt @ AEBN SMUTJUNKIES THEATER
DVDs & ON-DEMAND: Nick Fitt @ TLA VIDEO