Hot House Russian Uncut Hunk Gay Porn Star, Alex Collack
Known Aliases:
Years Active: 2003 – 2008
STATS / INFO:
Nationality: Russia
From: Moscow
Age (2007): 33 years old.
Height: 5′ 8″ / 172.8 cm
Weight: 176 lbs/79.834 kg
Waist: 30 inches/76.2 cm
Size: 8″ x 6" uncut
BIG MUSCLE INFO:
Serg NY ( 108309 )
Los Angeles, CA, United States – 10011 – Age: 33
Age (2007): 33 years old.
Height: 5′ 8 "/172.8 cm
Weight: 176 lbs/79.834 kg
Waist: 30 inches/76.2 cm
From UNZIPPED – Dec 2005:
In Mischief, Scarborough paired Collack with young and hung discovery Justin Gemini for another round of flip-flop fucking.
" Justin Gemini has such a great personality, but it took us a while to get comfortable," recalls Collack. "It was an outdoor shoot in Palm Springs, so you're dealing with the sound of cars close by, airplanes flying overhead. It was also very hot, very dry, very distracting. But Justin and I had great chemistry, and in the end we had a good day of shooting, because while we were getting ready for the scene I walked past these bushes and saw him playing with himself. I watched him for a little bit, which helped me prepare. Steven noticed this and decided to incorporate it into the shoot. Because of good communication with him, he listened to us and let us create a great scene. "
Scarborough concurs. " Alex is one of the finest-looking and best-performing models I've ever come across. Not only did he prove himself to Hot House but also, more importantly, to his audience. He's not only one of the sexiest guys around, but also one of the nicest. When we're on the road at events or erotic shows, he's great with the crowd. He's one of the most cheerful guys you'll ever meet, just happy, happy, happy. "

AT YOUR SERVICE: Robert Van Damme fucks Thom Barron while fucking Alex Collack; Alex Collack later fucks Thom Barron
Alex Collack emerges from the pool after his morning swim to reveal his perfect, chiseled torso and fat bulge. Superstuds Robert Van Damme and Thom Barron are lounging poolside, admiring Collack and stroking each other's erections. Collack gladly accepts their invitaiton and a three-way suck ensues. The versatile horse hung horndogs take turns servicing each other, sucking cock, getting sucked, eating ass and fucking their hot muscle butts. Barron is the first to stick his legendary whopper up Collack's hungry hole. While Barron is still inside Collack, Van Damme enters Barron's ass and it's a train. Collack gets his fill of Barron's ass, shoving his fat Russian cock deep inside while Van Damme feasts on Barron's third leg. The men fuck like mad in the heat, the energy building until they each bust their nut.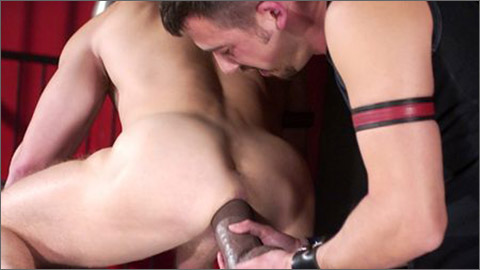 SCREW: RIGHT TO THE POINT: Joey Harden dildo & fist-fucks Alex Collack
This Hardcore Director's Cut Two-Disc Set is only available at HotHouse.com and features footage you won't need your remote for! A full-length fisting scene starring Hot House Exclusive Alex Collack and Joey Harden will leave you astonished that guys this hot could be this filthy!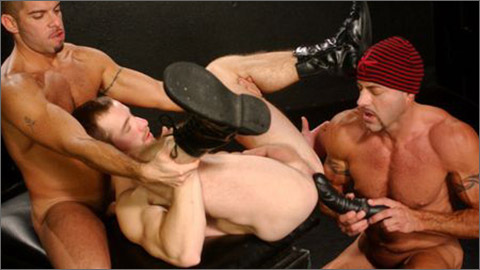 SCREW: RIGHT TO THE POINT: Dillon Press & Mario Ortiz fuck and Dildo-fucks Alex Collack
Let's get right to it. Two hot muscle studs (Mario Ortiz and Dillon Press) walk up to Hot House Exclusive Alex Collack, pull out their cocks and get busy. Mario can't wait to get on all fours and blow Collack, the Russian Sexgod-with-the Bod. Dillon pulls up behind Mario and rims him, then pulls his fat uncut cock backwards to blow it. Alex flips over onto his back and feeds on Dillon's dick as Mario darts his tongue into the Cossack's hole like an anteater foraging for food. With his hole moist and ready for action, Mario plugs him with his fat uncut cock, opening up his ass good and wide for Dillon to step up and ride. Then they pull out a dildo the size of a samurai sword and bust his hole good and deep. Dillon fucks him all the way to the handle then stuffs it in his mouth for clean-up detail. Finally, Alex mounts a big brown dildo that might as well be a Foster's beer can. He takes it to the base, cums into his own hand and greedily licks it clean. Dillon finishes the scene with one helluva thick, ropy cumshot all over Alex's face.
HOT HOUSE CLUB INFERNO @ FISTING INFERNO
CLICK HERE TO GO TO HIS HOT HOUSE DETAILS
VIDEO ON-DEMAND: Alex Collack @ AEBN SMUTJUNKIES THEATER
NOW STREAMING: Alex Collack @ NAKEDSWORD