American Gay Porn Star Hunk, Austin Wolf
Years Active: 2012 – 2023
COCKYBOYS INFO:
There are few who compare to the imposing physical stature of very tall, handsome and powerfully well-muscled Austin Wolf. But of course there's more to Austin than this. One of the best all-around tops, Austin is always thoughtful and intuitively focused on his scene partners, while subtly and quietly putting them under his control as a power top. He's one very busy man and makes his mark wherever he appears, including here at CockyBoys.
RANDY BLUE INFO:
We hate Austin Wolf. Well, not really. But when he said he never works his abs and you see how chiseled they are you just cannot help but feel a twinge of jealousy. But that fades quickly when you gaze upon his adorable face, see him slip out of his clothes so you can enjoy his lightly hairy body. This sexy New Yorker is such a horny guy, he loves getting off as much as he can. You can tell by the way he gently twists and pulls his nipples, giving him a rock hard boner. He loves running his hands over his muscular pecs and down to his cock, giving it nice long strokes. Then he flips over and you see his nice firm ass, hole open and inviting. He runs his finger over the opening and before you can even wonder if he will venture inside he slips his finger in and totally gets off on how good it feels. He takes a good long while working his hole, making his need to cum grow stronger and stronger. Finally, he lays down on his back and goes right for home stretch. And Austin does not have an orgasm, the orgasm has him. His whole body tenses and his hand squeezes his cockhead as if to catch the sexual energy and shoot it back up through his body. And the look on his face when he is finished is not so much one of contentmen…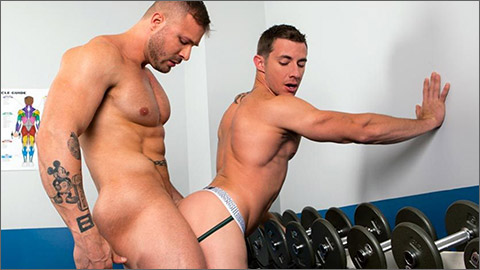 AUSTIN WOLF GIVES RICHARD PIERCE'S ASS A WORKOUT
It has been a few years, but Richard Pierce is back. That innocent face, striking tattoos and flawless body have not changed one bit. I asked him why he came back. And he simply said that he missed us, and he missed the fun. Well, he was about to have fun today. Austin Wolf was all about Richard, and could not wait to get a taste of his ass. After working out for a bit, Austin took Richard from behind and kissed his neck. The two started to make out and Richard turned around and put Austin and his hard cock in his mouth. Then Richard stood up and fed his hot dick to Austin. All of this was good, but Austin wanted to taste that sweet tight butt hole in a jock. So Richard bent over and fed it to him. Austin lapped it up. Then he sat his ass down on Richard, and the two began to sixty nine. Finally Austin needed to feed him his dick. He fucked him up against the dumbbells, then face down on the work out bench. Finally he flipped him over so that Richard could shoot out his hot cum, while Austin fucked the hell out him. Then Richard got up and grabbed Austin and played with his nipples. Austin burst his hot nut all over the bench. Richard was spent, but still excited to be back. And he cannot wait to do more.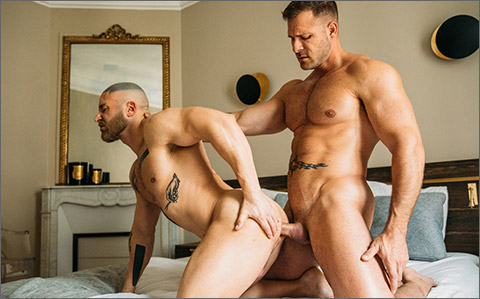 A IS FOR ALPHA: Austin Wolf Fucks Francois Sagat
After years of an online friendship and a little flirting, Austin Wolf & François Sagat finally get together in this condom-free scene filmed in Paris! The guys launch our new series "A Is For Alpha" in which we explore what it means to be an alpha. You're in for some big surprises as Austin & François first open up about themselves and about each other, and it all leads to an unforgettable pairing of pent-up attraction.
   The guys take their times making out and exploring their muscular bodies before Austin sensuously sucks François' thick uncut cock & fingers him as François desires. It isn't long before Austin lifts and carries him to the bed where François swallows and chokes on his cock. He keeps on it and Austin makes sure of it while reaching over and playing with his muscular bubble butt.
   Eventually Austin turns François around to eat out his ass and finger him before he gets him into position and slides into him. Austin fucks him hard from behind and slowly dominates him, easily getting François to sit on his cock and ride him and take his deep thrusts. Françoisturbs and faces Austin as he rides him so he can play with the nipples on his flexing chest.
   Austin soon picks him up again and lies François on his back with his ass in the air and pounds him relentlessly until he makes the French muscle god shoot a thick load over his chest. Austin soon pulls out and shoots over François' hole and fucks it into him. After he fingers it in deep, a spent Austin lies next to François and they're both satisfied in every way after a six year wait.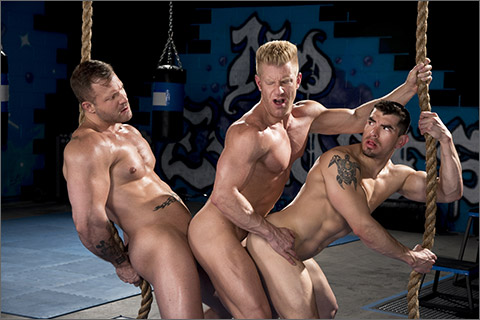 THE TRAINER: NO EXCUSES: Austin Wolf fucks Johnny V fucks Jeremy Spreadums
Austin Wolf is training Johnny V and Jeremy Spreadums at the gym. He has them doing all the regular things to stay in shape like climbing rope, doing chin-ups and lifting weights. Austin pats them on the ass with every good rep. All the physical contact and exposed muscles gets the threesome ready for fun and they peel off their shirts as they kiss and feel each other's boners through their gym shorts. Jeremy can't take the suspense of what the other cocks must taste like and he gets on his knees to suck off his two gym buddies. He takes turns slurping on each of their growing cocks and gets the guys ready for more action. Austin is horny as hell and wants to explore more of what Jeremy has to offer. Austin has Jeremy bend over, and like a true trainer, tells Jeremy what to do as he fingers and licks his client's fuzzy hole. Jeremy gets on the ground and spreads his legs wide open to let both Johnny and Austin rim his ass. Once the guys have Jeremy's hole nice and opened up with their tongues and fingers, Austin crams his thick cock inside Jeremy's back door. Johnny doesn't want to be left out of the fun and takes his turn with Jeremy when Austin steps aside to let him have a turn. The muscle studs tag team Jeremy's asshole as they pile drive the young jock. Johnny hops in the middle of the sandwich to fuck Jeremy as he gets his hole plunged from his trainer. The three horndogs form a chain with Johnny in the middle getting the best of both worlds until all three are ready to blow. Jeremy lies on the ground with the two other studs above him. Johnny lets loose and drains his balls all over his buddy, slathering his nipples with cum. The trainer is the next to go and lets loose all over Jeremy's face before Jeremy finally gives himself the go ahead to get the relief he needs all over his own muscled-up body. The three spent hunks writhe on the floor with their cocks dripping as they kiss and bask in the afterglow of the benefits of a healthy workout.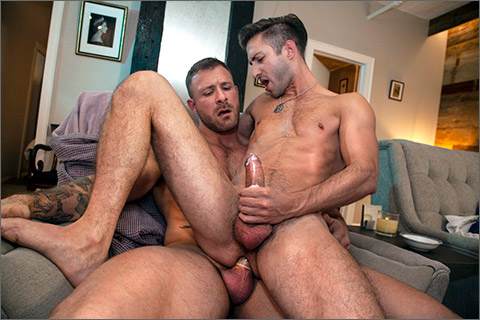 RAGS TO RICHES – TIME TO GET PAID: Austin Wolf fucks Ian Frost
While Alam Wernik and Parker Payne put on a show upstairs, cater-waiter lead Ian Frost goes downstairs into Austin Wolf's private quarters. Austin orders him to take off his shirt and begins to jerk off at the sight of Ian's tight swimmer's build and perfectly puckered hole. Ian gives Austin a passionate blow job but the muscular top has one hole on his mind, and it's not Ian's mouth. Austin flips Ian over to eats his ass and suck on Ian's hefty cock before shoving his rock hard meat deep in Ian's hole. They fuck in a dozen positions until Ian finally bounces up and down on Austin's dick until he explodes. But Ian isn't done, it's time to get paid with a hot juicy load straight from the boss's cock.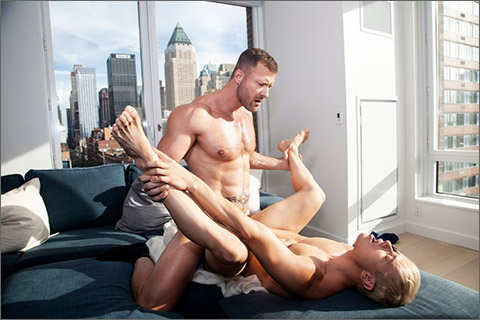 RAGS TO RICHES – THE A-LIST: Austin Wolf fucks Alam Wernik
Alam Wernik returns to his nightmarish living conditions to throw everything he owns into a duffle bag – he is out of there. Downstairs on the street he tosses the bag on the sidewalk to unlock his bike when someone runs by and grabs his bag. Alam hops on his bike in hot pursuit but soon realizes how futile it is. As the sun goes down Alam finds himself at the piers, alone, penniless, with nowhere to go – then he remembers the kind smile of one man, Austin Wolf. Back on the upper West side Austin has found Alam's wallet and made arrangements for Ian Frost to come pick it up. Waiting outside his apartment, Austin spots Alam shivering on the sidewalk. Austin invites him inside and undresses him lovingly so they can shower together before Austin leaves for a previous engagement. The next morning Austin finds Alam asleep in the guest room and dives in. They passionately kiss and aggressively fuck all morning long, Austin paying extra attention to Alam's huge round ass and perfect hole. Alam finally blows his load with Austin still inside him then Austin pulls out so Alam can suck a load out of his fat cock. Both recognize a deep connection as Austin suggests the have brunch on 5th Avenue – looks like Alam has finally realized his dream of life on the A-list!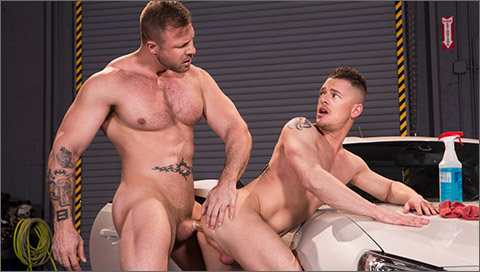 OVERPOWERED: Austin Wolf fucks Rex Cameron
While washing the windshield on a client's car, lustful apprentice Rex Cameron gets 'Overpowered' by muscle mechanic Austin Wolf, who quickly takes control of the situation. Working together on the car, testosterone in the air is making for a steamy setup. The burly mechanic walks straight over to his co-worker and pushes him down on the cars hood and pulls Rex's jeans to his ankles. Rex lifts one leg up on the spotless sports car to give Austin total access to his willing ass. With his tongue as his tool, Austin lathers up Rex's hole with thick spit. Austin drives the action and takes a break from probing Rex's hole with his tongue to get Rex on his knees to service his fat fuck stick. More than willing to service his superior's cock, Rex takes Austin's cock down his throat to the base until he gags on it. When Austin has had enough of Rex's warm mouth, they move to a sliding workbench and Rex slams his ass on Austin's dick. With his cock deep inside Rex, Austin reaches back and stuffs a finger in his hole to give Rex the ultimate stretch. They move it back to the car and Rex continues to take a rough pounding while on top of the car. As Austin keeps drilling his fuck hole, Rex shoots a thick load onto his smooth abs. Austin unloads on Rex's thigh and wipes it up to give Rex a taste and finish with a cum drenched kiss.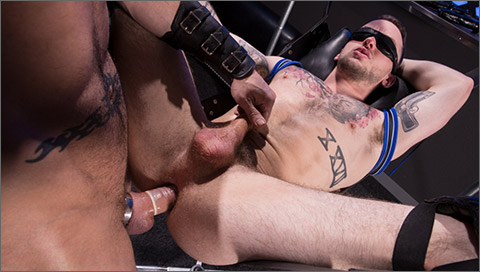 BLINDFOLDED: Austin Wolf fucks Colton Grey
Blue-eyed bottom Colton Grey is hoisted up in a sling as Austin Wolf aggressively makes out with him and covers his eyes with a blindfold. At the total mercy of Austin, Colton throws his arms up and lets Austin drill his tongue and finger deep into his tasty ass. It doesn't take long for Austin to work his fat meat into Colton's slick, lubed asshole. The sling sways and rattles with each vigorous pump. Austin gets kinky and switches it up by putting an a few ice cubes into Colton's warm hole to cool it down a bit and keep fucking him silly. Colton loves the combination of the ice with Austin's cock and suspends himself out of the sling to be impaled by Austin's hole stretcher. They switch it up and move to a leather sawhorse where Austin stuffs Colton from behind. Colton turns on his back on the padded fuck bench and takes all of Austin's powerful thrusts deep inside him until he blows a massive load onto his chiseled abs. Austin finishes with an oozing load into Colton's hungry mouth.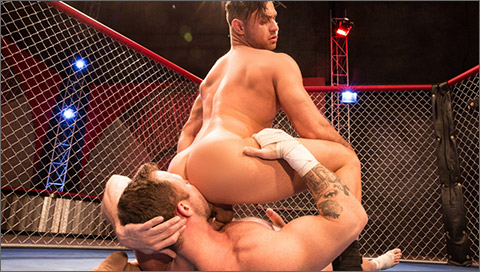 TKO TOTAL KNOCKOUTS: Austin Wolf fucks Josh Conners
Austin Wolf and Josh Conners face off in a fight of ultimate sexual conquest. In three rounds, Austin Wolf's imposing physique gives him the edge over Josh Conners, pinning him to the mat. When Austin wins the fight, he asserts his dominance with some breath play, controlling Josh's air with a hand against his throat. Claiming his prize, Austin plays with his nipples as Josh swallows Austin's massive cock. Bending down, Austin uses his finger to work his spit into Josh's ass. When Austin lies down on the mat, Josh sits on his face while sucking Austin's cock. Spreading Josh's cheeks wide, Austin saturates the tight pink center with spit. With Josh's hole ready, it's time to fuck! Getting down on all fours, Josh takes Austin's cock doggy style. Austin grabs both of Josh's arms and bends them behind Josh's back, pinning him to the mat. Austin then leans forward, bearing down on Josh's hole with the full weight of his body. Turning Josh over, Austin fucks him deep and hard until they're about to blow. Josh explodes with a thick load that puddles on his stomach. Kneeling over Josh's face, Austin aims his load right at Josh's lips and hits the bullseye. TKO scored.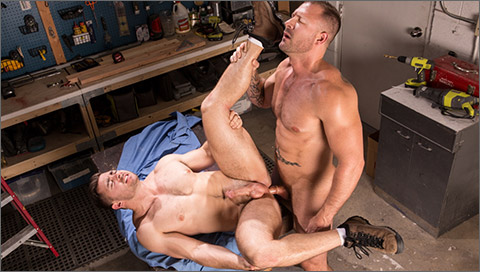 DIRTY WORK: Austin Wolf fucks Derek Bolt
Derek Bolt is making precise measurements in the workshop when sparks fly between him and Austin Wolf. Austin notices the look on Derek's face and invites him over. As they make out, Austin guides Derek's hands to his bulge, and Derek pulls Austin's cock out of his jeans. Sinking to his knees, Derek swallows Austin's cock as Austin plays with his nipples. Reaching down the back of Derek's jeans past his jockstrap, Austin finger's Derek's tight hole. Eager to get a taste, Austin pushes his face into Derek's ass as Derek kneels on the workbench. Stripping off Derek's shirt, Austin grabs his nipples from behind and tweaks then as Derek's huge boner pokes out front his jockstrap. Derek is eager for what comes next: Austin shoves his thick, hard cock between Derek's firm ass cheeks and starts fucking him doggy style with fast, powerful thrusts. Switching things up, Austin lies flat on his back as Derek raises and lowers himself on Austin's mighty tool. Putting Derek on his back, Austin pumps away with intensity. Derek jerks his cock, and his balls flop up and down. With Austin still inside him, Derek blows a massive, thick load that lands on his hairy treasure trail. Standing over Derek's face, Austin strokes his cock until he shoots a massive rope of cum across Derek's face. Austin leans down for a final kiss, tasting his semen on Derek's lips.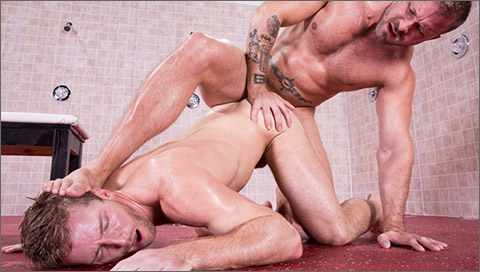 DEPTHS OF FOCUS: Austin Wolf fucks Scott Riley
A white towel barely covers Austin Wolf's throbbing manhood as he stretches out in the sauna. His hairy, muscled body is on full display as cut, lean hunk Scott Riley sits down on the bench across the room. Sensing Scott's presence, Austin's hand grazes past his nipples on their way down to his crotch, adjusting his boner underneath the towel. Scott begins playing with his cock as Austin's towel falls off completely and his thick cock swings through the air. Standing up, Austin gives Scott a full-on look before wrapping himself in a towel and heading to the communal shower. Austin stands under the warm running water and strokes himself as Scott rounds the corner. Scott and Austin's boners are both at full attention as they stand across from each other, flexing their muscles. Turning around, Scott shows off his ass to Austin, who gazes at Scott's round, firm butt with anticipation. Reaching over, Austin grabs Scott by the balls and pulls him close. Standing together under the water, they finally kiss. Scott tongues at Austin's nipples, and Austin uses his fingers to probe Austin's ass. Sinking to his knees, Scott opens his jaws and inhales Austin's massive man meat. Austin grabs his nipples to enhance his pleasure as he throat-fucks Scott's handsome, scruffy face. Bending over a changing bench, Scott spreads his cheeks for Austin to explore with his tongue. With Scott's ass lubed up, Austin uses his thumb to probe Scott's hole, then slides his thick cock in. To fully dominate Scott, Austin positions him with his face on the floor and his ass in the air for a pile-driving fuck. Moving back to the bench, Scott lays on his back and jerks out a thick, white load. Austin strokes himself until he shoots his wad in Scott's mouth.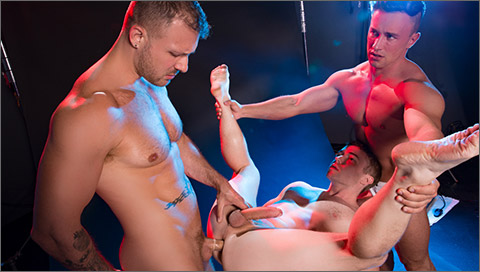 DEPTHS OF FOCUS: Austin Wolf fucks Alexander Volkov & Gabriel Cross
It's quiet on the Hot House set as Austin Wolf preps his photography gear. Production assistant Gabriel Cross introduces today's subject: Alexander Volkov. 'Today's going to be a closed set. You guys can go,' announces Austin to the other crew. After loosening Alexander's tie, Austin steps behind the camera and starts shooting. After a few poses, Austin instructs Gabriel to remove Alexander's shirt. As Gabriel opens Alexander's shirt to reveal his smooth, muscular torso, their eyes meet and they share a smile. Alexander's next look is an edgy black bodysuit, and after that Alexander steps into a tight, white jockstrap. They wrap the shoot, and Alexander turns around to show off the huge bulge in his jockstrap. 'Did you enjoy that?' asks Austin. Alexander affirms, and Austin and Gabriel both move in to make out with the ripped hunk standing before them. Unbuttoning his fly, Austin shoves down his jeans and puts his cock in Alexander's mouth. Gabriel bends down to suck Alexander's hard meat, then stands up and makes out with Austin while Alexander alternates between sucking their cocks. Gabriel proves he has a perfect mouth for cocksucking too, trading places with Alexander and using his mouth to stimulate the sensitive tips of Alexander and Austin's cocks. Bending over a stool, Alexander sucks Gabriel's cock as Austin rims Alexander's ass. With Alexander lubed up, Austin slides his thick meat into Alexander's backdoor. Gabriel plays with Alexander's nipples as they make out, sharing long, passionate kisses. Alexander shows off his versatility when he becomes the meat in a fuck sandwich between Austin and Gabriel. Switching things up, Gabriel spreads his legs as Austin and Alexander take turns fucking him. Gabriel strokes his rock-hard dick and busts a nut, shooting his cum onto his stomach with Alexander still inside him. Kneeling down, Gabriel opens his mouth to catch Alexander and Austin's hot loads, letting their semen splash across his tongue and roll down his face. Read Less

INTERNAL SPECIALISTS: Austin Wolf fucks Armond Rizzo
New patient Armond Rizzo makes his first visit to Dr. Austin Wolf's office. Armond, who just got new insurance, says he chose Dr. Wolf because so many of his friends recommended Dr. Wolf's 'amazing work.' Armond is hoping he can have the same kind of 'experience' his friends have had with Dr. Wolf, whose powerful, muscular physique is impossible to ignore, even under his white lab coat. The routine physical begins as Dr. Wolf removes Armond's shirt to take his vitals, which also gives Dr. Wolf the chance to admire Armond's ripped body. As Dr. Wolf takes Armond's temperature, Armond slyly reaches down and fondles Dr. Wolf's massive bulge, and things really heat up! Unzipping Dr. Wolf's fly, Armond exposes the throbbing boner and bends down to savor the taste. Dr. Wolf grabs the back of Armond's head, guiding him to suck his cock deeper and deeper. Piece by piece, Dr. Wolf removes his clothing as Armond continues his oral service. A bit of nipple play gives Dr. Wolf extra pleasure as they take their doctor-patient relationship to the next level. Climbing on the exam table, Armond spreads his ass and Dr. Wolf beings his internal examination. With his fingers and his tongue, Dr. Wolf stretches Armond's hole. A surgical steel probe allows Dr. Wolf to go even deeper. Standing up, Dr. Wolf slams his cock into Armond's ass, eliciting gasps of pleasure from his patient. 'Yes doctor, fuck me!' Armond groans, as Dr. Wolf administers a rough, sweaty pounding. Displaying his acrobatic strength, Armond does a handstand as Dr. Wolf slams into his prostate from behind. The relentless pounding nearly takes Armond's breath away. Leaning back on the exam table, Dr. Wolf positions Armond on his cock and slams into him from below, and the intense stimulation on Armond's prostate makes him blow a thick, sweet load. Grabbing his cock, Dr. Wolf unloads with gushing spurts of cum that splash directly onto Armond's freshly fucked hole.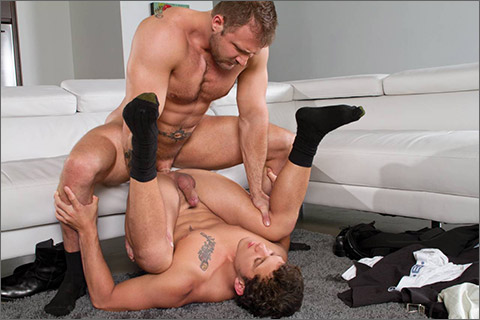 SEX PAD: Austin Wolf fucks Nicoli Cole
Instead of a power lunch with clients, sexy executive Austin Wolf opts for a power fuck at the 'Sex Pad' with hot copy-boy Nicoli Cole. Curly-haired Nicoli is on his knees and sucking as soon as the door shuts. The blow job turns into a rhythmic face-fuck that threatens to stain Nicoli's tie with cock slobber. Austin leads him by the hand to the sofa, and they shed their clothes on the way. Once Nicoli's ass is bare, Austin plunges two fingers in. Nicoli's smooth buns react as if they've just been switched on. He drops to his knees and arches his back. But before taking Nicoli's hole, Austin needs to taste it, and he grabs Nicoli's cock stealing a taste in between. He enlists gravity to get his tongue deeper, hoisting Nicoli upside-down until he's resting on his elbows, then his shoulders. Nicoli is a sturdy man, but Austin's massive, hairy muscular body is up for the task. They fuck in four prostate-pounding positions, each working extra hard. Nicoli reaches behind to grab Austin's cock and spear his ass with it over and over. Their ejaculations paint their torsos with white-hot jizz, and Nicoli sucks the final drops from Austin's emptied cock.

MONUMENTAL ASS: Austin Wolf fucks Chris Bines
Big, beefy, handsome top Austin Wolf swaps spit with inked-up Chris Bines. Austin reaches back to Chris' furry hole and sticks a finger in while Chris sucks Austin's fat cock. Probing him from both ends, Chris gags on Austin's girth and is ready for that cock fill him from every angle. Austin definitely wants more of this hot, hungry stud, and he puts Chris on his backside and switches between sucking his cock to rimming his eager hole. Chris shows off his flexibility when Austin pulls his legs up and eats his ass while Chris chokes on his meat. Primed, ready and wanting more, Chris is practically begging for Austin to fuck him hard. From missionary to doggie style, Austin pummels Chris' hole, using it as his tool to get off. As Austin keeps pumping, Chris moans 'I'm gonna cum' and shoots a load. Austin slowly slides out of Chris' stretched ass and covers his cheeks and hole with a hot, creamy load.

MAGNITUDE: Austin Wolf fucks Brenner Bolton
Austin Wolf has a three-day beard and a deep chest sprinkled with hair. Brenner Bolton is smooth and toned. His face gets buried between Austin's strong pecs. Brenner licks Austin's nipples, then tours his armpits with his tongue. Austin squeezes Brenner's ass, stretching his hole and teasing it with his fingers. Continuing his tongue bath of Austin, Brenner ends at his cock, which he swallows deeply Austin adds his spit as more lube for the blow job until Austin's balls won't let him go any further. Stroking his wet cock, Austin pushes his face into the cleft between Brenner's ass cheeks, drilling him with his tongue and fingers. Brenner's ass is heated up, and he heats up Austin's in return when like an afternoon in the desert. Austin plants his hole on Brenner's face. Showing off his sexual prowess, Austin takes Brenner through a two-position fuck that culminates in high arcs of cum erupting from Brenner's cock. Austin scoops it up and feeds it to him, aiming his own load at Brenner's mouth. Exhausted and relieved, they share a cum-filled kiss.

AUSTIN WOLF FUCKS RYAN ROSE
Hot House Video Working at the motorcycle shop, handsome stud Austin Wolf is distracted by stunning Ryan Rose's tasty bubble butt. Ryan's tempts Austin while he's bent over working on a bike, and Austin wants it! With a bulging hard on, Austin can't hold back any longer. He seizes the opportunity, moving over to grab more than a handful of Ryan's delicious ass. The look on Austin's face lets Ryan know he's in charge. Taking the cue, Ryan slurps up Austin's cock into his hot wet mouth, swallowing deep and servicing Austin fully. Austin wants Ryan to have some of his amazing ass too, and he guides Ryan's head to deliver Ryan's tongue deep into his hot hole. Revved up from the oral prowess of Ryan, Austin returns the favor by laying Ryan across a workbench and devouring his juicy center, lubing it up for a hard hammering. With an intense need to drill Ryan, Austin slides his throbbing cock into Ryan's tight, eager ass. They work each other hard, finding the best ways to satisfy each other ending up with Austin railing Ryan hard until he shoots a load all over his gleaming abs. Head back and twisting on his wired nipples, Austin finishes himself off with a warm load covering Ryan's smiling face.
CLICK HERE TO GO TO HIS COCKYBOYS DETAILS
CLICK HERE TO GO TO HIS HOT HOUSE DETAILS
CLICK HERE TO GO TO HIS RANDY BLUE DETAILS
VIDEO ON-DEMAND: Austin Wolf @ AEBN SMUTJUNKIES THEATER
NOW STREAMING: Austin Wolf @ NAKEDSWORD
Hot or Not? Let us know.
[Total:

132

Average:

4.3

]