American Gay Porn Star, Brandon Wilde
Years Active: 2010 – 2020
CHANNEL 1 INFO:
Height: 5′ 6″
Weight: 135
Cock: 8″ cut
Sexuality: Gay
Position: Versatile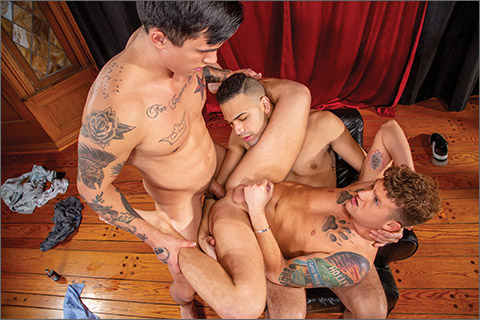 THE PLEDGE: Tyson Rush & Trevor Miller fuck Brandon Wilde
College pledge Brandon Wilde sits down for his initial fraternity interview with Trevor Miller and Tyson Rush. Trevor makes it clear that joining means always helping a fellow brother out no matter what. To make his point, Trevor instructs Tyson to pull out his dick before ordering Brandon to prove his worth by helping his future frat brother with a blowjob. Brandon wants to show that he's loyal and opens his mouth wide to take Tyson thick meat down his throat. As Brandon gags on Tyson's throbbing cock, Trevor gets naked and commands Brandon over to suck his cock as well. The pledge is eager to please, so Brandon gets between Trevor's legs and does as he's told. After getting his future brothers hard and ready to fuck, Brandon bends over for Tyson to enter his ass. Tyson doesn't waste any time and shoves his long, raw cock deep into the pledge's hole. He pumps away at Brandon's ass until Trevor takes his place behind the college freshman to do the same. Brandon's ass feels amazing and soon Trevor's cock is ready to explode. Trevor pulls out and blasts his load all over Brandon's freshly fucked hole before getting down and eating his cum from Brandon's ass. Seeing Trevor eating his own load is all it takes for Tyson to erupt with his own thick ropes of cum into Brandon's mouth. Loaded up in both holes, Brandon lets loose on the floor as Trevor and Tyson leave to decide Brandon's fate. Did the pledge prove his worth to the fraternity?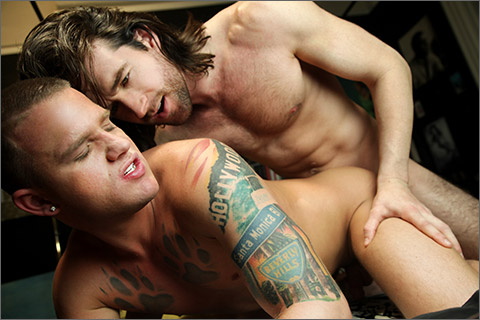 THE TEN SPOT: Woody Fox fucks Brandon Wilde
Watching the guys have sex in the Ten Spot has an affect on Woody Fox. He can't wait to show Brandon Wilde his rock hard 10-inch cock. Brandon gets on his knees to worship the meaty member then stands up to continue peeping on the guys next door. Woody sees Brandon's juicy bubble-butt and goes in for a hot rim job. Over on the bed Woody basically makes Brandon his fuck-doll, pounding him every which way until Brandon shoots his load into his own mouth. Woody kicks back and jacks his giant uncut cock until gobs of thick white cum.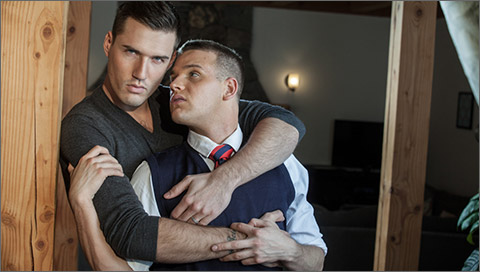 SCHOOLBOY FANTASIES 2: Brandon Wilde, Theo Ford
Brandon Wilde is angry when he finds that his mother's boyfriend is just sitting at home doing nothing while he's at school and she's away on business. Theo doesn't have a job, and Brandon accuses him of taking advantage of older women so he doesn't have to work, and that he's just using his mother for her money.
   Theo doesn't deny it, and agrees that his mother and him have a mutually beneficial understanding. Theo is sure that it's just jealousy because Brandon's feeling left out. Theo strokes Brandon's hair, and while he's initially shocked and disgusted, he doesn't protest. So Theo takes it a little further and pushes him down onto the bed, and begins to make out with him while the boy is still dressed in his school uniform.Slowly they strip down, and Theo presses his chest body against the boy as he's lying down, feeling nothing but the boy's white briefs between them and their raging hard-ons. Brandon gets on top and slips Theo's massive member into his mouth, getting it nice an wet for a moment before turning over on the bed with his ass in the air. Theo grabs his ass and slowly slips his throbbing erection into his ass. Theo flips him over and stars fucking him good, while their tongues intertwine. Brandon replies in kind by pushing back on Theo's rod, rhythmically, frantically getting closer and closer as his mother's boyfriend is pounding his hole. Eventually Brandon is sent right over the edge, as he gyrates his hips onto Theo's rock hard cock. Now that he's satisfied the boy, Theo turns him onto his belly and fucks him hard, having his way with him. Brandon pulls the older man into him, encouraging Theo, clearly enjoying every second of the pounding! After fucking with increasing intensity, his body slapping against the boy's he blows his hot load all over Brandon's smooth ass.