American Bondage Discipline Gay Porn Star, Ivan Malek
Known Aliases:
Years Active: 1990s
ZEUS STUDIOS INFO:
Age: 36 (2001)
Height: 5'10
Weight: 174 Lbs.
Eyes: Brown
Hair: Brown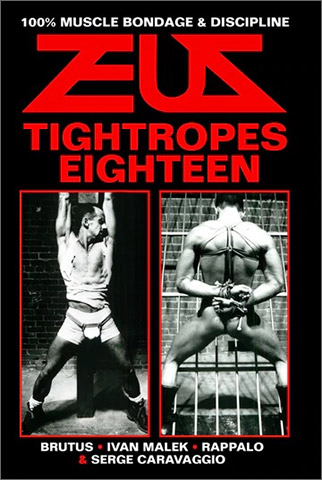 ZV1025: TIGHTROPES 18
Double Feature. "Two mouth watering bodies suffer multiple muscle wrenching bondage positions, endless hand-on hardbody abuse, and individual chest and ass flogging sessions that will leave you weak. On the muscle bondage meat beater scale, TIGHTROPES EIGHTEEN is a rockhard nut bustin' 10." TR-18, one of Daddy Zeus' personal favorites, stars the incomparable Italian body beautiful Serge Caravaggio in multiple hard punishment bondage positions….salacious pec and nipple work, plus cock/balls/& butt action that will drain you dry. Feature two stars very sexy hardboy Ivan Malek. Few S/M models match Ivan for his reactions and body english responses to punching and flogging. His heavy cock and balls…his upside down chest flogging…and his amazing abdominal fist punching endurance will inspire your cock to new levels of appreciation. Serge and Ivan deliver BIGtime!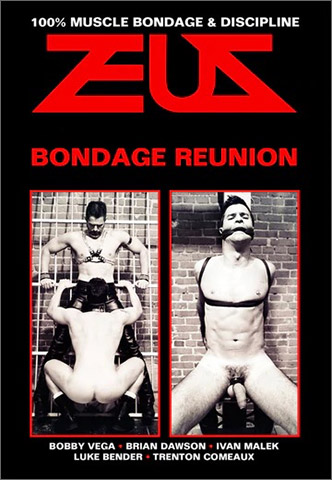 ZV1034: BONDAGE REUNION 1
This enormously popular title was our first video to reunite favorite Zeus models by customer requests. Casting Trenton Comeaux, Brian Dawson, Bobby Vega, Luke Bender, and Ivan Malek with a little help from Daddy Zeus proved to be casting magic. All time favorite Zeus top Brian Dawson's lucky job was to strip, tie up, and work over the spectacular bodies of Trenton Comeaux and Bobby Vega. Instructing one boy to hold the other for punishment, Comeaux's and Vega's bodies are muscle exhibited for Dawson's hands, mouth, and toys. Then Daddy Zeus goes to work on Luke Bender and Ivan Malek in a side-by-side punishment contest to see which one could handle the most punishment. Treat yourselves to this multiple gusher, gentlemen. BONDAGE REUNION was conceived and cast to flush your nuts. Comeaux, Dawson, Vega, Bender, and Malek made Zeus video history with this one.
ZEUS STUDIOS
VIDEO ON-DEMAND: BDSM @ AEBN SMUTJUNKIES THEATER
NOW STREAMING: BDSM @ NAKEDSWORD