American Fab Scout Gay Porn Star, Tyler Rush
Known Aliases:
Years Active: 2014 – 2016
TWITTER @TylerRushXXX
FAB SCOUT INFO:
Height: 6′
Weight: 175
Hair: Brown
Eyes: Blue
Cock: 6″ cut
Position: versatile, bottom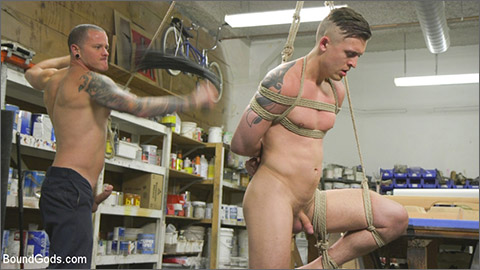 SADISTIC PAROLE GIVES CREEPY COWORKER A BRUTAL LESSON
Max Cameron is fresh out of jail, and through an ex-con work program, started working at an assembly line. The only problem is the constant harassment by his coworker in the paint department, Tyler Rush. Max quickly tires of Tyler's condescension, so he binds Tyler with duct tape, and gives him a taste of some prison style harassment. Max starts by knocking Tyler around with a broom, and pulling out his cock while he is pushed against the ground. Tyler keeps resistant until Max wraps his face in duct tape and quiets him by thrusting his hard cock in Tyler's mouth. Tyler still needs to learn to keep his teeth out of a good blowjob, so Max tapes Tyler's mouth completely open and attaches him to a sawhorse. Next in Max's prison bitch lesson plan is a good flogging. Tyler is suspended on one leg while Max unleashes the flogger across his body. Max finds good use for the paint supplies by turning his prison bitch into a brown fuck pup. Tyler is fully coated in brown paint, and given tape dog ears, and a tape pup tail. Max gives his pet the privilege of sucking on his bone, before ruthlessly cropping him. Tyler's pup tail is then removed, revealing his open hole just waiting to get fucked. Max fucks his plaything until Tyler blows his load across his chest and opens his mouth to receive max's cum on his tongue.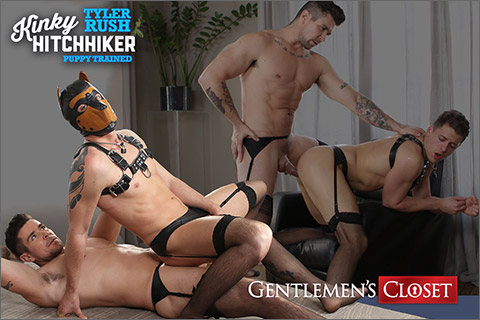 KINKY HITCHHIKER "PUPPYTRIANED"
All pups need to be trained. Tyler Rush is no different. Willing to please, the masked pup mounts his master. The pup in training rides Trenton's cock and then lets him fuck up into him as hard as he can. Switching positions Trenton places the pup where he needs him so he can really pound his ass. Pup rush leaves his mask on for first two positions and removes it for the last one. The now trained pup is just a fuck toy to Trenton and the pup is loving it. The fucking never stops from the beginning to the end of scene. Sometimes you just have to give a a bone.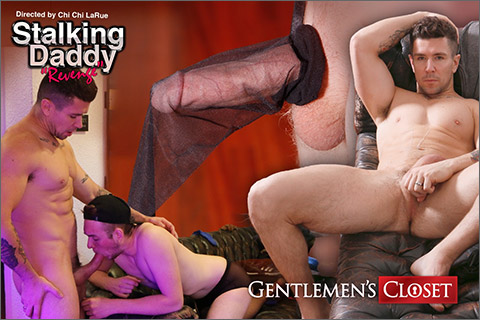 STALKING DADDY "REVENGE"
Always wanting more obsessed Trenton continues man handling the kinky boy. Dressed in his nylons and garter belt the boy is thrust down on Trentons bulging cock. Trenton fucks the boys mouth and spanks the at the same time. Fully hard now Trenton flips the prey around and forces his giant cock in the kinkster. The rhythm is fast and the moans are load the only thing louder is the music playing in the club down the stairs. Sweating Trenton finishes massaging his cock with the boys fuck hole and joins him on the couch where he makes him smell sweaty socks. The two fuckers jack off and Trenton shoots a warm load and leaves the boy to re pack his back pack.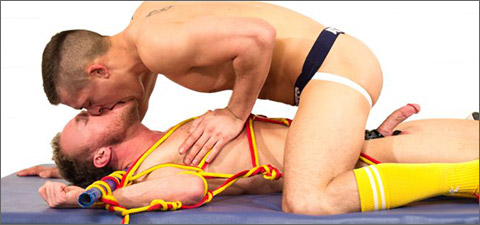 TYLER RUSH RIDES CHRIS BURKE
Bound jock Chris Burke is tied down in a spider web of rope in the middle of the room. He is unable to touch his rock hard cock, but Tyler Rush can. Tyler teases Chris by sitting on the bound jock's face while simultaneously sucking his dick. Tyler gets Chris' cock nice and wet and then straddles and rides his stiff rod. He rides it until they both shoot their loads all over Chris' bound body.


YOU WANNA TRY IT
Cody and Tyler are hard at work studying for finals but Cody stumbles upon a gay porn dvd hidden between some books. He confronts Tyler about it whom he did not know was gay. Tyler admits that it's his and Cody begins to ask questions about how he knew he was gay and what it feels like to be with another man. Tyler gives him the option of experimenting with him for his first time so he can be as comfortable as possible. Cody hesitant at first but agrees to it. From the look on his face you can tell Cody loves how Tyler is sucking on his cock. It's never felt so good and as he becomes more comfortable he lets Tyler fuck him but he must start out real slow and ease his way in. Tyler obliges and treats his ass very delicately but once hes in and loosens it up just a tad he pounds Cody's ass seeing just how far he can take him. Cody is loving it and can't believe he waited this long to play with a man. He loves it so much he explodes with delight as Tyler pumps his virgin ass letting loose all the built up cum residing in his balls.
KINK MEN
GENTLEMEN'S CLOSET
PRIDE STUDIOS
BAIT BUDDIES
COLLEGE DUDES
KINK.COM / BOUND GODS
KRISTOFER WESTON'S BOUND JOCKS
GAY ROOM
GAY ROOM / GAY CASTINGS
CLICK HERE TO GO TO HIS BOUND JOCKS DETAILS
CLICK HERE TO GO TO HIS PRIDE STUDIOS BIO PAGE
TYLER RUSH BAITS JUSTIN STAR
TYLER RUSH & MR. KRISTOFER
TYLER RUSH & ELIJIAH WOOD
DOLAN WOLF & TYLER RUSH
YOU WANNA TRY IT
TYLER RUSH GAY CASTINGS
BODY TO BODY
OFFICER MAGUIRE "I SMELL FEAR"