Gay Porn Star Daddy Hunk, Hugh Hunter
Years Active: 2010, 2014 – 2016
Known Aliases: Joe Rocco, Lifeguard Hugh
TWITTER @hughhunterxxx
TUMBLR
RENTBOY INFO:
5'11" 230 lb muscled Italian porn star
Inked, ruggedly handsome, daddy type bodybuilder who is well hung with a beefy ass. Into most sane things but can be a bit wild also. Just ask. An educated, well traveled, and cultured urbanite. Comfortable in all settings from upscale events and the theatre to nightclubs and circuit parties. Providing casual encounters to boyfriend experiences. Great travel companion. Very versatile. At ease in 1-on-1, groups, and parties. No attitude. No drama. Always friendly.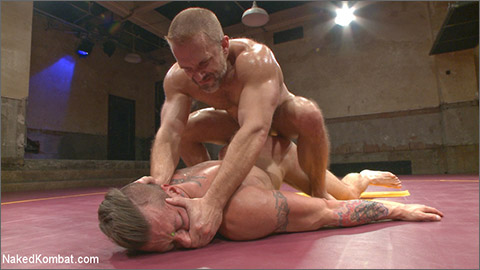 MUSCLE MATCHUP – DIRK CABER vs HUGH HUNTER
It's a battle of brawns on Top Cock: Hugh Hunter challenges Dirk Caber. With both contenders horny for each other's chiseled bodies, these studs will do anything to claim the other for stiff dicking in the sex round. They tussle and grind their muscled physiques, pulling out the groping and dick sucking early on to rack up points. With raging hardons, they keep up the same level of momentum and strength in a sweaty second round. Still, the winner comes away with a comfortable lead and continues the domination into the sex round. The loser gobbles triumphant dick and armpit before presenting his ass to the victor. The winner gets a quick taste of his prize's hole before plowing deep into that ass. Pivoting, the winner sits on the loser's face and makes him rub out a load. The winner runs his dick through the loser's mess and has the loser taste his seed off the tip. For a consolation prize, the loser accepts a face full of the winner's jizz and shares it in a passionate kiss. With the loser still in a daze, the winner stuff his anklet into the loser's mouth and walks off with pride.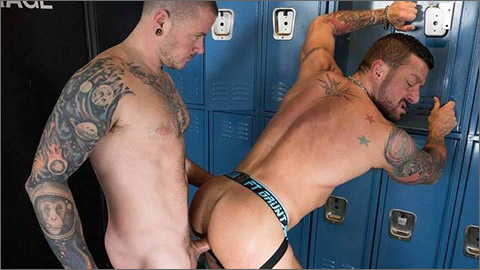 MAX CAMERON FUCKS HUGH HUNTER
This is my first time working with these two sexy men and I'm glad I found them. When I put these two together they both instantly were into it. Never having worked directly together on film was fun for the both of them and Entourage Las Vegas was the perfect backdrop. Watching Max swallow Hugh's HUGE tool was very hot but watching Max fuck the shit out of Hugh was hotter. In and out, up and down till both loads flew. A scene you for sure don't want to miss.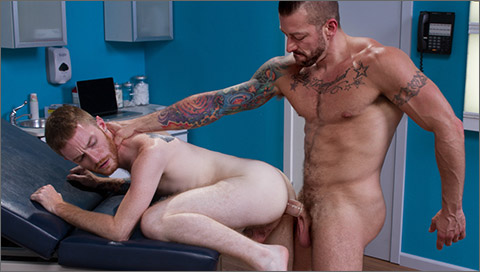 DEEP EXAMINATION: Hugh Hunter fucks Seamus O'Reilly
Slim and slender, ginger hunk Seamus O' Reilly comes to visit his muscled doctor, Hugh Hunter, for a routine physical. Things quickly escalate when Seamus is instructed strip down to his boxers exposing his raging hard-on. Dr. Hugh takes notice at Seamus' hefty bulge, and removes Seamus' underwear. Needing to fully examine every inch of Seamus' cock and hole intimately, Dr. Hugh strips down and fingers and licks Seamus' ass as he strokes his own hard, thick meat. This is a full on tongue exploration of Seamus' ass. After Dr. Hugh is satisfied with his patient's sexual health, he tests Seamus' anal capacity by gliding his cock into Seamus' obviously eager ass. After getting pounded on his back, Seamus bends over and spreads his ass-cheeks apart, giving Dr. Hugh the opportunity to drill him deeper and deeper. Cum flies through the air as Hugh shoots his load onto Seamus' back.

BLUE COLLAR BALLERS: JESSE JACKMAN FUCKS HUGH HUNTER
In the garage, the scruffy faces of Jesse Jackman and Hugh Hunter graze each other as they kiss, Jesse smiling as he stares deep into his eyes. They grind their jean bulges together, Jesse soon on his knees as he releases tattooed Hugh's cock. Jesse works it up beautifully, rubbing his face against Hugh's big shaft and sac—and taking a big sniff. Jesse looks up, prompting a sexy smile from Hugh. They kiss again, their beefy bods rubbing against each other. Hugh licks Jesse's hairy chest, soon engulfing the massive stud's curvy cock. Hugh reaches up to grip Jesse's pec as he sucks, the stud's sac hair tickling Hugh's face as he goes deep. Jesse buries his salt-and-pepper chin in Hugh's hole, sucking his cock underneath and taking another whiff. He fucks him from behind, grinding in deep before turning the bottom over as the two soon shoot.

2 TO 1
Flex is a true Menatplay VIP. His dark, handsome looks and his perfectly developed physique earn him the right to get exactly what he wants when he wants it. So when he walks in to an exclusive gentleman's club where Hugh Hunter and new trainee barman are about to close up for the night, it's no surprise that plans quickly change and young Darius is summoned to do some overtime and make sure Mr Flex's needs are pandered to. And what does Flex need? Well apart from his usual poison he wants a beautiful young plaything for the night and Darius fits the bill exactly. Darius is ordered by his boss to suck on their customer's meaty cock as he watches nearby and offer up his ass to his VIP client. But Flex likes his games with more than one player and invites hunky Barman to join in the fun and tag fuck Darius' sweet ass until he is well and truly served and covered in the men's juicy cum. Not bad for Darius' first day at work!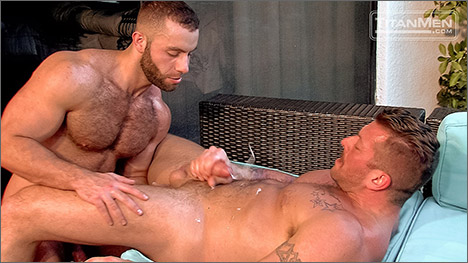 CATCH 22: Eddy CeeTee fucks Hugh Hunter
Eddy CeeTee surfaces from the pool, water sliding down his furry chest. A smile breaks though his beard as he approaches tall and tattooed Hugh Hunter. They embrace, Hugh licking down Eddy's beefy bod. He pulls down Eddy's swim trunks to slowly reveal his thick shaft. He smiles up at Eddy before releasing his cock, then sucks him deep. They kiss, grinding on each other before Eddy gets on his knees—teasing the top and side of Hugh's shaft before engulfing it. Eddy gasps for breath, reaching up to feed a finger to Hugh—who holds on to Eddy's hand in a hot shot. Eddy tongue fucks Hugh before sliding his cock in, fucking him faster as grunts fill the air. Eddy slams his cock all the way in and out ("Open that hole!"), varying the tempo as Hugh buries his face in the cushion. The verbal bottom sits on Eddy, then gets on his back ("Pound that fucking hole!") before he's coated in cum—Eddy flashing a sexy scowl, grabbing the bott om's hair as they kiss.

I NEED BIG COCK
Ever since Dimitri and Luke hooked up he can't stop thinking about Luke's big fat cock. The men he's been hooking up with lately just can't compete with Luke's yummy dick. As the two sit and discuss their issues Hugh walks in and begins to undress. Luke and Dimitri look on in awe as Hugh drops his shorts and is only wearing a jockstrap. Dimitri sees the big cock and is very excited and thinks this guy could be the one. Hugh notices that they are staring at him intensely so he turns around and whips his cock out for both of them to suck. They begin to service Hugh and touch his film muscled up body. Hugh then gets on his knees and shoves both of their cocks into his mouth sucking and slurping the big dicks. He wants to be fucked and so bends over so they can take turns on his soft round ass. The three way gets intense with lots of hard fucking sucking and a messy sticky ending all over Hugh's firm sexy chest.
HOT HOUSE
MEN AT PLAY
TITAN MEN
PRIDE STUDIOS
BAREBACK THAT HOLE
KINK MEN
KINK.COM / BOUND GODS
KINK.COM / MEN ON EDGE
ROCCO STEELE STUDIO
TREASURE ISLAND MEDIA
TREASURE ISLAND / TIM FUCK
CLICK HERE TO GO TO HIS TITAN MEN DETAILS
BRAWL
2 TO 1
BACK ROOM BOY
MYSKIVVIOUS
I NEED BIG COCK