Slutty Ginger American Kink Men Gay Porn Star, Cass Bolton
Years Active: 2015
TWITTER @CassBoltonxxx
KINK MEN INFO:
Height: 6'3″
Weight: 205
Gender: Male
Hair: Red Head
Body type: Swimmer build
Sexual Role: Versatile
Scene Role: Bottom
Pubic Hair: Unshaved
Cock Girth: Normal
Cock Length: 7″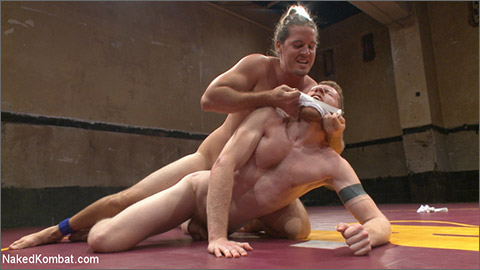 CASS BOLTON vs KIP JOHNSON
Returning combatants Kip Johnson and Cass Bolton duke it out on today's Top Cock. With successful records at KinkMen, both are poised to make this match a hot and heavy battle to the very end. The first round ends with a close score, Cass and Kip quick to put each other in punishing holds. The temperature rises in the second round, as the wrestlers grope, smother and facesit their way to domination. Changing up the tactics, the winner emerges with an impressive lead. In triumph, he throws the loser the mat and basks in the glory of victory as the loser gags on his dick and worships his toes. The loser gets crushed in a leg lock as the winner rams a huge black dildo in his loser hole. With his hole loose and ready for pounding, the loser takes it rough from the champ. The winner glazes his prize's face with hot cum before throwing him in a headlock and making him blow a load onto the mat. Utterly defeated, the loser cleans up the mess with his tongue.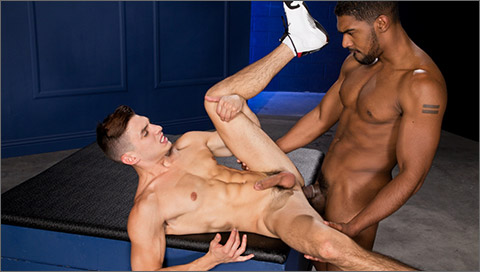 TEMPTATION: XL fucks Anthony Verusso
Super hung, rough and rugged XL swaps major spit with the smooth and stunning Anthony Verusso. The making out has XL so turned on that he manhandles Anthony onto a chair and sucks him in deep, slurping lunges. Equally worked up Anthony gives XL a tongue bath, before stretching his mouth around XL's fat shaft, swallowing every one of XL's 10 mighty inches. Anthony's hole is primed, and ready for a pounding. He arches his back and pushes his tight white buns against XL's fat pole, then flips onto his back and spreads his long legs 180 degrees, grabbing his dick and telling XL to 'make me cum.' Streams of cum flow from his cock and he opens his mouth to capture XL's streaming load, saving some of it to snowball back to his partner.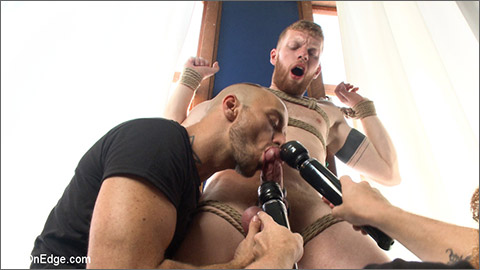 CASS BOLTON – MUSCLED STUD WITH HUGE BALLS GETS THE EDGING OF HIS LIFE
Today for Men on Edge we brought in Cass Bolton for a hot and heavy edging session. Sebastian and Jessie get straight on work on the jock, tying him tight to the windows and having his massive cock and balls bulge from silicone rings. Jessie's mouth and a double hitachi treatment gets Cass moaning for an orgasm, but the two won't let him cum that easy. The boys flip Cass around and fuck his ass with an electrostim vibe and give the painslut a little taste of the flogger. Next, Cass is bound to a chair, a rope from the floor squeezing his balls. The boys worship Cass' feet before moving their attention back to his crotch. Jessie provides some CBT while Sebastian teases Cass with the vibrating sheath. At long last, Sebastian and Jessie feel generous enough to let Cass cum, but not without a cruel post-orgasmic torment and flogging.
KINK MEN
KINK.COM / MEN ON EDGE
KINK.COM / NAKED KOMBAT
RAGING STALLION