Blond Jock American Gay Porn Star, Tyler Roberts
Known Aliases / aka: Ty Roberts
Years Active: 2017 – 2019
Lucas Entertainment Stats / Info:
Position: Top
Dick Size: 8.5"
Height: 5'11
The sexy-as-fuck beefcake Tyler Roberts is blessed with all-American good looks, a huge muscular body, and a rock-hard cock he's always ready to fuck with. And accenting it all is a pornstache that fits his look perfectly. Tyler Robert's debut Lucas Entertainment scene is with his real-life boyfriend, Jesse Santana, who is returning to porn after several years on hiatus.
FabScout stats / info:
Age: 28
Height: 6'5″
Cock Size: 8.5″ cut
Position: top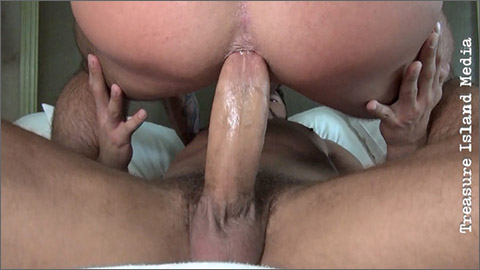 NICK MORETTI'S FUCKIT LIST: Tyler Roberts fucks Michael Roman
TY ROBERTS. IS. BACK. Ty – now going by the full name TYLER ROBERTS – is one of Treasure Island's all time favorite top men. This 6'5" stud fucks like a man in heat, never losing his Southern charm as he beats a bottom into submission with his cock. The first time we met Ty, he was 23 years old – 7 years later, he has matured into a perfect specimen of pure breeding bliss.
   Tyler has MICHAEL ROMAN worship his cock before he goes for the hole. Fucking it on all 4s and then making him ride his cock and squeeze the head of his dick with his cunt and demonstrate just how lucky he is to get fucked by that fat meat. Ty gets Michael on his stomach and really fucks the hell out of him. Michael is then put on the edge of the bed and Tyler – once again being the gentlemen that he is – fucks a load out of the bottom before depositing his own cum deep where it belongs.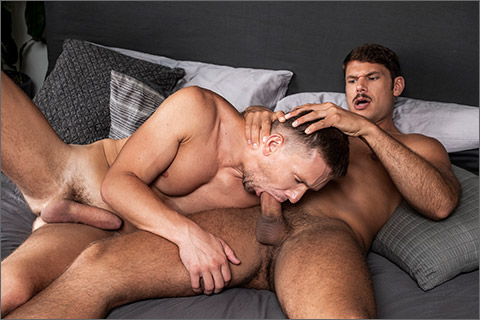 READY 4 DICK: Tyler Roberts Tops Andrey Vic Bareback
The sexual appetite of Tyler Roberts knows no bounds. He and his boyfriend, Jesse Santana, have an "open relationship" policy because Tyler cannot get enough dick sucking and wetting his raw meat in some bottom's ass. Tyler, too, makes it a point to talk guys who usually top into bottoming for him. Andrey Vic is really turned on by Tyler and his jock look, and it doesn't take much convincing, because before long Andrey is on his back getting his ass railed by Tyler!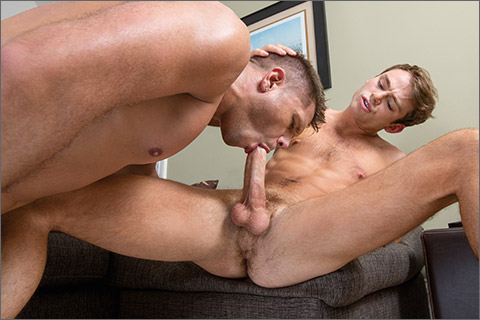 MAX IN THE CITY: Tyler Roberts & Max Adonis (all oral)
Tyler Roberts is delivering a pizza to Max Adonis when Max comes up short on cash. Tyler takes notice of Max's cute ass and body and throws out a few alternative options for payment; Tyler suggests that Max suck his dick. With no other way of paying, and with a raging hunger for cock, Max agrees and gets on his knees. Max's mouth feels amazing wrapped around Tyler's impressive thick dick and soon the delivery guy is balls deep in Max's throat. He face fucks the eager hunk as he closes his eyes and enjoys every second. Tyler wants a taste of Max's ass and throws him back on the couch to see what the fit stud has to offer. Tyler works his way up Max's hairy balls to his throbbing cock and takes it in his mouth to return the favor by sucking Max's dick. Max plows the mouth of the hung delivery stud before lying back one last time to let Tyler eat him out to a creamy finish. As Tyler gets in deep with his tongue, Max blasts his load all over his own ripped body. That's Tyler's cue to feed the hungry stud and with Max underneath him, eyes and mouth wide open, Tyler lets go and showers Max's face with cum.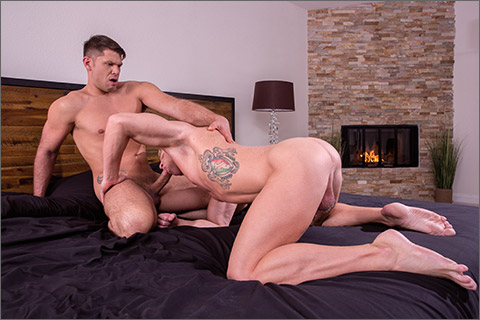 SERVICE ME!: Tyler Roberts fucks Johnny V
Tyler Roberts rings the doorbell to deliver a package to Johnny V's house. It's been raining and Johnny invites Tyler in to dry off. Johnny asks, "is that package for me?" and reaches for Tyler's bulge in his shorts. It's not long before Johnny has Tyler's shorts around his ankles and sucking his thick cock down to his balls. Tyler likes the service Johnny is performing on him and moves him to the bedroom for more oral action. With the taste of Tyler's cock on his lips, Johnny bends over and lets Tyler lick his way in and around Johnny's hairless hole. Tyler can tell he likes it and brings things up with a couple fingers in Johnny's ass. Tyler wants that ass and positions himself behind Johnny and drills him deep. Johnny takes it from behind before getting on his back to take a prostate pounding so hard it makes him shoot thick ropes of cum onto his ripped abs. When it's Tyler's turn to release, he delivers one last gift of cum into Johnny's open mouth.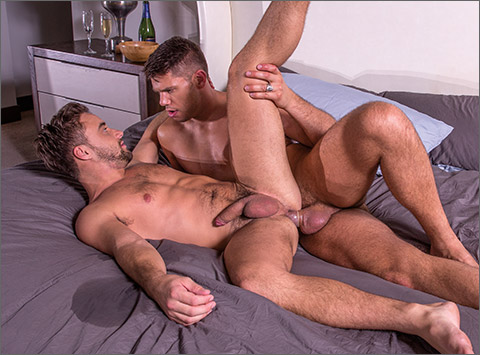 HUNGRY FOR MOORE: Tyler Roberts fucks Samuel Stone
It's a beautiful night by the crystal blue water of the pool to share a romantic glass of champagne. Tyler Roberts pops the cork and leans over to kiss Samuel Stone as Samuel's hands reach down to cup what lies beneath the fabric of Tyler's bulging pants. When Samuel gets a handful of Tyler's massive cock, Tyler eagerly slides his dick between Samuel's parted lips to let the horny stud suck him. Samuel is good at what he does and soon Tyler is hard as a rock. Tyler bends the hunk over the bed and after opening Samuel's hole with his tongue, inserts a strawberry just to see how it feels to eat out of Samuel's throbbing hole. When Tyler has had his fun with foreplay, he decides it's time to stop teasing Samuel. Tyler slips his thick cock deep into Samuel's ass and pumps hard, making Samuel moan out with delight. After fucking him from behind, Tyler wants to look Samuel in the eyes. He sinks deeper into Samuel's ass and flips the stud around. As they maintain eye contact, Tyler keeps sliding in and out of Samuel as he shoots his load all over his ripped abs. The sight of Samuel covered in his own makes Tyler lets loose a river of cum that runs down into Samuel's gaping mouth and down his chin.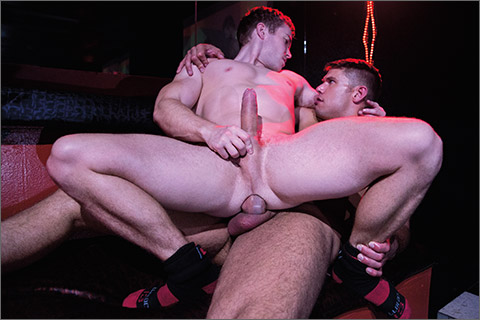 A NIGHT AT THE ENTOURAGE: Tyler Roberts fucks Gabriel Cross
Gabriel Cross is jacking his thick, uncut pole watching porn at the sex club when Tyler Roberts walks by to lend a helping hand. Without words, Tyler pops a finger into Gabriel's tight hole and opens his pants to show Gabriel what he's about to receive. Tyler is already fully hard and Gabriel can't wait to wrap his lips around the massive dick. After giving Tyler a sopping wet hummer, Tyler flips Gabriel around so the two hung studs can 69. After both guys get their throats fucked, Tyler takes the action to a new level by bending Gabriel over to open his ass with his mouth. When Gabriel is lubed up and ready, Tyler bends the hunk over and sinks his fat cock inside as Gabriel moans out with delight. Tyler goes slow at first to let Gabriel get accustomed to his dick, then all bets are off. Tyler's rhythm speeds up and soon he's pounding Gabriel with all 8.5" of rock hard cock. Gabriel wants to watch Tyler fuck him as he cums and rolls onto his back to continue taking the pile drive from the big dick. With Tyler plunging in and out of him, Gabriel blows a massive load that gets Tyler ready to burst. Tyler pulls out and drops his load all over Gabriel's ass that he promptly licks up with his tongue.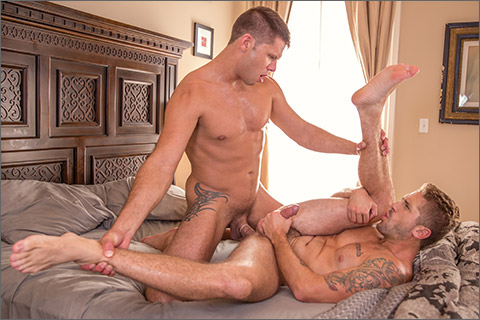 LOVE & LUST IN NEW ORLEANS: Tyler Roberts fucks Wesley Woods
Tyler Roberts is soaking in the tub when his thick boner pops out of the suds. It's a hard thing to ignore and Tyler doesn't even try. He grabs it and wraps his fist around the shaft just as Wesley Woods walks into the bathroom to give him a helping hand. Tyler wants more than just a hand and hops out of the water to offer himself up for Tyler to savor with a nice long blowjob. After getting revved up, Tyler returns the favor to Wesley and gets the stud out of his tighty whities and hard as a rock with his warm and hungry mouth. The two horny studs take it to the next level and open each other up by taking turns rimming each other's tight hairy asses. When Tyler sees that Wesley is fully opened and ready to be entered, he stands up and slowly slides his massive dick deep inside the muscled-up jock bent over in front of him. Tyler grunts and drives every inch deep into Wesley's well-worked back door as Wesley screams out for more. With Tyler still deep inside of him, Wesley is the first to explode and shoots his seed up over his own head. Once Tyler sees Wesley's pleasure, he pulls out and finishes himself off in Wesley's wide-open mouth.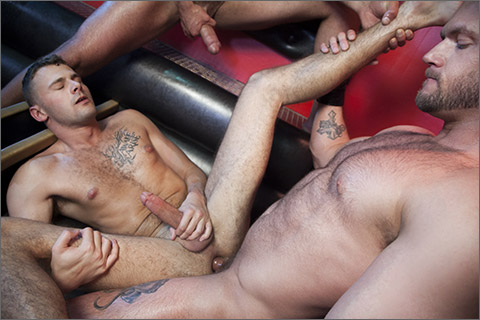 THE SLUTTY PROFESSOR: Tyler Roberts & Ace Era spit-roast Dave Slick
Nerdy Professor Kelp (Ace Era) has until the end of the semester to make himself more relatable and modernize his appearance or he's out on his ass. When he returns to his classroom he catches Professor Studly (Bruce Beckham) and his crush, Justin Brody, finishing up their sweaty sex session and it pushes him over the edge. Kelp rushes to the lab and concocts a secret potion that turns him into a smoking hot, muscular stud named Buddy Fuck. Seething with raw sexual energy, Buddy's first stop is the local gay bar where he meets Ty Roberts and Dave Slick, two horny college dudes who can't wait to get a piece of the Slutty Professor. Up in the VIP Buddy calls the shots as they take turns sucking cock and fucking each other's holes. Ty and Buddy spit roast Dave, filling both his holes, until all three men bust their nuts in each other's mouths.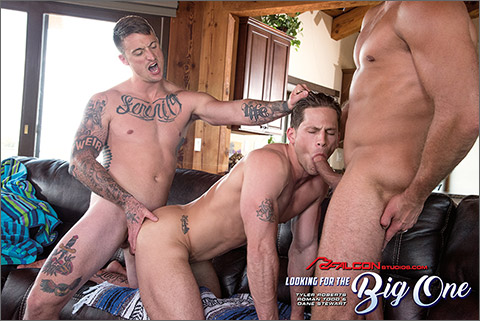 LOOKING FOR THE BIG ONE: Tyler Roberts & Dane Stewart fuck Roman Todd
After a day of surfing, Dane Stewart and Tyler Roberts are chilling on the couch watching some football when Roman Todd enters and sits between them. Roman notices that Dane is watching porn on his phone and decides that it's way better than the football. He reaches out and puts each hand on a crotch and soon all three buddies are naked and throbbing hard. The sight of the massive dicks in front of him gets Tyler in the mood to suck and he's the first to go down on Roman. The guys take turns sucking each other off with no one left out of the action. Tyler wants a taste of Roman's sweet hole and spreads his legs for better access to rim him deep. After Roman is fully opened up, Dane steps up to be the first one inside. He slips his dick deep inside and fucks the stud as Tyler gets him from the front. After getting reamed from behind, Roman wants to test the waters with Tyler's big dick. Tyler sits down on the couch as Roman rides him. The studs take turns tag teaming Roman's willing ass and finally, as Dane is is back inside, Roman lets loose and blows his load all over his tight body. When Tyler sees the pleasure that Roman is feeling, he steps up to his buddy and offers up his load to cover the panting stud. Dane is the last to go, and when he finishes, Roman is dripping wet. Now, all three are grateful for a satisfying day at the beach.
CLICK HERE TO GO TO HIS LUCAS ENTERTAINMENT DETAILS
VIDEO ON-DEMAND: Tyler Roberts @ AEBN SMUTJUNKIES THEATER
DVDs & ON-DEMAND: Tyler Roberts @ TLA VIDEO