Scruffy American College Jock Gay Porn Star & Escort, Nate Grimes
Known Aliases:
Years Active: 2016 – 2020
RENTMEN INFO:
Age:26 Y/O
Height: 6'0″ – 180 cm
Weight: 160lbs – 72 kg
Body: Muscular
Body Hair: Light Hairy
Orientation: Gay
Ethnicity: Caucasian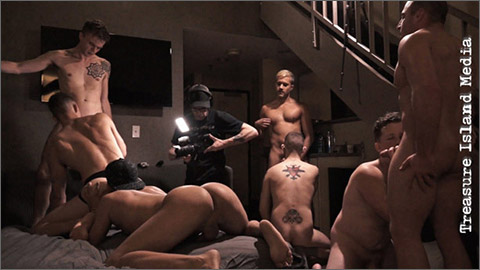 KENNY'S RAW FUCKS – Nate Grimes Group Fuck
When you meet NATE GRIMES for the first time, he seems like a helluva decent, clean-cut, All-American, ex-military, good guy. And for the most part that's pretty damned accurate. He's all of those things, sure. But NATE also just happens to be the sleaziest, filthiest manhole in all of Los Angeles County. Here's your chance to check out for the first time the guy that Paul Morris calls "the new DAWSON". After you watch this scene, write directly to Paul Morris and tell him what you'd like to see NATE do next. The lad's limits are, to put it very mildly, few.

KENNY'S RAW FUCKS – Nate Grimes & Sherman Maus
As you can tell from Scene 4, NATE GRIMES literally can't get enough. After the gangbang, fellow-whore SHERMAN MAUS takes NATE upstairs for some good ol' fashioned flip-fucking fun.After draining NATE of the rest of his sperm, SHERMAN tosses him onto his back to give NATE not one, but SEVEN more frozen loads of man-juice up his hairy, gaping hole.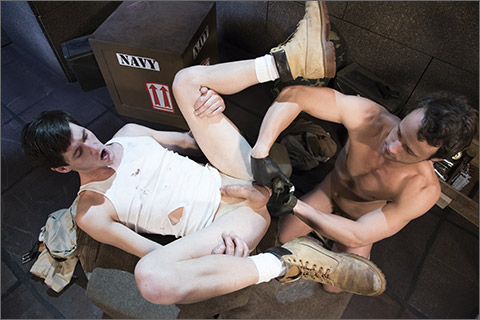 ARM-AGEDDON: Nate Grimes fists & fucks Tony Orlando
Down in the bunker, Nate Grimes is sharpening his machete when Tony Orlando crawls in, in search of refuge from the carnage outside. Nate offers the tired man some water and rest as long as Tony does something for him in return. Soon, Nate has Tony bent over and buries his tongue and face into Tony's smooth hole. Tony gets into the probing from Nate's tongue, but is longing for something bigger. With a few slaps of Nate's dick on Tony's ass, he slides it into the stud. After a few hard pumps, Nate asks Tony, 'How about something bigger?' Without hesitation Tony agrees and Nate stars slow with a few fingers stretching Tony's hole. Tony is eager so get lets Nate squeeze his entire fist into his gaped center. Nate sinks to his knees to gain more leverage on the stud's butt and soon has both hands churning in and out of him. It's time to let Tony cum so Nate puts him on his back and fist punches his hole hard until Tony jacks out a think load onto his stomach. When they're finished, Nate asks one last time, 'You still hungry boy?' to which Tony says 'yes', prompting Nate to squat right onto Tony's awaiting tongue.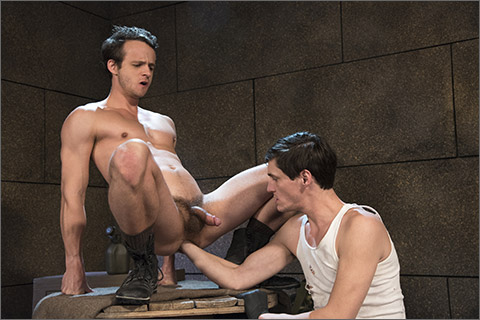 ARM-AGEDDON: Tony Orlando fists Nate Grimes
Nate is sitting on Tony's face jacking his thick cock when he moans out, 'you wanna stay here, you gotta earn your keep.' Tony doesn't want to be thrown back out into the throes of 'Arm-ageddon' so he takes on a total throat assault from Nate's massive rod. Nate wants all the attention so he gets on all fours and tells Tony, 'grease me up!' Going straight for Nate's prostate, Tony shoves his fist deep into Nate's abyss. Tony's works each fist into Nate making sure to stretch his hole to its absolute limits. Wanting total control, Nate gets up and descends straight down on Tony's arm. Tony still needs to prove he's worthy of staying so he gives Nate a sopping wet hummer while Nate rides his fist from up top. Nate decides to hand the reigns back over to Tony and lays back to give him complete access up inside of him. With Tony's fist nearly elbow deep inside of him, Nate rides Tony's arm one last time and strokes his cock until it explodes white ropes of cum into Tony's hungry mouth.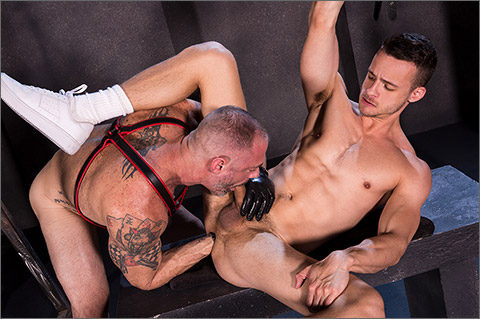 PIG ALLEY: D Arclyte fists Nate Grimes
Muscled leatherman D Arclyte aggressively makes out with young stud Nate Grimes, pressing their faces tightly together and licking each other's pits. Nate gets down on the ground and wraps his lips around D's hard cock. D returns the favor, expertly deepthroating Nate's stunning meat. Long strings of saliva drip to the floor as Nate thrusts his hips and works his cock down D's gullett. Turning Nate around, D uses some of that spit to lube Nate's tight hole and presses his tongue deep between Nate's ass cheeks. D immobilizes Nate by strapping his wrists into suspended restraints. As Nate shows off his bubble butt, D lubes up his hands and works his fist into Nate's hole. Curling his fingers into a wide, round fist, D punches Nate's hole, creating a massive stretch that leaves Nate gaping. As Nate pushes his ass out, D rubs Nate's swollen sphincter with the tips of his fingers. Reapplying copious amounts of lube, D renews his anal assault, and Nate eagerly bounces on D's fist. As D works Nate's hole faster and harder, Nate strokes his huge cock and lets loose a thick, white load.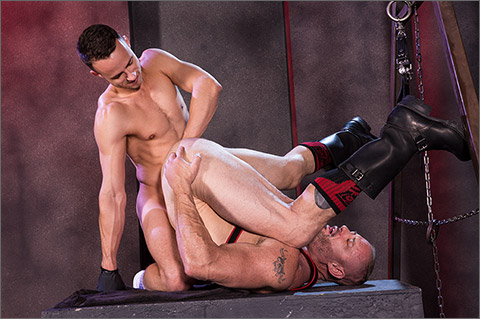 PIG ALLEY: Nate Grimes fists D Arclyte
Muscle daddy, D Arclyte, grabs Nate Grimes by the neck and shoves his tongue down the hung jock's open throat. D is in an aggressive mood and today he wants Nate's fist shoved firmly up his ass. The pair makes out for a bit until D turns around and offers his hole for Nate to open up with his tongue. It's a nice long rimming session that leaves the leather daddy's asshole open, throbbing, and ready to be fed. Amid a torrent of dirty talk from both horny pigs, Nate puts on his rubber gloves and pulls out a giant bucket of lube. He dips his hands in the sticky goo and gets them good and slathered up before he sticks his fingers inside D's gaping butt. It barely takes a second before Nate's whole fist is swallowed up by D's hungry man cave. The horny jock is loving every second of pleasuring his daddy by alternating his hands in and out as strings of lube fall from D's cavernous asshole and Nate's strong arms. D is in complete ecstasy as his mouth gapes and his eyes roll back in his head with every plunge from the fit stud's fists. D needs it a little deeper and a lot more rough so he lies down on a bench with his legs in the air and lets Nate plunge his hole even harder. Nate gets wrists deep inside his daddy as he hurriedly switches hands and keeps up the intensity of the extreme fisting session. All the hole stretching and deep penetration gets D hard as a rock and ready to burst. D stands above Nate as the cum hungry hunk takes a massive load of D's creamy jizz in his eager mouth and on his smooth, tight chest.
Hot or Not? Let us know.
[Total:

112

Average:

4.6

]