Tattooed American Gay Porn Star, Jace Chambers
Years Active: 2013 – 2020
FAB SCOUT INFO:
Age: 30
Height: 6'1"
Weight: 200 lbs
Dick: 9" Cut
Orientation: Gay
Position: Top/Versatile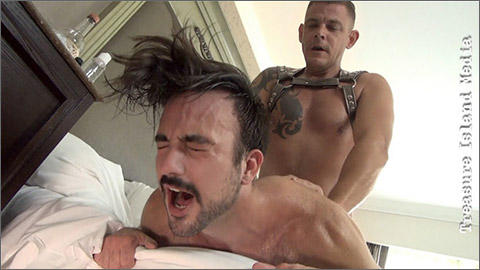 NICK MORETTI'S FUCKIT LIST: Jace Chambers fucks Mason Lear
This is just a warm up for MASON LEAR who practices his dick taking skills with JACE CHAMBERS before his next day all out gangbang. Jace kicks back and really uses Mason's mouth and throat, letting Mason get to thoroughly know the cock that is going to fuck him. Jace has the bottom get up and straddle his dick so he can get it in as deep as possible. Then that moment always happens where a top goes from fucking around to wanting to cum. Jace tosses Mason on his back and drives his dick in, then tosses him down on his belly so he can enjoy the intense fucking and breeding. Mason shrieks in delight at the massive load Jace gives him.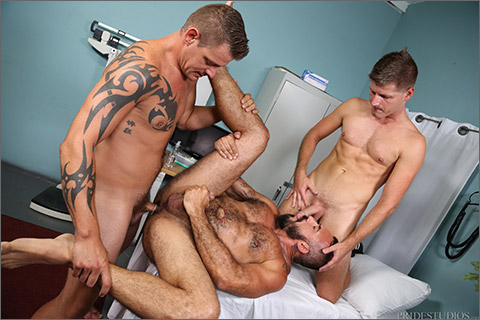 BEDSIDE MANNER – PART 4
Dr. Romero is having a study to find out if big dicks cum more than the average cock and his two specimens have some very nice big cocks for this experiment. Jace and Peter are waiting patiently in the waiting room to find out exactly what this program entails. Dr. Romero arrives and tells them what to expect and to make sure they get their full load in the tiny jar he gives them. They have magazines and lube to assist them while they both masturbate in separate rooms. The nurse comes in and leads them to their rooms. Peter is excited and pulls his pants down as soon as he sees the magazines. He searches for the lube as he pulls on his limp dick making it grow bit by bit. His cock his hard as a rock now and fully lubed so his hand glides along his shaft as he strokes it. All of a sudden Jace comes barging in and scares Peter but he tells him not to worry because it's probably more fun if they are in the same room together. They both grab each other's cocks and give a helping hand. Rubbing their big fat cocks together stroking them with ease and then Dr. Romero comes walking in rather surprised since they are in the same room. Jace tells the doc to join in and with no hesitation the doc is on his knees service the two big juicy cocks. Down on his knees with a cock on each side of him Dr. Romero goes back and forth sucking, stroking and spitting on their sexy dicks. His jaw is getting tired trying to stuff these big dicks in his mouth so he stands up and bends his ass over and waits for Peter to push deep into his ass. Both of the subjects take turns fucking Dr. Romero in a few positions until they blow their loads all over him and then they all realize that they will have to come back again to actually fill the bottles up.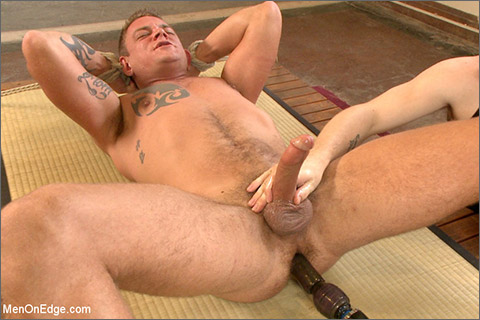 VEINY HUNG COCK, EDGED FOR THE FIRST TIME
Hot muscled hunk Jace Chambers comes to Men on Edge for his first edging session. On his back we tie his hands and legs down and start teasing his cock. As his cock grows we blindfold his eyes to let his imagination run wild. Pre-cum begins to ooze out of his cock once we surprise him with a couple of vibrators massaging his cockhead. Bound in the center of the room Jace has his cock edged even more while feeling the flogger on his body. Then Jace is suspended in the air with his cock dangling to the ground as Sebastian teases him with his tongue. We bend Jace over to play with his ass as more pre-cum drips from his cock as we milk his prostate. Jace is flipped over on his back where he's finally made to cum after relentless edging. We shove his load back into his mouth before finishing Jace off with some post-orgasmic torment.
CLICK HERE TO GO TO HIS PRIDE STUDIOS DETAILS
ENDLESS STREAMING MEMBERSHIP: Jace Chambers @ NAKEDSWORD