Club Amateur USA Gay Curious Guy, Tyler Aston
Known Aliases / aka:
Years Active: 2008
CLUB AMATEUR USA INFO:
Age: 20
Height: 6'1″
Weight: 180#
Cock: 8.0″
Brown Hair
Blue Eyes
Straight and Curious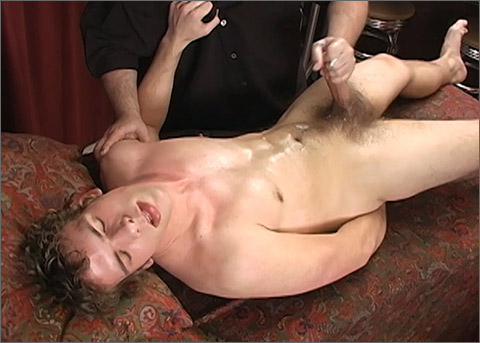 CLASSIC 252 TYLER ASTON
Seeing Tyler so happy and confident in this shoot, today, is bittersweet. After CAUSA sold to BP and I left the industry, Tyler and I stayed in contact. The couple of times that I returned to Scottsdale for visits from 2009 – 2012, he and I got together for dinner and to catch up. That last time in the fall of 2012, Tyler's attitude was different. His participation as a leader in a Christian church camp had brought about regret toward his participation in adult content.
   Although it was then that I felt that our circle of life had run its course, I continued over the next couple of years to reach out to him via Facebook — with no responses.
   After I moved back to Scottsdale in May 2014, I didn't hear anything from him till the early part of 2015. We got together on Oscar night, and my heart broke for Tyler. His absence and silence over the previous 18 months was due to a health crisis that Tyler faced: testicular cancer. As a result, the beautiful young man whose eyes and smile once lit up every room in which he walked, had now grown dark. His weight ballooned due to the changes in his body chemistry and depression set in. Since that March night, last year, I've reached out to Tyler (including again today) without response.
   This coming April, it will have been ten years since Tyler and I first met; 'tis hard to believe that that 18 year old boy has grown into a 28 year old man. He crosses my mind often, and I do hope that he's returned to a healthy space physically, mentally, and emotionally.
   Out of the couple of hundred guys with whom I've worked over the past 14 years, only a handful of them touched my heart. Tyler is one of them.
Here's what I had to say about this shoot back in March 2008:
   My oh my! Guess who emailed me out of the blue a couple of weeks back?
   It seems that Tyler ran across an old email between the two of us and decided to reach out to me just to check in and see how I was doing. We decided to get together for a visit and ended up talking for over two hours.
   Luckily, Tyler had been thinking about venturing back into adult, amateur videos, so when I popped the question, all that had to be discussed was scheduling!
   The last time Tyler appeared on CAUSA, August 2006, he'd put on a few pounds, and in early 2007, we exchanged email, and that's when he explained that he'd put on even more weight, wasn't comfortable with himself and would not appear on video again. As I said to Tyler, if anyone understands the battle with weight, it's certainly me, and I would not push him to do anything that he wasn't comfortable doing.
   Fast forward to now, and Tyler has lost 45 lbs through nutritious eating and lots of cardio. Body-wise, he looks phenomenal. Of course, he's still sportin' one helluva cock, and without a doubt, he's still the most stunningly-beautiful young man to appear on CAUSA!
   Luckily, Tyler's refreshed and looking to sexplore! As a result, what he did after his cumshot, shocked the begeezus out of me!