Club Amateur USA Gay Curious Guy, Dermot
Known Aliases / aka:
Years Active: 2008
CLUB AMATEUR USA INFO:
Age: 27
Height: 5'11"
Weight: 165#
Cock: 7.5″
Blonde Hair
Green Eyes
Straight & Sexploring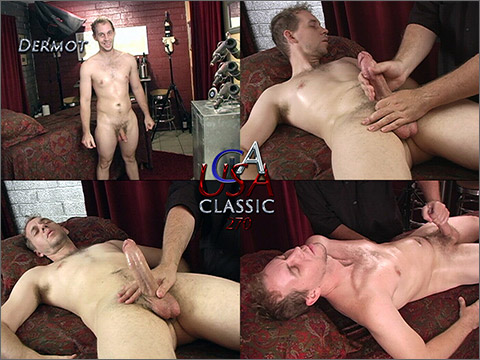 CLASSIC 270 DERMOT
I've been watching Dermot jack his thick dayum cock on his webcam for over a year and in April 2007 I dropped him an email letting him know that I wanted to shoot a video with him! Finally, a few weeks back, the spirit moved him, and I at last got to wrap my hands and mouth around his hot, effen cock! His is the cock that I'd like to play a little "sit-n-spin" on!
   With a compact, naturally furry body, great smile, and that thick dayum cock, I think that Dermot is just dirty sexy! And I'm happy to report that this shoot makes it well worth the year delay for him to come in. WOW! The boy's hips were constantly gyrating, and his head was bobbing from side-to-side throughout the shoot. And interestingly enough, Dermot had four close calls before finally during the fifth one, he couldn't hold back any longer and had one helluva intense orgasm.
   So, definitely enjoy Dermot's CAUSA debut.