Club Amateur USA Gay Curious Guy, Avery
Known Aliases / aka:
Years Active: 2005
CLUB AMATEUR USA INFO:
Age: 29
Height: 6'0″
Weight: 178#
Cock: 8.5″
Blonde Hair
Blue-Green Eyes
Straight & Sexploring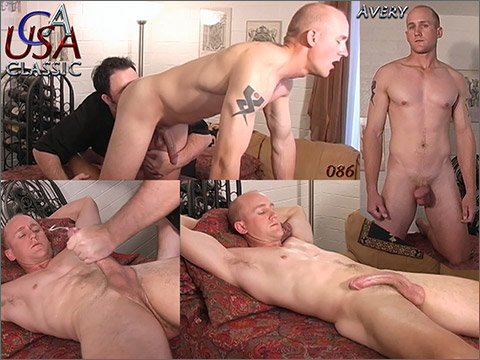 CLASSIC 086 AVERY
Turning 40 next month, still single, and looking better today (thanks to American Ninja Warrior training) than he did when he first filmed with ClubAmateurUSA, Avery recently re-appeared on AFF, and I tracked him down on social media. Alas, no response to my last couple of email. That still doesn't stop me from holding out hope that Avery may one day again grace the CAUSA massage table. What made me think of Avery this week as I was planning today's Classic: the thought of an Avery / Gracen pairing. Between their phenomenal bodies and phenomenal cocks, what a site that would be to behold.
But for now, here's what was said when Avery's second video first ran on the site:
   Avery last appeared on ClubAmateurUSA.com back in November 2004. In the almost three months since his massage, I received a boatload of email requesting to demanding his return. My first attempt to bring Avery back was for the Santa shoot. Our schedules didn't map. Then right around New Year's we tried to schedule a second shoot, and Avery couldn't seem to make it happen. Suddenly, he responded that he wouldn't be available to do more shoots for the time being. I, of course, was beside myself knowing how hot and in-demand he was and not being able to capture him on video a second time.
   So, two weeks ago when a few more email came in wondering where Avery was and telling me how hot he is and how much these folks wanted to see him in a second video, I began forwarding the email to Avery. Hehehe!
   I knew that would work since it did the trick a couple of other times convincing models to do another shoot.
   Thank you to all of you who emailed because Avery came in Thursday morning to do his "Round Two" video.
   UH!MAH!GAWD!!! I just sent an email to Avery with the subject heading, "Holy Hell!" and the body of the message begins, "You freaking ROCK!"
   Folks, this video is phenomenal!
   As I have previously stated, very rarely do I get turned on while editing a video and readying it for update. This is business, and I am most definitely focused on creating a stellar product for my membership. As some of you may have heard me say (and as I tell my models), I have two priorities ó my models' orgasms and my customers' orgasms. My own orgasm is not a business priority ó nor will it ever be. As a result, the focus of the eroticism in the videos is definitely on the models.
   So, as I am editing Avery's "Round Two" video and scrolling through the 23,000 images captured from the final edited video, I have a raging boner and catch myself with my jaw dropped.
   Avery rocked the house in this video!
   Moaning and groaning and thrusting and gasping! dear gawd, he was HOT! And to my pleasant surprise, Avery was mega turned on. All of my oral activities could only be done in 30 – 60 second increments because he stayed on the edge of orgasm throughout this 40 minute shoot ó several times pulling himself out really quickly.
   Given Avery's arousal, visual and audible responses, I'd have to say he thoroughly enjoyed himself. And as you'll see at the end of the video, he gave the most amazing cumshot that I have ever captured on video in the past three-plus years. Similar to the Energizer Bunny, he just kept cumming and cumming and cumming! LOL!
   Enjoy Avery's "Round Two," and plan on having an orgasm about every ten minutes in this 47-minute video.