Scruffy Tattooed American Gay Porn Star, Teddy Bryce
Known Aliases:
Years Active: 2017 – 2018
TWITTER @teddy_bryce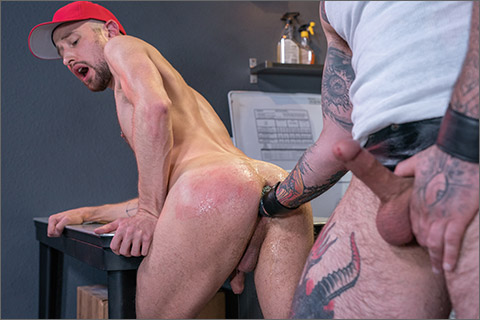 STRONG ARM LANDLORD: Teddy Bryce fucks & fists Drew Dixon
Drew Dixon is late on his rent again and landlord Teddy Bryce has had enough. Teddy catches up to Drew in the laundry room and Drew begs for just a few more days to be able to pay up! Until Drew can make rent, Teddy decides his tenant will have to give up his ass. Instantly, Teddy bends Drew over the washing machine and spreads his smooth ass cheeks apart to bury his tongue and beard into. The dominant landlord wants more and instructs Drew to get on his knees to service his cock thru his jock. Drew chokes and gags on his landlord's thick hog before bending over again to take some whips from a belt. With Drew's ass bright red from his spanking, Teddy gags him with a sock and slides his cock into Drew's crack. Drew is liking getting his hole reamed by cock, but the landlord has something bigger in mind. To the tenant's surprise, Teddy lubes up and slides his fist wrist deep into his overdue tenant's smooth hole. Drew wants to get his hole spread out even more and lays back to let Teddy bust his hole. Drew pushes out a bulging rosebud to show his landlord he's willing to pay his debt. As Teddy is reaching deep inside the stud, Drew oozes out a thick load onto his smooth abs.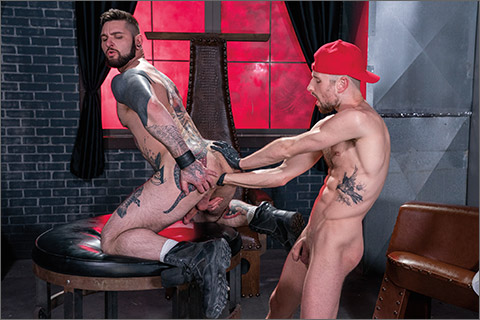 STRONG ARM LANDLORD: Drew Dixon fist-fucks Teddy Bryce
Just when Drew Dixon thinks he's done paying up for past due rent, Teddy Bryce coaxes him again. Drew begs to be let off because his ass can't take another stretching. Teddy laughs and responds, "you're not even close to being paid up! Get over here and suck my dick" Drew does as he's told if he wants to have a roof over his head. Teddy grabs the back of Drew's head and jams his cock all the way down his tenant's throat. After face-fucking Drew, Teddy lays back and tells Drew to eat out his manhole and get it prepped to be busted. Teddy is ready for more so Drew gloves up and heads straight in with his hefty fist directly into his landlord's eager asshole. It's Drew's first time fisting and he's loving every minute of gaping Teddy. Teddy makes sure Drew knows he's the one in control when he switches on his back and grabs Drew's fist to put it up his ass for Drew. Teddy shows Drew how it's done when he spreads his cheeks and pushes out his own blooming rosebud for Drew to tap. Drew kicks it up a notch fist punching Teddy with each hand until Teddy shoots his load that sprays all over the room.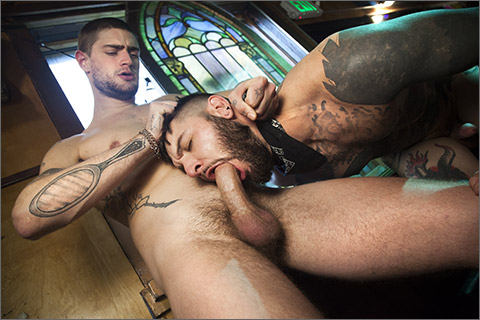 BERKELEY: SOPHOMORE YEAR: Justin Brody fucks Teddy Bryce
Activists Justin Brody and Teddy Bryce are making protest signs, getting pumped for tonight's big Antifa rally. They slip their black ski masks over their heads and bolt out the door headed for the Berkeley campus. By the time they get there it's a full-on riot. Protestors from both sides are shouting obscenities, throwing blows and dodging bottles – including Republican Club President Leo Forte. Justin and Teddy work the young republican over good and take off back to their headquarters. They crash through the door and immediately begin making out as they rip each other's clothes off in an adrenaline fueled rage. Justin's already engorged cock demands attention from Teddy's hot mouth before he shoves it in his tight hole and pounds him hard. Justin lies back, and Teddy bounces up and down his hard cock until he blows then Justin pulls out and beats his meaty cock directly into Teddy's open mouth.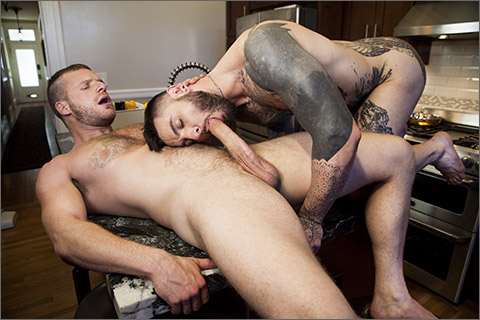 MAKING RENT: Bryan Bonds fucks Teddy Bruce
Brian Bonds calls houseboy Teddy Bryce to come and give his kitchen a deep cleaning. While Teddy works up a sweat Brian spies on the young tattoo'd hunk and offers him 3x the money if he'll work naked. Before you can say "rent's due" Teddy is down on his knees deep-throating Brian's huge cock. Brian throws Teddy on the counter top and eats his ass then shoves his cock in deep for a hardcore ass-pounding. Teddy takes it all until he blows his load then gets down to drain Brian's cock, swallowing every drop.
HOT HOUSE CLUB INFERNO
RAGING STALLION FETISH FORCE / FISTING CENTRAL
NAKEDSWORD
RAW FUCK CLUB
KINK MEN
PRIDE STUDIOS
VIDEO ON-DEMAND: Teddy Bryce @ AEBN SMUTJUNKIES THEATER
DVDs & ON-DEMAND: Teddy Bryce @ TLA VIDEO