Scruffy Cute American Gay Porn Star & Butt Slut, Jace Eros
Known Aliases:
Years Active: 2018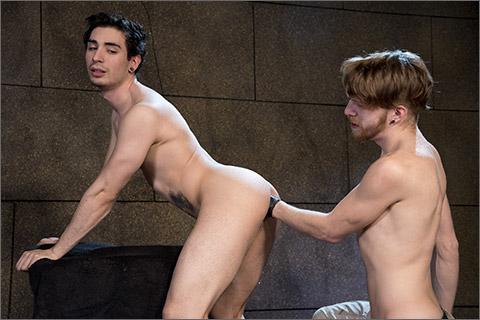 ARM-AGEDDON: Jace Eros fists Luka Sage
The end of the world is here, and Luka Sage is contemplating his fate of being forever alone. He knows his days are numbered, yet he can't figure out why he's horny in a time of crisis. Just when Luka thinks all hope is lost, soldier Jace Eros enters his bunker and the two bond as the world crumbles around them. Luka reveals that on a normal Saturday he'd be getting fisted by his boyfriend, but since that's no longer possible, he'd like to try it with Jace. Jace admits that he's curious and since it's the end of the world, why not? The two hunks drop their pants and Luka bends over to offer up his hole. Jace gets hard immediately as he rims Luka to lube him up. Being in the military, Jace is always prepared for everything and pulls a vat of lube and some gloves from his big sack. Jace's fingers enter Luka slowly at first but soon slip deep inside as Luka's asshole swallows Jace's entire hand. The fist feels great going in and out of Luka's sloppy hole and he continues to moan as Jace pushes the limits of just what Luka's ass can take. Jace gets wrist deep in the young hunk and hits the perfect spot in Luka's ass to make him blast his load with Luka still buried deep inside.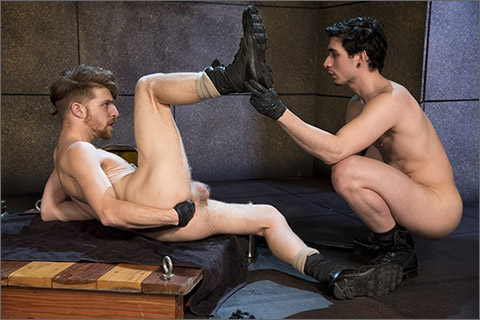 ARM-AGEDDON: Luka Sage fists Jace Eros
Jace Eros is ready to go out with a bang. When Luka Sage offers to give him the ride of his life with a fist up his ass, Jace doesn't even hesitate to bend over. Luka likes what he sees and lubes up his gloved hands to slip his fingers deep into Jace's fuzzy hole. Luka works his way up to getting his whole fist inside the soldier. It's a tight fit because Jace has never done this before, but with a lot of maneuvering and lots of twisting action, Luka is able to get wrist deep inside the newbie. After getting in deep, Luka wants to see Jace fist himself so Jace throws on a glove and gets his hand slicked up. He takes it to the limits as Luka coaches him from behind and when Luka is convinced Jace is as stretched as he can be, he takes over one last time. He can see that Jace is on the brink of needing to cum so he stands up and sticks his cock in the soldier's face. That's all it takes for Jace to let go and he blasts a load of jizz all over the floor. Why bother cleaning it up if the world is ending anyway?
HOT HOUSE CLUB INFERNO
RAGING STALLION FETISH FORCE / FISTING CENTRAL
VIDEO ON-DEMAND: Jace Eros @ AEBN SMUTJUNKIES THEATER
DVDs & ON-DEMAND: Jace Eros @ TLA VIDEO