Hot House American Gay Porn Star, Colin Bryant
Known Aliases:
Years Active: 2018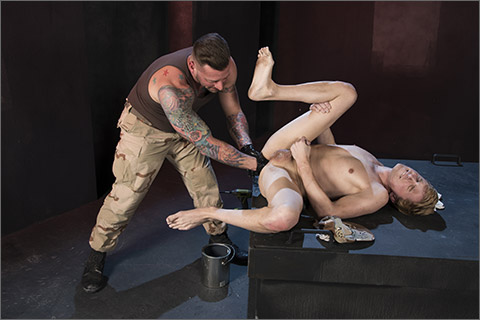 FULL FIST INTERROGATION: Hugh Hunter fists Colin Bryant
Colin Bryant has been a bad soldier wearing a filthy uniform and being a general dirty pig. Hugh Hunter is Colin's commanding officer and he's going to put an end to Colin's lack of respect once and for all. Hugh bolts Colin's wrists to a table and gives him the choice to be thrown in the brig or to take his punishment here. Colin chooses the here and now option so Hugh rips off Colin's uniform and revs up an electric wand. Hugh zaps Colin's cock and balls with electricity but when he discovers Colin likes the punishment, Hugh moves onto the more severe 'German Method'. Hugh pulls out his night stick and covers it with lube. It easily slips inside Colin's tight little ass. 'Let's see what you can really do,' Hugh says as he shoves the stick in further. Hugh isn't satisfied with Colin's abilities for taking things up his ass so he slips his gloved hand in the bucket of grease and shoves it inside Colin's butt. It's a tight fit, but it eventually goes wrist deep as Colin moans out. Colin loves every inch of Hugh's massive hands alternating going in and out as they stretch his ass to the absolute limits. Colin is sweating like the pig he is when Hugh relents and gives the soldier a reprieve for the moment. Hugh warns him that he'll be right back and that Colin better be ready on his hands and knees to service Hugh's ass before the punishment is truly over.

FULL FIST INTERROGATION: Colin Bryant fists Hugh Hunter
Colin Bryant is on his knees patiently waiting for Hugh Hunter. Hugh enters the room completely naked and immediately starts barking out at Colin. Hugh doesn't have any patience for fuck-ups like Colin and he doesn't hide it. 'Eat my ass!,' Hugh commands as he bends over on the table. It's hard to please Hugh because he knows exactly what he wants and how he wants it. 'More tongue!,' he yells out. 'Deeper, pig!' Colin is a quick study and soon Hugh's demands are replaced with moans of pleasure as Colin gets in deep with his far-reaching tongue. The tatted stud wants his ass stretched farther than Colin's mouth can take it. He yells out for Colin to lube up his hands and bends over the table on his hands and knees to let Colin slide his fingers and hand in deep. Hugh's rose opens wide as Colin gets his entire fist in all the way to the wrist. Hugh is grunting heavily as Colin stretches his asshole wide with alternating hands in and out of his hole. Colin keeps a steady pace of shoving his fists inside Hugh. All the gaping ass action is getting Colin ready to explode. He pulls his hands out of Hugh's butt and lies down next to the stud. He jacks his rod and blasts his load before Hugh's vindictive nature takes over once again when he announces that he's putting Colin in the brig after all.
HOT HOUSE CLUB INFERNO
RAGING STALLION FETISH FORCE / FISTING CENTRAL
VIDEO ON-DEMAND: Colin Bryant @ AEBN SMUTJUNKIES THEATER
DVDs & ON-DEMAND: Colin Bryant @ TLA VIDEO