Super Sexy Blond American Gay Porn Star, Scott Riley
Known Aliases / aka: Elder Kimball (Mormon Boyz)
Years Active: 2015 – 2017
TWITTER @ScottRileyX
MEN.COM INFO:
Hair Color: Blonde
Eye Color: Blue
Dick Size: 6″ cut
Height: 5'8″
Weight: 170
Sexual Positions: Versatile
MORMONBOYZ INFO:
Elder Kimball has always been the center of attention. As a star football player, he's used to having girls lusting after him. Little did they know, he had one thing on his mind: cock.
   Despite what you might expect from his muscular frame and masculine appearance, Kimball is insatiable when it comes to sucking dick and getting fucked. And with a firm ass like his, the harder and rougher the better.
   Being on his mission, he's been desperately lacking his usual attention. Luckily for him, the Order has been watching him carefully and have made plans for this horny bottom boy.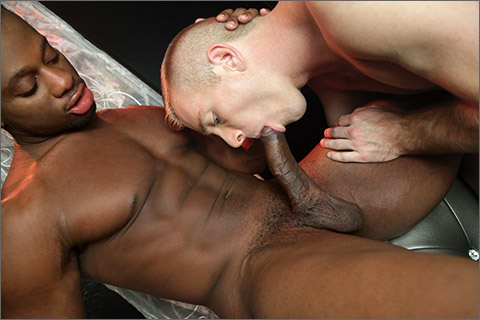 THE TEN SPOT: Woody Fox jacks off while Luke Diamond fucks Scott Riley
Woody Fox is getting ready for work when he sees Luke Diamond and Scott Riley going at it out on the fire escape. He opens the window and invites the guys in under one condition: he gets to watch. Woody starts jerking his uncut meat while Luke eat's Scotts ass but before you know it they are both kneeling before Woody hungrily sucking his dick. As soon as Woody cums his ten minutes are up but the guys are just getting started. Scott can't get enough of Luke's huge dick and Luke is obsessed with Scott's tight pristine hole. The hot fuck-fest goes hard until both guys blow their loads and leave before the next couple hits The Tens Spot.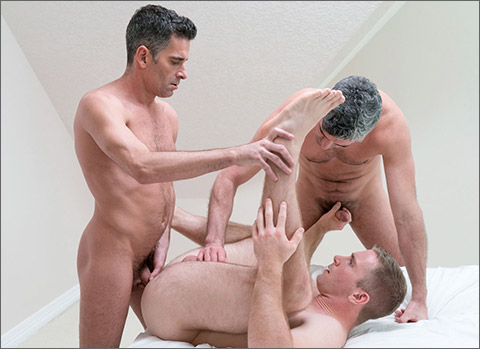 THE INITIATION OF ELDER KIMBALL:
CHAPTER 4: THE COVENANT
Elder Kimball had a rough time walking for days. Brother Hales' massive endowment proved to be more of a challenge than he'd expected.
   Every time he took a step, he was reminded of how hard he'd been fucked in the temple basement… and every time, he got excited.
   Before beginning his mission, he had struggled with the idea that he wouldn't be able to masturbate for two long years. But now that he was there, he was doing more than just masturbate…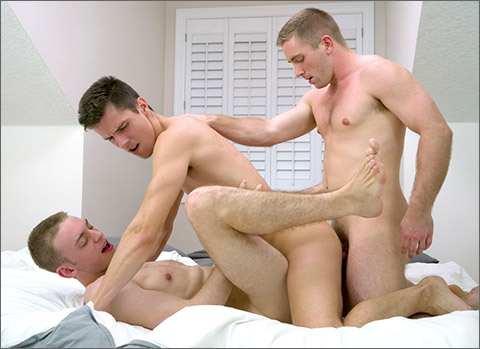 THE INITIATION OF ELDER NICOLA:
CHAPTER 8: MISSIONARY SPLITS
Elder Ivy's regular companion was called to the mission home for a zone leaders training over the weekend.
   So Elder Ivy went on splits with two other missionaries in his district, to be in a temporary "3-some" companionship.
   Elder Nicola and Elder Kimball were more than happy to buddy up with the blond Mormon.
   Following Nicola's ordination into the Order, Elder Nicola discovered that his companion, Elder Kimball, had also been selected by the brethren and had begun his induction.
   The two boys were thrilled they could privately discuss their experience in their companionship. It certainly made things a lot easier in their apartment not having to hide their secret, and it also made their late night conversations more exciting…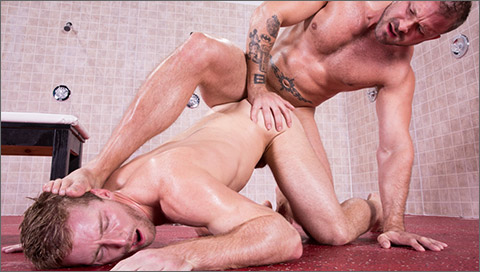 DEPTHS OF FOCUS: Austin Wolf fucks Scott Riley
A white towel barely covers Austin Wolf's throbbing manhood as he stretches out in the sauna. His hairy, muscled body is on full display as cut, lean hunk Scott Riley sits down on the bench across the room. Sensing Scott's presence, Austin's hand grazes past his nipples on their way down to his crotch, adjusting his boner underneath the towel. Scott begins playing with his cock as Austin's towel falls off completely and his thick cock swings through the air. Standing up, Austin gives Scott a full-on look before wrapping himself in a towel and heading to the communal shower. Austin stands under the warm running water and strokes himself as Scott rounds the corner. Scott and Austin's boners are both at full attention as they stand across from each other, flexing their muscles. Turning around, Scott shows off his ass to Austin, who gazes at Scott's round, firm butt with anticipation. Reaching over, Austin grabs Scott by the balls and pulls him close. Standing together under the water, they finally kiss. Scott tongues at Austin's nipples, and Austin uses his fingers to probe Austin's ass. Sinking to his knees, Scott opens his jaws and inhales Austin's massive man meat. Austin grabs his nipples to enhance his pleasure as he throat-fucks Scott's handsome, scruffy face. Bending over a changing bench, Scott spreads his cheeks for Austin to explore with his tongue. With Scott's ass lubed up, Austin uses his thumb to probe Scott's hole, then slides his thick cock in. To fully dominate Scott, Austin positions him with his face on the floor and his ass in the air for a pile-driving fuck. Moving back to the bench, Scott lays on his back and jerks out a thick, white load. Austin strokes himself until he shoots his wad in Scott's mouth.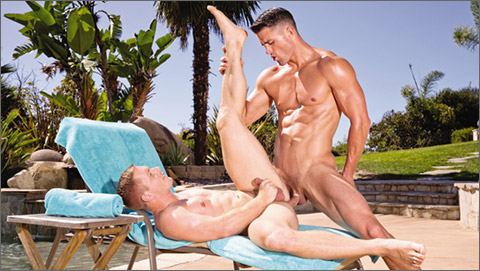 INTO THE BLUE: Ryan Rose fucks Scott Riley
As Scott Riley approaches the pool, Ryan Rose lifts his sunglasses to get a better look at Scott's perky butt. As Scott swims back and forth in the cool, refreshing waters, Ryan rises from his chair and wades into the pool too. They immediately embrace and lock lips in a kiss. Ryan's hands move down to Scott's ass, pulling down his blue swimsuit to show the top of Scott's ass. Scott gropes Ryan's hard boner through his bathing suit. Pulling it down, Scott goes underwater to give Ryan a deep-throated blowjob. They kiss again passionately, and then Ryan leads Scott to the edge of the pool for more. Using his hand against the back of Scott's head, Ryan guides Scott up and down the length of his shaft. Thick trails of spit roll down Ryan's shaft as Scott swallows Ryan's meat to the base. Scott stand up in front of Ryan and Ryan pulls down Scott's suit. With Scott bent over the lounge chair, Ryan Spread's Scott's fuzzy blond butt cheeks and rims his tight, pink hole. Eager for more, Ryan mounts Scott from behind and fucks him doggy style. They move to a sit fuck, and Scott's ass stretches around Ryan's huge cock. Using his muscular legs, Scott raises and lowers himself on Ryan's massive tool. Flipping Scott over, Ryan fucks him in missionary position until he can't hold back any longer. Ryan moves forward and blows his load right in Scott's open mouth. Jerking his hard cock, with the taste of Ryan's cum on his lips, Scott busts his nut on his blond treasure trail.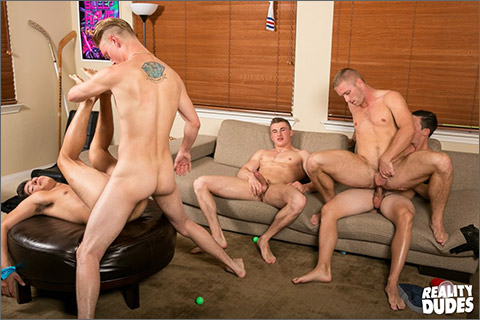 A SPIT DELIGHT
When they got a new pledge to the fraternity, the guys thought of a few ways to welcome him. The best way they could think of though was to take turns fucking his tight ass bareback long and hard. We get to see some of the hottest action (and cumshots) we've ever produced.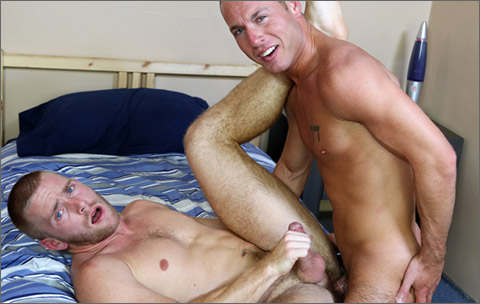 JORDAN BELFORT FUCKS SCOTT RILEY
Scott Riley is already reaching for Jordan Belfort's bulging cock, begging him to get those clothes off and kiss him harder as they make out on the bed. Jordan rubs Scott's dick over his shorts while he kisses his neck, letting Scott unleash his hard prick from his boxers and go to work on it! Scot kneels on the floor in front of Jordan and sucks that sweet cock, Jordan guides his mouth farther down, pushing Scott's head to get that dick deeper down his throat.
   Jordan gives Scott's meat a taste and then they 69, Scott getting his fine ass eaten out while Jordan gets his big dick sucked until it's hard enough to pierce Scott's tight hole and make him sore for days. Scott rides Jordan's fat curved cock before bending over the bed and taking it doggy style next while he jerks his own member hard and fast, moaning as Jordan fucks him hard then takes a timeout to get another quick taste of Scott's delicious prick before entering him again!
   Scott lies on his back with his legs spread wide open for Jordan, letting him get deep inside as Scott touches himself, stroking his throbbing dick until he comes on himself and then lets Jordan drain his cum on him next!

ALEX GREENE FUCKS SCOTT RILEY
A few kisses in and Alexander Greene is already going for Scott Riley's cock, teasing it through his pants as they make out and strip down, Alexander getting on his knees in front of Scott and sucking that sweet cock! They swap places and Scott struggles to fit Alexander's huge dick in his mouth, but he tries to deepthroat that dick and as a reward for his efforts Alexander gives him a hot rimjob, warming up that tight hole before he slides his cock in and fucks it!
   Scott takes that dick, reaching between his legs to stroke his own prick as Alexander gives it to him hard from behind. They try a few different positions, letting Scott ride Alexander's shaft and then laying Scott on his back and spreading his legs wide open so that Alexander can get deep inside that ass. Scott massages his own cock while he gets fucked, stroking out a big load and then letting Alexander cover him in cum after that!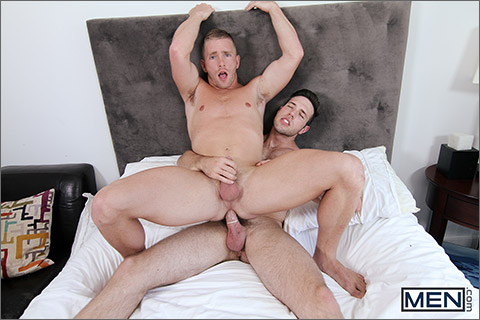 STRAIGHT MAN'S WHORE – PART 3
Being the straight man's whore is definitely worth it if you've got Alex Mecum as a friend. Alex fucks Scott Riley's hot ass before shooting an epic load.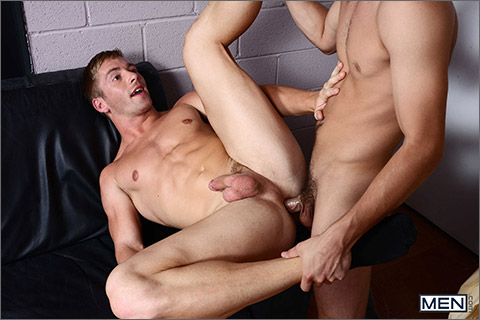 RECRUITING – PART 1
Scott Riley has a crush on a girl in the office, but he is in a serious dry spell so he turns to Johnny Rapid, A.K.A. "The Recruiter" for some advice. Johnny starts by having Scott describe his fantasy as touches him in all the right places. Before you know it, the two are flip fucking, leaving Scott drenched in cum.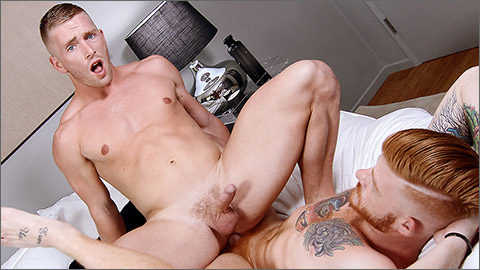 STRAIGHT MAN'S WHORE – PART 2
Bennett Anthony's girlfriend has left again and Bennett knows exactly who to see to bust his nut, Scott Riley. Bennett gets straight to the point, putting Scott to his knees to service his growing cock. Soon after, they decide to take it to the bedroom where Bennett fucks all his pent up aggression out and into Scott's ass.
NAKEDSWORD
MORMONBOYZ
HOT HOUSE
FALCON STUDIOS
MORMON BOYZ
REALITY DUDES NETWORK
COLLEGE DUDES
MEN.COM
GAY ROOM
KINK MEN
KINK.COM / BOUND GODS
KINK.COM / MEN ON EDGE
CLICK HERE TO GO TO HIS MEN.COM DETAILS
STRAIGHT MAN'S WHORE – PART 1
SON OF A PREACHER MAN – PART 3
STRAIGHT MAN'S WHORE – PART 2
RECRUITING – PART 1
Hot or Not? Let us know.
[Total:

102

Average:

4.3

]