Handsome Pure Casting Gay Porn Star, Ken Rodeo
Known Aliases:
Years Active: 2016 – 2017
TWITTER @KenRodeoxxx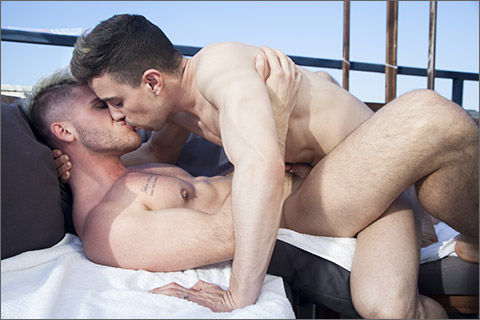 KISS AND TEL AVIV: Josh Milk fucks Ken Rodeo
"Intimate in Israel" Ken Rodeo and Josh Milk spend the day sightseeing in the city and end up on a rooftop overlooking Tel Aviv. Uninhibited by the potential of prying eyes from the surrounding buildings and construction sites, the two horned up studs waste no time making out and getting naked. Both Ken and Josh show off their expert cock sucking skills then Ken gets on all fours and opens his hole to Josh's thick dick. Josh buries his meat deep inside Ken and furiously fucks a load out of him then pulls out just in time to feed Ken his creamy white jizz.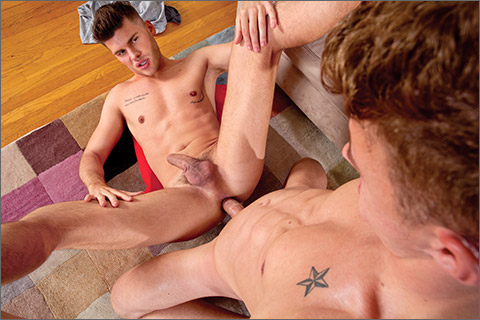 WILD WEEKEND – PART 2: JJ Knight fucks Ken Rodeo
After their adventures up at the Russian River, the guys are back in San Francisco and gearing up for the big Pride celebration. JJ Knight fixes himself a cup of morning coffee and sits down on the couch. Ken Rodeo is crashed out on JJ's living room floor, and something stirs in JJ's pants as he admires Ken's bare ass. Rolling over, Ken wakes up and is more than happy to swallow JJ's immense cock. Jumping up on the couch, Ken spreads his ass and invites JJ to dive in tongue first. With his hole slick with spit, Ken is eager to get filled up by JJ's massive meat. JJ sits on the couch and Ken lowers himself down onto JJ's cock. Ken's back flexes and his firm ass cheeks ripple as he rides JJ hard. After wearing out the couch, Ken reclines on the floor and throws a leg over JJ's shoulder. JJ thrusts his huge dick back inside Ken's hole and pounds him with fast, deep strokes. As JJ pummels Ken's hole, Ken jerks his cock and unleashes a gusher of cum across his smooth torso. Rising to his knees, Ken opens his mouth and makes his face a target for JJ's load. Huge, white globs of cum explode from JJ's cock and drench Ken's stubbled chin. Taking JJ's cock in his mouth, Ken sucks out the final drops as JJ sighs with satisfaction.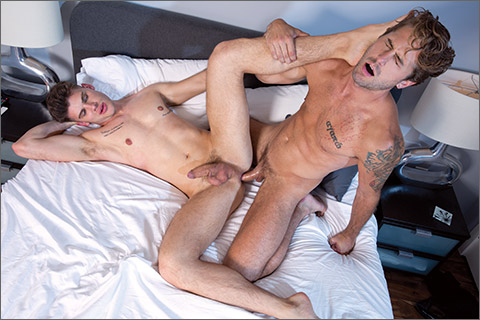 WILD WEEKEND: Wesley Woods fucks Ken Rodeo
The crew is chilling over pizza and beer at their vacation house on the river, settling in after the drive up from San Francisco. Ryan Rose asks European studs Brute and Ken Rodeo why they decided to come visit. Ken says that they wanted to see what San Francisco Pride was all about, and Brute adds that they want to "shag as many blokes as possible." Ken says that he views American guys as a challenge – because they're more uptight sexually! The Americans protest, proclaiming that they're just as sexually liberated as Europeans. But it's late, and the guys head to bed without resolving their debate. Later, as Wesley Woods is undressing for bed, he hears a knock at his door. It's Ken, and he wastes no time telling Wesley, "I want you to fuck me!" "That's very to the point," says Wesley, feeling a bit shocked, but something about Ken's assertiveness really turns him on. They start making out, and Ken goes down on Wesley's cock. Moving into a 69 position, Wesley eats Ken's ass while Ken continues sucking Wesley's dick. Ken jerks his cock and rides Wesley's face while moaning with pleasure. "Fuck, you taste good!" exclaims Wesley. Wesley leans back on the bed, and Ken sits on Wesley's cock and rides it like a cowboy. They switch to doggy style, and Wesley gives his cock to Ken with long, powerful strokes: all the way in, all the way out. Rolling on to his side, Ken makes his hole extra tight for Wesley to fuck him sideways. Moving to missionary, Ken strokes himself off while getting fucked, blasting his creamy load on his stomach. Wesley jerks his load out into Ken's open mouth, dripping cum on his chin, and bends down to taste his load on Ken's lips.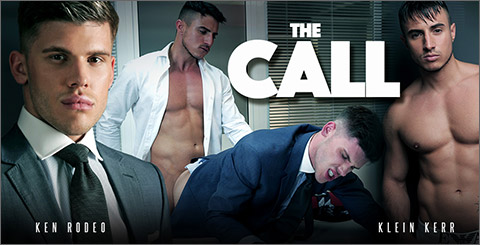 THE CALL
MEN AT PLAY
FALCON STUDIOS
NAKEDSWORD
PEGASUS STUDIOS