Blond Czech Gay Porn Star, Ronny Lamarr
Known Aliases / aka: Darryl Declan, Milan Zrzek, Steve Wende
Years Active: 2014 – 2017
BEL AMI INFO:
Eye Color: Blue-Grey
Hair Color: Red
Zodiac: Aquarius
Dick Type: Thick
Dick Size: 21
Height: 190
Weight: 68
Ronny Lamaar is obviously not to everybody's taste.
   He has a light complexion with little no pigment. He is thin and unable to gain any weight. On the other hand he has some huge advantages. He loves sex in any form. He has zero inhibitions and his sexual performance is flawless, so our decision was to feed you Ronny in limited quantities. I certainly wouldn't release him unless I considered him seriously sexy despite the fact that he is not an archetypal BelAmi model.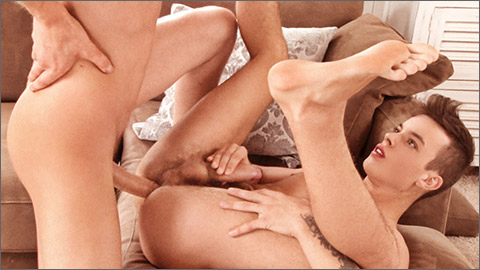 RONNY LAMARR & TOMMY POULAIN
After a glass of wine and watching some online porn, Ronny is confident that his blow jobs skills are better than the guy in the video. The truth is that both the boys today give an impressive display of oral skills, and when it comes to the fucking, the choice is natural as to who will be top and who gets to bottom.
   Tommy, with his slightly naive innocence, seems to be just made for bottoming, and we all know that Ronny just loves sex, whether he is on the top or being passive.

JACK HARRER & ANDRE BOLEYN & RONNY LAMARR
Most of our boys start to get worried every time Jack says 'I have a super idea' as it normally involved Jack's huge dick going into someone's butt… This time it is not the case though, and his great idea turns out to be someone fucking him instead.
   Ronny Lamarr is the lucky one to get to fuck Jack this time around while Andre is there to make sure that everything goes smoothly, and also to get himself a taste of both boys dicks. 3 experienced models usually makes for a very hot scene, and we are not disappointed here.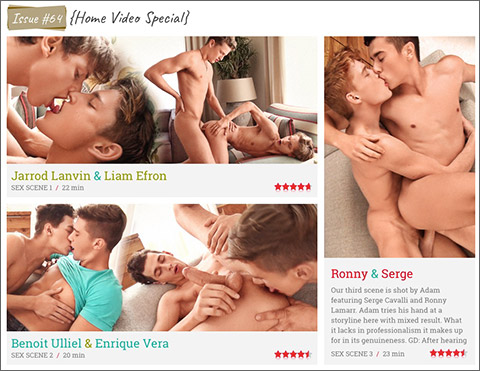 FRESHMEN ISSUE 64: HOME VIDEO SPECIAL: Serge Cavalli & Ronny Lamarr
Our third scene is shot by Adam featuring Serge Cavalli and Ronny Lamarr. Adam tries his hand at a storyline here with mixed result. What it lacks in professionalism it makes up for in its genuineness. GD: After hearing Dehanoia's response, I sent this for re-edit. He wrote: "The fucking is very enjoyable if you don't fall asleep during the introduction". Before you get too critical, remember this is a belated Christmas gift. Normally there would be an image set in this section.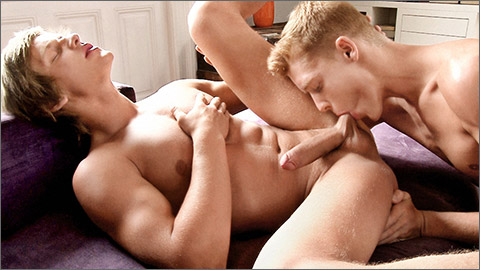 RONNY LAMARR & ROALD EKBERG
Our couple today are a nice combination of ginger ad blond. Both regulars here on BelAmi, Ronny Lamarr and Roald Ekberg find themselves in Budapest at the same time and 'coincidentally' a lot closer than they first thought.
   The sex between these 2 old friends is, I am sure, the result of a lot of experience, as both guys know instinctively what turns the other on. Ronny's prolonged and devoted teasing of Roald's asshole before fucking him, and Roald's responses to every thrust are evidence of this, and the proof of it all is in the orgasm, with Roald exploding all over himself as Ronny continues to fuck him.


SEXY TWINKS: RONNY LAMARR & TONY CONRAD
This one starts with a casual photoshoot where Ronny tries to get the best out of Tony's abillities. Turns out he get's more than what he was expecting. Tony is very easily turned on and when there is a small chance for some fun to be had he is always up for it. After hot sucking he is eager to serve up his bubble_butt for Ronny's big uncut dick. If this is how you imagine BelAmi's photoshoots end up then you might be right! Watch these two sexy twinks go at it in this 5 star scene now playing!
CLICK HERE TO GO TO HIS BEL AMI DETAILS