Czech BelAmi Gay Porn Star, Miguel Estevez
Years Active: 2015 – 2017
BEL AMI INFO:
After debuting his solo in 2015, it took a while for him to decide to film hardcore. We featured Miguel's blow job with Joel in 2017's first Freshmen edition and since then he has mainly been a BelAmi model. Miguel is Hungarian, probably with some Roma ancestry like Andry Boleyn and because of his dark Mediterranean good looks, we decided to give him a Spanish stage name. He is the prototype Latin heart-throb who'd look at home anywhere from Colombia to Andalusia. Definitely in my opinion he could play a young Sheikh from Lawrence of Arabia as well.
Eye Color: Brown
Hair Color: Black
Zodiac: Taurus
Dick Type: Average
Dick Size: 17.5
Height: 180
Weight: 75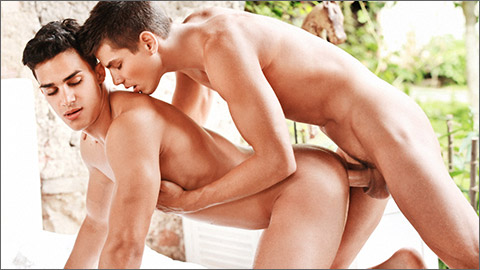 SUMMER BREAK 6: ADAM ARCHULETA & MIGUEL ESTEVEZ
Adam has a problem. He is having trouble finding some guy that he hasn't already fucked, but he has had his eye on newbie Miguel for a while. Luckily Mary is willing to give up his 'day off' to film their encounter for us.
   Adam is always a talkative lover, and it doesn't seem to matter if his partner can understand anything he is saying or not. Maybe Miguel just likes hearing Adam's husky and sexy voice.. Whatever magic he has though, it certainly works for Miguel and Adam fulfills his promise of having him; cumming in no time at all'.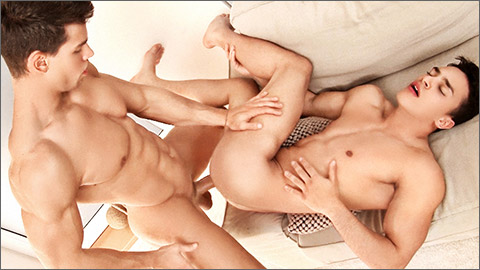 KRIS EVANS & MIGUEL ESTEVEZ
We're going All-Hungarian today when Kris Evans gets together with newcomer, Miguel Estevez. Prior to this month, you have only seen Miguel in solo scenes (and one blow job with Julien Hussey) but he makes his hardcore debut on both BelAmiOnline and Freshmen this month, with more coming next month and over the summer.
   For those of you who don't follow our comments on the boys intently, today's scene opening is typical of Kris, both in the fact that he is walking around the apartment naked, and in the fact that he is trying to convince Miguel not to waste money.
   When it comes to cash, Kris may be a saver, but when it comes to sex, he is definitely a very generous giver, and it seems Miguel is happy to accept everything with pleasure.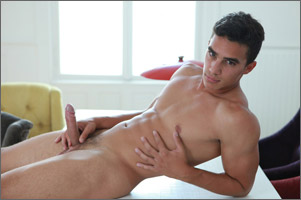 HUNG AND HANDSOME: MIGUEL ESTEVEZ
We start off with the dreamy-eyed Miguel Estevez – with classic Mediterranean good looks, dark hair and beautiful, uncut c0ck. This is his first appearance on BelAmiOnline but expect to see more of him in the future.
LIVE CHAT & PRIVATE SHOWS @ FLIRT 4 FREE