Furry American Gay Porn Star & Go Go Stripper Boy, Rikk York
Known Aliases: Rikk
Years Active: 2013 – 2018
FAB SCOUT INFO:
Age: 27
Height: 6'1"
Weight: 190 lbs
Dick: 7.5" Cut
Orientation: Gay
Position: Top/Versatile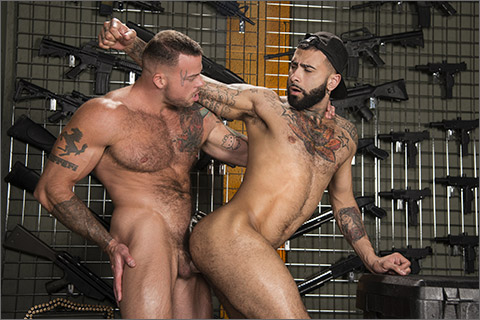 GUN SHOW: Sean Duran fucks Rikk York
Second Amendment activist Sean Duran is handing out right wing literature at the 'Gun Show' and sets his sights on Rikk York. Sean tries explaining to Rikk that "cry-baby liberals are gonna take away all our guns!" Rikk likes what he sees in Sean and offers to talk about Sean's concerns in a more private setting. The minute they get alone, Rikk makes his moves on the tatted stud and goes in to give him a kiss. Sean protests at first, not understanding what the hell is going on. Rikk calms Sean's little conservative brain by telling him to relax and by reaching into his bulging camouflage pants to rub his growing chub. It only takes a second for Sean to whip out his dick and peel off his Ted Nugent vintage Tee. Rikk isn't quiet about sucking on Sean's hot rod and gags and spits as he slobbers all over it. The guys are within ear shot of the gun booth owner who keeps turning around to see if what he's hearing is real. He sneaks over to get a better listen as Rikk bends over and gets his asshole eaten out by Republican Sean and his not-so-conservative ass licking tongue. When Sean is sure he could fit the barrel of a Glock 17 firmly all the way up Rikk's butt, he splays the muscle jock over a container with his legs in the air and inserts his weapon of choice. It's a beautiful thing to see two horny studs fucking in front of a rack of guns at a public show, and both hung dudes are getting off to the idea. All the guns surrounding them and the sensation of Rikk's tight ass enveloping his giant cock is all that Sean can handle. He pulls his meat out and dumps his load all over Rikk's hot ass. After all the action, Sean is thirsty and needs to taste what's inside Rikk's loaded pistol. He gets under Rikk's big hairy dick and opens his mouth to get every drop that Rikk has in his emptied-out chamber.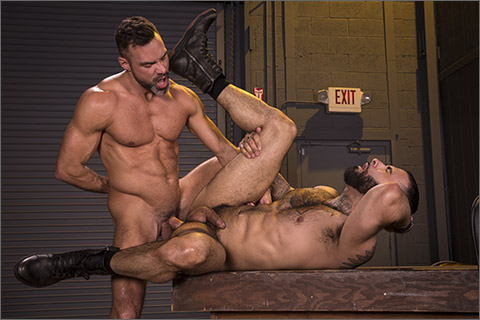 BEARDS, BULGES AND BALLSACKS!: Manuel Skye fucks Rikk York
Rikk York is smoking a cigarette next to a barrel fire in a seedy alleyway. He isn't wearing anything but a leather vest and big black boots. Dirty muscle daddy, Manuel Skye, approaches the hung stud and rubs his cock through his jockstrap as he gives Rikk a peek at his giant, meaty sack. The two muscled up hunks start making out and rubbing beards until Rikk squats down and takes Manuel's big boner down his open throat. Manuel's low hanging balls swing between his legs as he face fucks Rikk's greedy mouth. Rikk needs his hairy asshole serviced and spreads his cheeks to let the daddy get all the way into the pink with his fingers and long, experienced tongue. Leaning back, Manuel savors Rikk sitting on his throbbing pole. Manuel takes over and pounds the stud's hairy bubble butt, stretching him to the limits. Rikk bounces and grunts as every last inch of the monster cock goes in and out of his tight body. Spreading his legs as far as they'll go, Rikk lies back as Manuel stands above him and keeps a relentless steady pace of thrusting his pelvis deep into the hairy hunk. After all the ass reaming, the guys jack their cocks together. Manuel is the first to let loose and shoots a whooper of a load that hits his own face and sticks in Rikk's big, black beard. They kiss and share Manuel's load as Rikk's dick oozes thick, white cum into his hand and all over his fuzzy crotch. Manuel rubs the sticky jizz into Rikk's hairy chest and they continue kissing and swapping cum as they rub their drenched bodies together.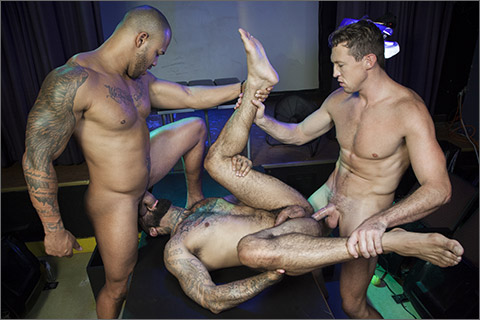 MAKING RENT: Jason Vario & Pierce Paris spit-roast Rikk York; Jason Vario fucks Pierce Paris
Rikk York is having one of those days. He's broke, rent is due and he's fucked. Desperate for cash, he picks up the local paper to skim the classified ads and comes across "production assistant needed for gay porn shoot". Why not? When he shows up to the Nob Hill Adult Theatre, he's greeted by the director and gay porn stars Pierce Paris and Jason Vario, who are super horny but worried they're going to have to cancel the shoot because of a no-show. No scene = no pay! Rikk flashes his bubble butt and 6-pack abs and offers to be the replacement. The horse-hung superstars approve and within minutes he's got 2 dicks in his ass and choking on man meat. The Who says Making Rent can't be a load-full of fun?!?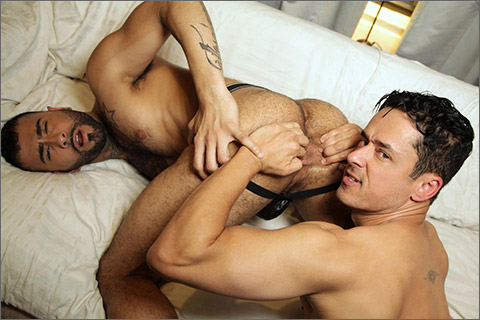 INTERNATIONAL PLAYBOYS: Rafael Alencar fucks Rikk York
Everything moves faster in New York City, especially International Playboys Rafael Alencar and Rikk York. The horny studs agree to meet in Times Square where they waste no time getting back to Rafael's place for a hot-blooded fuck session. Large and in charge, Rafael throws Rikk down on the bed and dives into his furry butt cheeks, tongue first. After teasing his puckered hole with his enormous Brazilian beast Rafael shoves his dick deep inside Rikk and fucks him relentlessly for what seems like hours in every position imaginable. Looks like Rafael takes his time when it comes to fucking hot ass.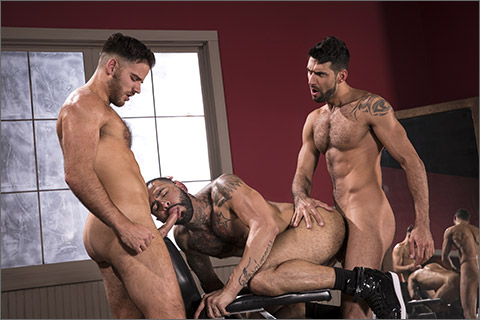 HIGH N' TIGHT: Rikk York, Mick Stallone & Jackson Grant fuck
Leatherman barber Rikk York is working on a 'High n' Tight' cut for his client, Mick Stallone. They make conversation about where to go out and what the local guys are like. Rikk's assistant, Jackson Grant, overhears the conversation and shares a knowing glance with Mick through the mirror. Jackson pulls up his shirt and starts stroking his cock. "Again?" Rikk says. Pulling back the barber smock, reveals that Mick has already started stroking himself. Jackson comes over and goes down on Mick's hard cock. Joining in, Rikk thrusts his hard cock down Mick's throat. Jackson makes out with Rikk as Mick switches to sucking Jackson's cock. Jackson stands as Rikk and Mick both kneel and suck on his meat, lick his balls, and make out with each other. Rikk gets on the barber's chair so Mick can rim Rikk's hairy ass. It's time for the boss to get what he wants: Jackson fucks Rikk's face while Mick stands up and plows Rikk's hairy hole with his hard cock. Switching out the chair for a bench, Rikk lays down and has Jackson sit on his cock. Mick watches while feeding Rikk his cock. Straddling Rikk's face, Mick makes out with Jackson as Rikk continues thrusting his cock up into Jackson's tight hole. Rikk spreads Mick's asshole and shoves his tongue between Mick's cheeks. Jackson and Mick blow their loads at the same time, shooting their hot, white cum onto Rikk's hairy abs. Mick makes out with Rikk as Rikk strokes himself and lets loose with his own stream of sticky jizz.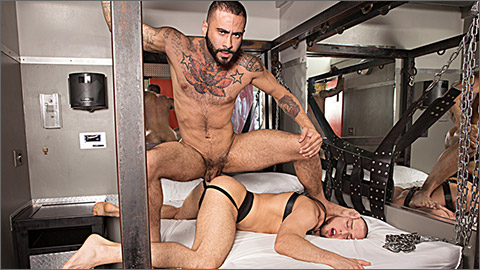 THE STEAM ROOM: Rikk York fucks Brendan Phillips
Rikk York and Brendan Phillips bring us back the kink we were all missing in our lives. Rikk takes charge and uses Brendan like the plaything he is, shoving his massive cock all the way to the back of Brendan's head, then flipping him around, and ramming it raw and hard inside Brendan's hot ass.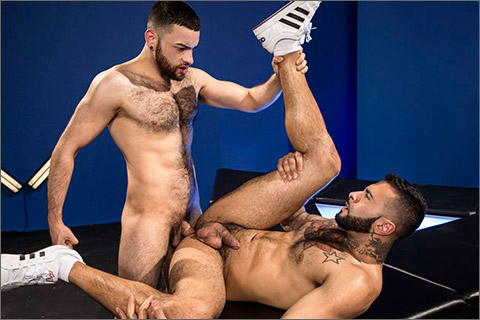 'BOUT TO BUST: Hugo Diaz fucks Rikk York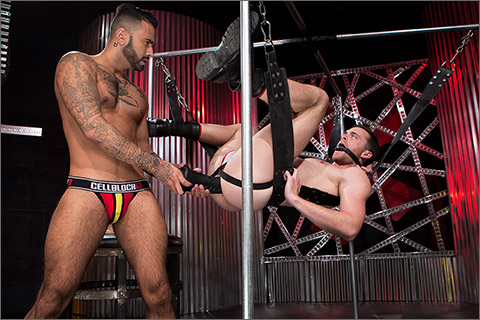 ASS OF STEEL: Rikk York dildo-fucks & fists Brandon Moore
Brandon Moore is in a sling begging to be serviced and in comes sexy Rikk York who's up to the task. He gives Brandon a hot kiss and then places a ball-gag in his mouth before he starts to stretch his welcoming hole with a massive, wide toy. Brandon spreads his hot ass, and it's taking all this punishment like a champ. Rikk is taking pride in pounding the toy, glistening with lube, further and further in until Brandon is ready to take his fist. Brandon wants it and he wants to take as much of Rikk's arm as he can. Rikk gently enters at first, but then starts to really massage Brandon's insides as Brandon strokes Rick's free arm. With his hole stretched to the max and closed first firmly planted inside him, Brandon's body is writhing with ecstasy. Rikk removes the ball gag with his free hand and kisses Brandon as a reward for being such an amazing fisting bottom.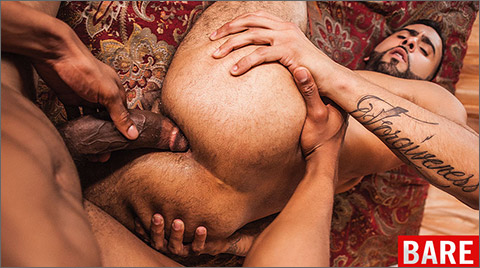 DOWN TO FUCK: Rikk York Takes D.K's Huge Dick
Closing out the 2015 Fire Island production is D.K.'s huge dick. Some of the Lucas Entertainment models were intimidated by the size D.K is packing in his pants, but Rikk York was up to the challenge. Rikk is a really handsome guy, and the look on his face when he has a huge black cock deep in his ass is exquisite. Check out this encounter and see for yourself!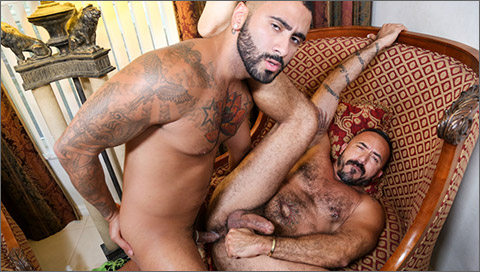 HALF HEARTED – PART 4
It's the end of the series and Rikk is sad that Alessio couldn't break up with his BF. Rikk is back cleaning his fish tank as he mopes around the house until the doorbell rings. He answers the door and its Alessio again saying hello. Rikk tries to slam the door on him but Alessio begs him not to and tells him that he finally broke up with his BF and to prove it to him he has brought over his luggage and is ready to move in. Rikk is touched by the gesture and the two go back into the house for some hot romantic man on man fun. Alessio even lets Rikk fuck him this time to show his commitment in the relationship. The two have passionate sex pleasing each other like they never have before. The love between them has come full circle and they have no worries left except who will be making dinner after they unload all they built up cum.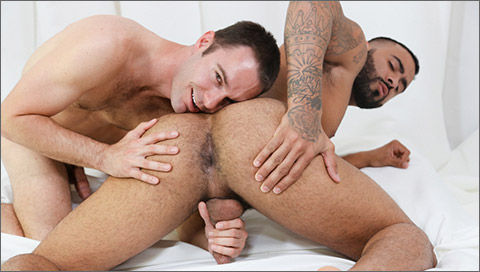 HALF HEARTED – PART 3
Alessio drifts off into a dream and sees Cameron and Rikk talking about how he could not break up with his BF for Rikk and that he won't leave him for anyone. Rikk and Cameron begin to make out passionately exploring the unknown in this dream. Cameron is pleasing Rikk in every way possible as he eats and fucks Rikks ass slowly and intensely. The two are connected visually never losing eye contact as they make sweet love in Alessio's dream. Once the two cum and begin to make out for another round of pleasing Alessio wakes up startled and very uncomfortable. He gets out of bed and gets dressed and just maybe now he will break up with his BF.
CLICK HERE TO GO TO HIS PRIDE STUDIOS DETAILS
VIDEO ON-DEMAND: Rikk York @ AEBN SMUTJUNKIES THEATER
DVDs & ON-DEMAND: Rikk York @ TLA VIDEO