Pumped Uncut Blond American Hunk Gay Porn Star Escort, Jay Dymel
Known Aliases / aka:
Years Active: 2018 – 2019
INFO:
13 JUN 2019:
Gay porn performer Jay Dymel dies at just 27 years old
Cock: 7.5″ uncut
Body Hair: Smooth
Height: 6'2″
Hair Color: Blonde
Eye Color: Hazel
Position: Versatile
Body Type: Muscular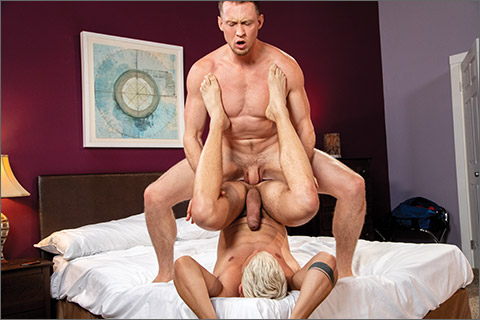 ROOM 106: Pierce Paris fucks Jay Dymel
When the airlines abruptly cancel Pierce Paris and Jay Dymel's flights, the two are forced to share a hotel room together for the night. After they get settled, Pierce goes thru Jay's bag seeking body wash when a massive manrammer falls out. Pierce quickly wraps the toy back up and hops in the shower before Jay notices. Pierce comes out of the shower and sees Jay rubbing lotion on his hard body in the mirror. Jay asks Pierce to rub some lotion on his back, and Pierce nervously agrees. When Jay is all moisturized, he turns to Pierce and says "my turn", and grabs a handful of Pierce's meat. The two lock lips and Jay quickly sinks to his knees to gulp down his new roommates swollen cock. Pierce is relentless with his rod and grabs the back of Jay's head to push it to the base. Continuing to assert his dominance, Pierce yanks Jay from the floor, throws him onto the bed and rips his underwear off. With Jay's inviting hole in his face, Pierce dives in and works his tongue in and out of Jay's warm crack. Now that Jay is wet and slicked up, Pierce slides his massive, 9-inch dick into Jay and pounds him deep. Unforgiving with each thrust, Jay can't get enough of Pierce slamming his ass bareback. Pierce wants one more go at Jay's mouth and face fucks the blond stud one more time, but Jay really wants Pierce inside his ass again. Pierce gives Jay a series of powerful pumps and pulls out to coat the studs hole with a fresh load. To finish Jay off, Pierce shoves his bare cock back in and fucks the hunk while Jay beats thick ropes of jizz out of his own swollen cock and onto his abs.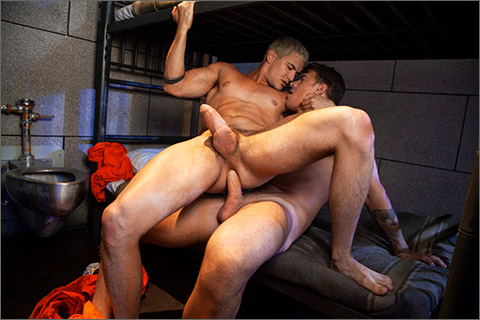 FIVE BROTHERS: FAMILY VALUES: JJ Knight fucks Jay Dymel
As the guard passes by, Jay Dymel, being the prison pig that he is, slips his finger in his cellmates urine stream and takes a sip. But once you have a taste, all little piggies want more! JJ Knight makes sure they have exactly 15 minutes until the next cell check and gets to work on fucking the hot mouth of his horny cellmate. Jay gobbles down JJ's enormous cock all the way to the balls, making his asshole pucker for the same attention. They quickly pull their pants up when surprise cell check. Jay after having a taste of the giant cock, pops up to kiss JJ and beg him to fuck him. Who could resist Jay's perfect ass and throbbing hole? JJ looks around, making sure the coast is clear, spits on his dick and shoves it in raw. Jay clenches the sheets of the bottom bunk, trying not to make a sound as JJ pounds his welcoming ass. Then JJ flips over on his back and Jay pounces on that dick bouncing up and down with Jay's own monster cock standing at attention with each thrust. After riding JJ's massive dick, Jay flips on his back to have JJ finish him off. Jay fucks while getting pounded and then JJ blows his load all over Jay's worn and welcoming hole, shoving his wet, steamy cum back in Jay's ass. Jay smiles with delight, like only the piggiest of all pig bottoms do when they have a fresh load in their ass. They hear the guard making the rounds again and quickly get dressed. The guard informs Jay that his paperwork went through and he's free to go. JJ tells him to stay out of trouble, Jay replies with the most mischievous chin "But I like trouble."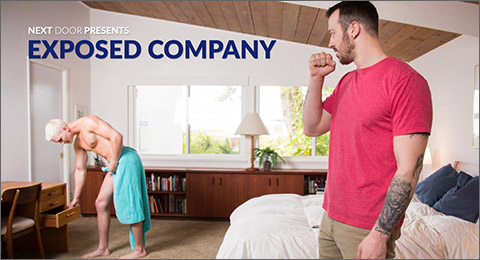 EXPOSED COMPANY
As repairman Mark Long searches for a part to fix Jay Dymel's jacuzzi, he gets an eyefull of something else entirely. Jay's ready and waiting to get into the tub and when his towel slips off his ass, leaving him exposed, Mark tells him he likes what he sees. Jay asks if he's being serious and Mark nods, so Jay asks if he'd like to spend a little time together. Walking towards Mark, he already has his answer as Mark reaches out and grabs him, pulling him closer as they kiss. Mark throws Jay down onto the bed and proceeds to have his way with him, shoving his cock into Jay's mouth as Jay sucks him off. Mark is rock hard and ready to go, bending Jay over and pounding him from behind on the bed. Jay takes Mark's long dick in and out as he backs his ass up against it, reaching back and spreading his cheeks so Mark can watch his long snake moan in and out of Jay's hole. Jay likes taking Mark's dick but he'd like to have a crack at Mark's ass, so he has Mark mount him. Mark does so, mounting him reverse, he begins to bounce up and down on Jay's dick. Jay runs his hand up Mark's back and back down to his waist as he gets closer and closer to losing his nut. He wants Mark to fuck the cum out of him so they switch and Mark fucks Jay missionary. Jay is close but Mark is ready to bust so he pulls out and blasts Jay's hole with his jet stream, coating Jay in the process, before shoving his cock back inside. Mark's throbbing, messy cock triggers Jay and his cock swells up, ready to burst. He loses his nut all over himself as Mark continues to pound away, and all of a sudden, a quick dip in the jacuzzi seems quite necessary for both of them.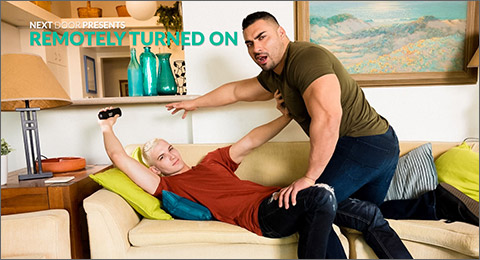 REMOTELY TURNED ON
With only one big tv in the living room and two different shows, it sure seems like roomie's Derek Wulf and Jay Dymel are in need of a compromise. Derek isn't about to just let Jay take over the living room, but Jay is pretty intent on watching his program. Derek asks Jay what he's gonna do for him, and Jay hesitates, unsure if Derek is serious. Derek tells him it's been a while and asks him how he feels about servicing him in the meantime. Jay assumes Derek is full of shit, grabbing the remote from him as Derek pops up and wrestles with Jay to get it back. Jay plays keep away but Derek is more interested in something else, and when Jay looks up at him, Derek bends down and kisses him hard on the lips. Jay realizes Derek is serious about the whole blow job thing, and moments later both guys are half naked on the couch, Jay on his knees, with Derek's cock in his mouth. Derek gets rock hard as Jay deep throats him, bending him over the side of the couch and plunging his raw cock deep inside of Jay's waiting hole. Derek shows no mercy on his roommate, giving him a hard pounding from behind as he fucks Jay all over the couch in every position, finally fucking the cum out of his roomie as he pulls out and soaks him with his load. As Derek slowly works the tip back in, he tells Jay the tv is all his, but Jay seems to have found something better to pass the time.
CLICK HERE TO GO TO HIS NEXT DOOR STUDIOS DETAILS
CLICK HERE TO GO TO HIS FALCON STUDIOS DETAILS
VIDEO ON-DEMAND: Jay Dymel @ AEBN SMUTJUNKIES THEATER
DVDs & ON-DEMAND: Jay Dymel @ TLA VIDEO