ChaosMen Amateur Guy, Reuben
Years Active: 2015
BRIAN OCKERT / CHAOS MEN INFO:
Start Age: 21
Debuted: October 5, 2015
Height: 5'10"
Weight: 170 lbs
Cock: 6″ Cut
Reuben is 21 and is in to all kinds of girls. Not a picky eater! He seemed pretty nervous about doing guy-on-guy work, despite having one drunken experience where he got a blow-job. Don't they all?
   Thankfully he was not about doing the solo.
   Reuben is an electrician by trade, so has a steady work gig, and is looking to make some extra money to help move him and his girlfriend into a nicer place. He had never been on a plane, let alone even out of his home state, so his trip was a big new adventure. Thankfully he had a window seat and really got to see some new landscapes and cities that really excited him. Ahhh to be young and innocent!
   He has a standard 6 inch cock, which he gets up very fast. He uses both hands to milk it, but stops now and then so we see it all engorged and hard. He really seems to use a lot of force on his cock, even slaps it in the palm of his hand!
   Reuben is not shy about showing-off his ass either. He did admit to massaging his prostate on more than one occasion, but he only toys with his outer hole in this video.
   And what a great cum shot! Looks like he had been storing-up for a week! He was very quiet when he came, typical of someone who has no privacy to jerk-off.
   He will be back next week to get head, and he really ups his verbal game, so stay tuned!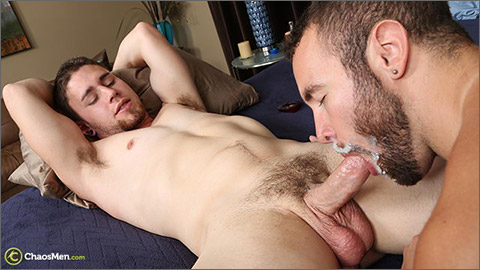 SERVICED: NOAH RILEY & REUBEN
Reuben gave us a really awesome solo last week. He was very nervous to do the Serviced video.
   For photos he gets hard super easy and even got himself hard before the filming began. Noah slides in quickly, and then perhaps spends a little too much time playing with his cock through his shorts before attacking.
   So our confident Reuben suddenly had a wave of anxiety wash over him as his dick started to go down.
   But Noah got more aggressive, and after a couple minutes he has it up and stone hard! I left all that footage in because it shows how great Noah was doing.
   And with his cock hard again, Reuben was back to being super confident. He has great bossy energy, and pays little attention to the video. He loved jack-hammering his cock into Noah's face! We definitely need to see this dude fucking!
   Even up on his knees, he makes Noah suck on his cock with rapid-fire action!
   We do get a bit of rimming. Noah's beard tickled his ass, so he moves down to suck his cock backwards. Hard to do because Reuben's cock likes to point up and not down. But you get to see how perfect Reuben's hole is!
   Truly an awesome facial! Noah flips Reuben on his back, and he pumps and slurps until he pulls the load out of Reuben. It spills out all over his beard, which Noah LOVES! The cum lingers on his beard so he can enjoy it long after the amazing nut! Noah is not afraid to admit he is a #CumSlut!
   Pretty sure Reuben will be back. He had a lot of fun. He of course wants, to Top to start with, but he does not seem opposed to trying everything eventually.
CLICK HERE TO GO TO HIS CHAOSMEN BIO PAGE