ChaosMen Amateur Guy, Malik
Years Active: 2015
BRIAN OCKERT / CHAOS MEN INFO:
Start Age: 23
Debuted: October 26, 2015
Height: 5'11"
Weight: 130 lbs
Cock: 10″ Cut
Malik is of mixed descent. He is Cuban and a mix of a few other things. But heavy on the Cuban cigar!
   He looks about 18, but is actually 23. He likes guys, and even though he has a 10-inch uncut cock, he says he is more of a bottom. He likes dudes to take control, and be bossy with him.
   Malik is the only guy out of 6 sisters, and I think all the cock must have gone to him. He is horse hung, and it looks even bigger on his lean frame.
   It takes a lot of blood to fill that big boy up, so he does seem wobbly during the solo. Once he gets close to coming, it finally achieves maximum density.
   You might not be into Twink type guys, but Malik is super sexy and exotic. No matter your tastes, give him a try, you won't be disappointed!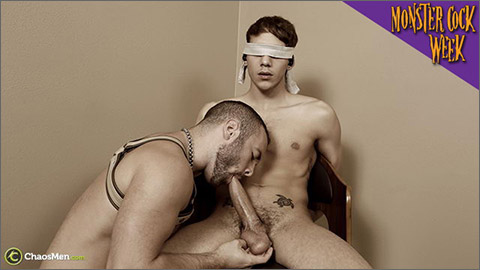 EDGE: MALIK & NOAH RILEY
After Malik did his solo, he said he loved the idea of being tied up and made to do all kinds of naughty things.
   I told him about the Edge videos, and he thought that sounded right up his alley. He is very passive, and despite having a big cock, he really likes to bottom.
   So we start off with Noah servicing him, but once things got out of hand, we just pretty much run with Malik being used for the entire video.
   Two facials in this one!

RAW: AMADOR & MALIK
I had two Cuban guys come to the studio with a about a week or two. I knew I wanted to put them together. Malik loves to bottom, and with Amador's big cock, he assured me he could take him. Two hung uncut Latin guys!
   Malik knew he could handle Amador, but I was not so sure how Amador would do. Even though he has stripped for guys in clubs, he seems quiet and reserved. You can tell this is his first time being filmed. He has a 'down low' vibe going.
   Still I asked that maybe he jump into doing porn by sucking some dick right away. He didn't seem to mind at all, and you can tell it was his first time tackling another's guy cock. Amador kept Malik reasonably hard, and Malik seemed to enjoy the fact he was getting sucked by such a straight acting guy.
   Malik returns the favor, and Amador is more in his element. Getting his dick sucked! Malik is having a great time servicing him, and his passive nature really comes to the foreground. He has no problems keeping Amador hard. I think he was hoping Amador would be more verbal. We encouraged him to talk dirty, but he seemed a little shy and silly about it.
   Malik gets on his back so he can fuck his face. It is so hot seeing Amador's curved cock slide down his throat. Amador strokes his cock, trying to keep his buddy hard. Malik works his way to his ass, rimming his hairy hole.
   It was time to fuck and we let Amador fuck Malik doggy style so he would easily penetrate him. Amador's seems uncertain about how much motion he can use, so Malik just does all the work, grinding his ass back and forth on his uncut cock.
   Since Malik was doing most of the work, and Amador was staying hard, we had Malik ride him next. Using his down curve, Malik sat on him reverse style. Perfect! Malik grinds up and down, servicing his cock with his ass.
   Amador fucks him on his back next, and that gets Malik's cock rock solid. At first I thought they were evenly matched in the cock department, but I do believe Malik's cock is quite a bit bigger than Amador's already significant cock!
   Amador gets his speed going, and fucks the cum out of Malik. It is a huge load that flies everywhere!
   Amador then breeds his hole, shooting a huge wad of cum on Malik's spent hole. He drives his cock in, and you see it spasm as he continues to unload inside him.
   He pulls his cock out and makes Malik clean his cum soaked cock! It slides perfectly down his throat!
CLICK HERE TO GO TO HIS CHAOSMEN BIO PAGE