Handsome Blond ChaosMen Amateur Guy, Channing
Years Active: 2015
BRIAN OCKERT / CHAOS MEN INFO:
Start Age: 20
Debuted: September 7, 2015
Height: 5'9″
Weight: 185 lbs
Cock: 6″ Cut
Channing is a very shy guy! It is so nice to be around him. Some of the muscle guys have large egos, but Channing is quiet, shy and eager to please.
   He has done video work before, but I wanted to get him in for the standard solo/oral, just to see how he does.
   He has a super-hot body, and clearly spends a lot of time in the gym.
   Since he has done video before, I am sure he will be back for more than just oral. He seems fine with both topping and bottoming, but given his passive vibe, he seems like a natural bottom.
   For his solo, I pulled out FleshJack to give him something new and different to play with. He loved it, and takes his time stroking his cock and even fucking it.
   He abandons the toy to stroke out a load. He had a great time and will definitely be back for more!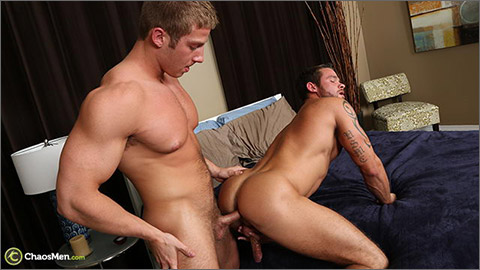 RAW: CHANNING & COOPER REED
When Channing first came in, I knew just who I wanted to pair him with for his first ChaosMen adventure. He and Cooper Reed look fantastic together. Two muscled and tan hunks with natural body hair!
   Cooper is rocking a beard the last couple shoots, and is putting him in a Daddy category. He is all grown up now and is all man!
   Channing is a bashful and shy guy, and I knew Cooper could bring him out of his shell.
   Boy did he!
   They both devour each other's cocks, swapping oral like pros. My favorite is seeing Channing sit on Cooper's face. His bubble-butt looks amazing getting rimmed while Cooper strokes his hard cock. Cooper gets his ass all slicked up so Channing can sit on it.
   Channing slides down Cooper's body and slips his cock inside his ass. I don't think Channing has bottomed too many times, but he does a great job grinding around on Cooper's cock. Dude stays hard too, so seems like a versatile guy.
   I have not seen Cooper get fucked in a while so it was time to do some flip-fucking. Channing eases his cock inside of Cooper, who clearly loves having a cock in him.
   Cooper moves to get on his back, but first stops to suck on Channing's cock. There are a couple really hot ATM moments in the video, so Ass To Mouth fans will love it!
   Channing fucks the cum out of Cooper, then proceeds to lap up his load. They share a cummy kiss, with a giant glob of DNA on their lips.
   Channing's nails the cream pie, and once he is done fucking the cum into Cooper, he makes Cooper clean his cum-soaked cock!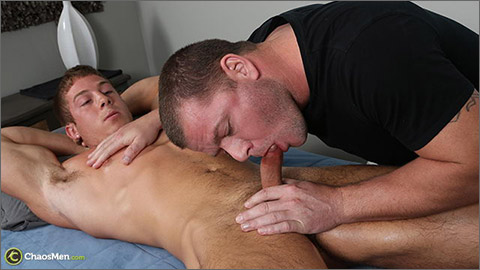 SERVICED: CHANNING & RANSOM
As I mentioned last week, Channing has done video work before, but I thought I would put him through his paces.
   I love how passive he is, and though I know he can take charge, I wanted him to sit back and let someone totally play with his hot muscly parts! His body looks amazing all oiled up!
   Ransom gives him a quick massage, but soon focuses on his amazing bubble butt. Because Channing is so muscular, Ransom had a tough time spreading them, but he managed to show us his hot hairy hole.
   He gets rimmed and while Ransom stroked his cock and licked his hole, he came close to cumming too soon.
   Ransom flips him on his back, and his hot oiled-up body just looks amazing- all spread out and waiting for hands to stimulate his hard rod.
   He looks at the video playing for him now and then, but once Ransom starts sucking on him, he is in the moment, loving his cock being worshipped.
   Ransom works hard to pull the nut out of Channing. He is not a big cummer, but you can tell it was a super intense ejaculation!
CLICK HERE TO GO TO HIS CHAOSMEN BIO PAGE