Sexy Spanish Gay Porn Star Hunk, Pol Prince
Known Aliases:
Years Active: 2020 – 2022
MEN AT PLAY INFO:
Body Type: Muscular
Eye Color: Brown eyed
Hair color: Brunette
Nationality: Spanish
Sexuality: Gay
Sexual Role: Versatile Top
Age: June 16th
Height: 1.80m
Watch suited stud Pol Prince in exclusive hot gay porn movies of men suits having passionate suit fuck sex at MenatPlay.com.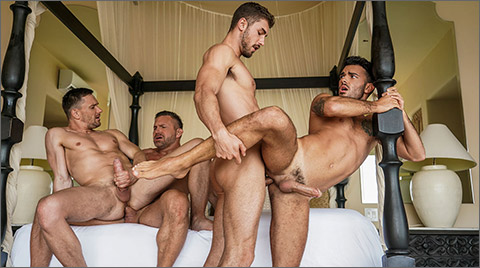 BIG BARE COCKS: Craig Marks, Tomas Brand, Andrey Vic, Pol Prince | Raw Foursome
There's no better foursome than one that features these four power-house Lucas Men models: Craig Marks, Andrey Vic, Pol Prince, and Tomas Brand, the King of All Muscle Daddies. And even though Tomas Brand comes off as a powerful alpha-male top, he has a submissive side and likes to get his ass fucked every once and awhile. And he gives it up to the tall, blue-eyed beauty that is Craig Marks, who penetrates Tomas and goes balls-deep in the macho daddy. All the while, Andrey Vic and Pol Prince are taking turns fucking each other up the ass. And to think, all of the incredible action started out as some foreplay in the pool! Don't miss the incredible dick-sucking and ass-fucking action starring the Lucas Men Craig Marks, Tomas Brand, Andrey Vic, and Pol Prince!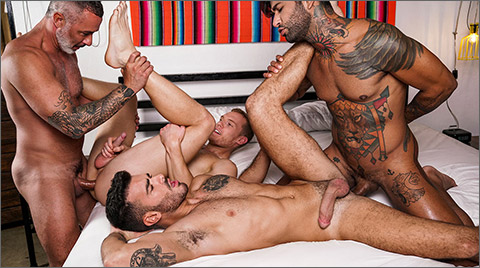 BIG BARE COCKS: Adam Franco, Sean Weiss, Pol Prince, Babylon Prince | Boyfriend Swapping
Adam Franco and Sean Weiss are in the mood to swing and swap boyfriends in this gay porn encounter. Being two men who do not believe in suppressing their desires, they invite Pol Prince and Babylon Prince over. it doesn't take long for Adam to take on Pol Prince, and Babylon Prince gets Sean on all fours and fucks his pink little pussy. At one point during the swap Pol Prince and Sean Weiss are side-by-side getting their prostates pounded from behind by Adam Franco and Babylon Prince!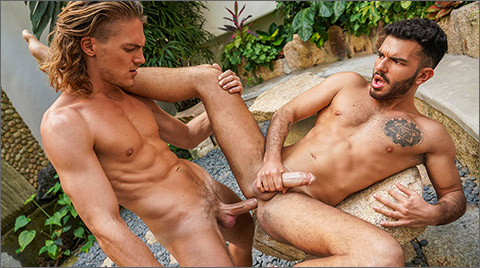 BAREBACK AUDITIONS 14: Kosta Viking And Pol Prince Flip Fuck
When a model like Kosta Viking starts filming for Lucas Entertainment, it's important to get to know him with an interview in the "Bareback Auditions" style and tradition. We first saw Kosta Viking debut with his real-life boyfriend, Rudy Gram, where they took turns sharing Allen King. And once Pol Prince saw how hot Kosta Viking is, he wanted a piece of the blond Italian.
   He was cast to star with Kosta because Pol wanted to grab the handsome model by his long blond curls and give a good pull while he sodomized him deep in his ass. And guess what—that is exactly what he does! Pol Prince's muscles are trim and tight, and they flex with masculine beauty as he pumps his raw cock in and out of Kosta Viking.
   Pol prefers to top, but he's willing to spin around and give it up for the right guy. Well, there's no guy more right than Kosta Viking. Kosta takes his time as he fucks Pol Prince on his back, and as his uncut Italian cock slides pumps up a load, Kosta's long damp hair hangs around his face!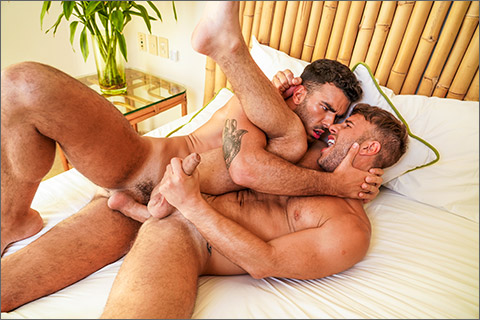 BOYFRIENDS & CHEATERS 2: Pol Prince Pounds Allen King's Ass
Allen King eventually returns to Pol Prince, who is none the wiser that his boyfriend was cheating on him not even 24 hours prior. But now Allen is feeling some strong pangs guilt over his indiscretion with the handsome Italian men, Rudy Gram and Kosta Viking. On top of Allen's guilt, Pol Prince is still upset with his boyfriend for neglecting him and his needs as a young man with a healthy sexual appetite. Allen King kisses up to Pol Prince, and they get naked together in bed where Allen services those needs that Pol requires some attention for. Allen sucks on Pol's cock and worships his feet. But it's ass Pol needs, and when he inserts his big Spanish dick into Allen's ass bareback, he does not take it easy. Pol Prince pounds Allen King's ass long and hard, getting out all of his relational frustration!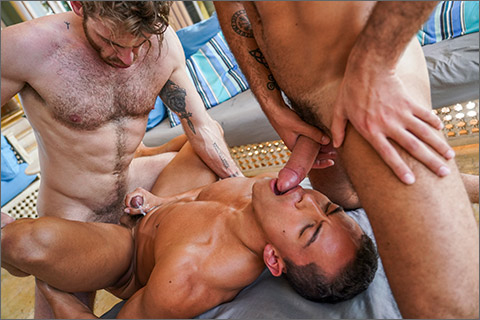 HUGE & BRUTAL MANHOOD 2: Pol Prince, Gabriel Phoenix, and Dante Lauro Suck and Fuck
Pol Prince, Gabriel Phoenix, and Dante Lauro suck and fuck bareback in this exclusive Lucas Entertainment scene! The defined and sexy tan lines of Pol Prince are on full display as he shares the ass of Dante Lauro with Gabriel Phoenix. Pol and Gabriel were vacationing together in Mexico when they ran into Dante, who is always horny and ready to service some dick. Dante Lauro is a small guy, but he isn't afraid of taking on two hot guys and their rock-hard cocks if they promise to show him a good time and rock the hell out of his butt. Gabriel gets so turned on by watching Pol's tan-lined cheeks pump and flex while he was breeding Dante, that he had Pol get on his back for some anal too. Dante Lauro holds back the legs of Pol Prince while Gabriel Phoenix goes in balls deep!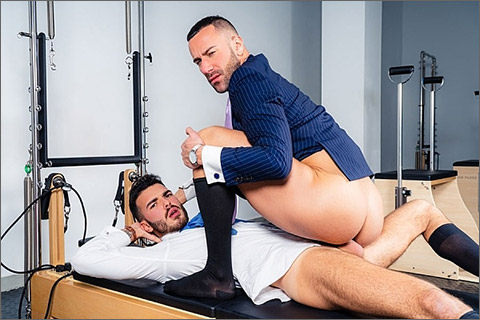 LEVEL TEST
Pol Prince visits Gustavo Cruz's pilates and rehabilitation center, looking for information regarding stretching classes in order to improve his flexibility. After showing Pol around, Gustavo discusses the benefits of stretching – the sexual, as well as the physical ones. In order for Gustavo to recommend a course of action, he needs to see what Pol is capable of and tells him that he needs to go through a level test. Thinking of the sexual benefits the training could provide, Pol wants to start ASAP and asks Gustavo to show him what he is capable of, right then and there!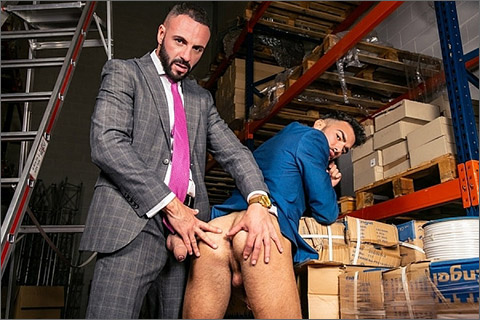 ARE YOU DONE?
Pol Prince is the new guy at the office and today he's working alone with manager Leo Rosso. Leo asks Pol to go to the warehouse and do the inventory. While he's working downstairs, Leo is upstairs watching him, getting horny, and enjoying the view of the young, bearded sexy stud. He takes out his cock and jerks off.
   Later, when Leo asks Pol if he's done — he gets asked in return "Are You Done?". Pol noticed the boss jerking off earlier and wonders what else Leo does with his new employees. While Leo denies everything – Pol knows and likes what he saw! He likes them big and wants to taste and ride the boss' thick cock. Leo wants to work less and play more too – the two suited studs flip-flop fuck in the warehouse.
CLICK HERE TO GO TO HIS MEN AT PLAY DETAILS
VIDEO ON-DEMAND: MENATPLAY @ AEBN SMUTJUNKIES THEATER
ENDLESS UNLIMITED STREAMING: MENATPLAY @ NAKEDSWORD