Uncut Muscle Daddy Gay Porn Star, Manuel Skye
Known Aliases: President Skye
Years Active: 2017 – 2022
Lucas Entertainment Stats / Info:
Position: Top
Dick Size: 8"
Height: 5'8
Manuel Skye has joined the cast of Lucas Men as a new Lucas Entertainment model! He's currently on location in Puerto Vallarta, Mexico, filming his first set of scenes. You'll see a lot more from Manuel in the coming months!
RAGING STALLION INFO:
Hair Color: Dark brown
Eye Color: Brown
Body Type: Body builder
Body Hair: Smooth
Height: 5'8″
Position: Top
Cock: 8.5″ uncut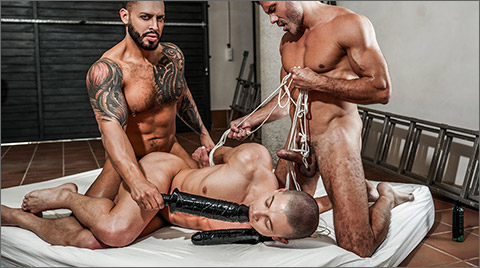 ENDURING DADDY'S DISCIPLINE: Viktor Rom And Manuel Skye Brutalize Ruslan Angelo
Some young guys need to endure Daddy's discipline because the need to learn a lesson, but other guys are natural-born trouble makers, and that certainly describes Ruslan Angelo. No matter how many he's disciplined by a fatherly figure, he keeps finding himself in trouble. This is a job that needs not one, but two Alpha Daddies with rock-hard uncut dicks and a no-bullshit attitude to match. Enter Viktor Rom and Manuel Skye, and it's an understatement to say that neither one of them ease up on Ruslan Angelo once—which is exactly what he's asking for.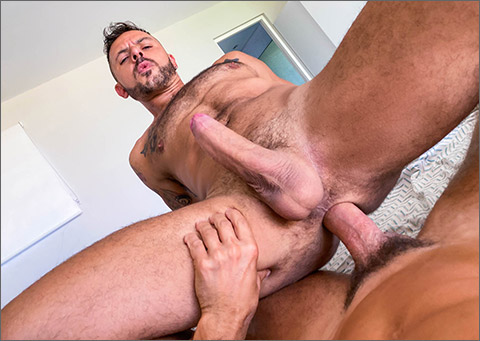 MONEY'S WORTH
Rent a guy from Rent Men for an hour and make sure you get your money's worth! Make him deep-throat and then ride your cock. Rudy Gram feels that Italians do it better – what do you think?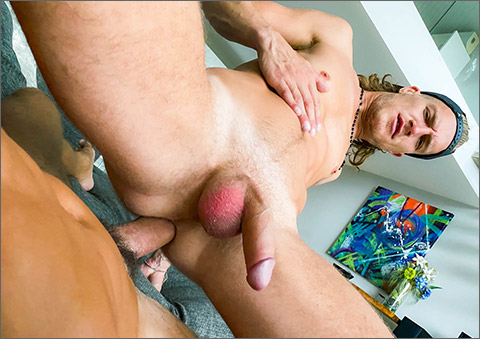 MY NEW NEIGHBOUR
If the new sexy Italian neighbor (Kosta Viking) uses your WIFI, it's only fair that he gives up something in return. Suck me, ride me and make daddy cum!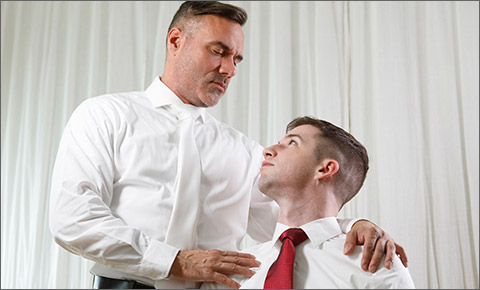 THE INITIATION OF ELDER KNOXX 1: SINFUL INTERVIEW
President Skye and Elder Knoxx
Elder Knoxx has a very important meeting with President Manuel Skye. As he sits beside him, President Skye begins the interviewing process, and surely, Elder Knoxx starts confessing even his darkest thoughts. Lucky for him, President Skye assures him that this is the safest place to fulfill his most sinful fantasies.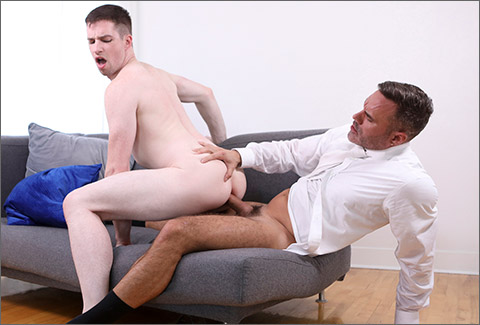 THE INITIATION OF ELDER KNOXX 2: THE CALLING
President Skye and Elder Knoxx
It's time for Elder Knoxx's physical examination, where director Manuel Skye will make sure that his body is strong enough to withstand the Lord's trials.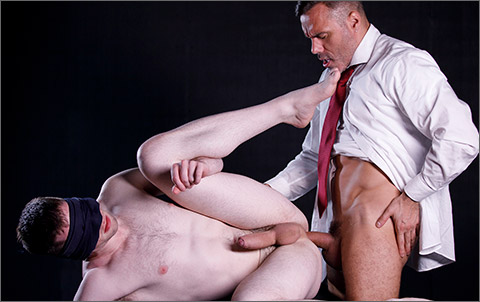 THE INITIATION OF ELDER KNOXX 3: TRANSGRESSIONS
President Skye and Elder Knoxx
After Elder Knoxx's transgressions President Manuel Skye is forced to take the appropriate disciplinary action. Blindfolded, Elder Knoxx is about to take on a hell of a ride.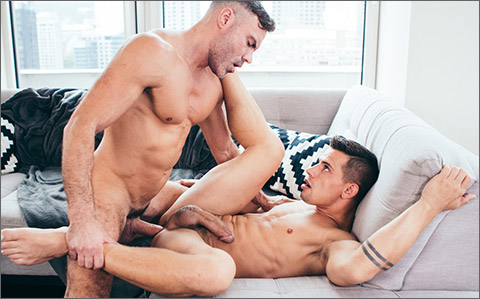 A IS FOR ALPHA: Manuel Skye Fucks Brent Everett
In the finale of A Is For Alpha superstar Brent Everett makes his CockyBoys debut opposite Manuel Skye in his long-awaited return! Alpha Manuel exerts control from the get-go, sitting across from Brent while stroking their cocks and engaging in sex talk. As Manuel instructs him, Brent poses, strips, and puts on a teasing show which increasingly excites Manuel. After Brent plays with his ass, Manuel comes up behind Brent and hungrily eats his ass.
   Soon Manuel slides in his cock to fuck him and Brent responds by working his butt on Manuel's cock. Shortly Manuel turns Brent around to make out & manhandle Brent, stroke their cocks together, and get him to suck his cock. Manuel continues to exert physical & vocal as he finally sucks Brent deep and flips him backwards to rim his smooth hole. Manuel soon goes into full power top mode thrusting deep into Brent before picking him up and fucking him in mid-air.
   Manuel shows off his strength, keeping Brent aloft even as bounces up and down on his cock. He then lifts him higher and effortlessly sucks his cock.sucking. Brent returns the favor, sucking Manuel when sits down. And soon he gets up and sits on Manuel's face to ride his tongue. Brent slides down onto Manuel's waiting cock and rides him, taking every deep thrust.
   In the middle of this Brent stands up twice and Manuel's own precum drips out! He slurps it up and feeds to Brent before returning to eating his ass and sucking his cock. After all this Brent turns around and rides him again until Manuel puts him on his back again to suck and pound him deep until he pulls out and shoots a massive load all over his crotch and hole. He fucks it into Brent and drives a huge cum geyser out of him. Manual slurps up his own load and shares a loaded kiss with Brent and sweet, satisfied smiles.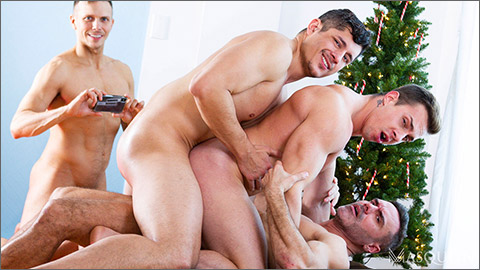 LIVE FOR CHRISTMAS
'Tis The Season!
Some of Masqulin's hottest men have been invited to a special VIP Christmas party. Manuel Skye, Ace Quinn, Teddy Torres, Ethan Chase, and Rocky Vallarta arrive one by one. They've each been gifted festive PJ's, a Santa hat, and a personal invitation to indulge in a live and immediate XXXmas orgy. On the spot. Luckily, these sexy gents are more than happy to stuff each other's stockings.
   This romp even includes special behind the scenes clips, personal interviews, and footage shot directly from the phones of the Masqulin men themselves. Christmas cums early!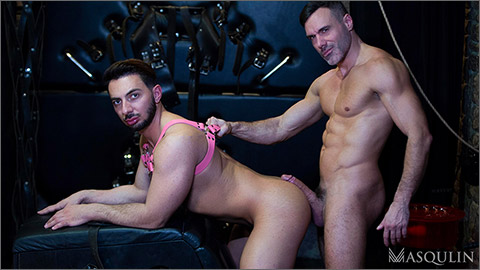 THE MASQULIN PROJECT: AYIS PAROS
The legendary Manuel Skye is happy to take the reins for this installation of The Masqulin Project. Surprising the new meat, Ayis Paros, at his work, we find him tending bar while clad in a harness. What an excellent way to start! Ayis boldly and succinctly answers Manuel's questions and displays no inhibitions in the presence of camera and crew. But is this smooth, pretty slut uninhibited enough to make the Masqulin cut?

BEARDS, BULGES AND BALLSACKS!: Manuel Skye fucks Rikk York
Rikk York is smoking a cigarette next to a barrel fire in a seedy alleyway. He isn't wearing anything but a leather vest and big black boots. Dirty muscle daddy, Manuel Skye, approaches the hung stud and rubs his cock through his jockstrap as he gives Rikk a peek at his giant, meaty sack. The two muscled up hunks start making out and rubbing beards until Rikk squats down and takes Manuel's big boner down his open throat. Manuel's low hanging balls swing between his legs as he face fucks Rikk's greedy mouth. Rikk needs his hairy asshole serviced and spreads his cheeks to let the daddy get all the way into the pink with his fingers and long, experienced tongue. Leaning back, Manuel savors Rikk sitting on his throbbing pole. Manuel takes over and pounds the stud's hairy bubble butt, stretching him to the limits. Rikk bounces and grunts as every last inch of the monster cock goes in and out of his tight body. Spreading his legs as far as they'll go, Rikk lies back as Manuel stands above him and keeps a relentless steady pace of thrusting his pelvis deep into the hairy hunk. After all the ass reaming, the guys jack their cocks together. Manuel is the first to let loose and shoots a whooper of a load that hits his own face and sticks in Rikk's big, black beard. They kiss and share Manuel's load as Rikk's dick oozes thick, white cum into his hand and all over his fuzzy crotch. Manuel rubs the sticky jizz into Rikk's hairy chest and they continue kissing and swapping cum as they rub their drenched bodies together.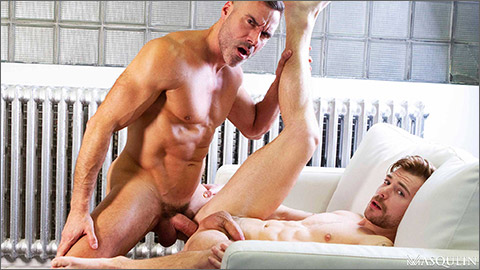 FERTILE GROUND
Fitness influencer Alex Mecum loves to show his fans how he gets that toned sculpted body and that killer ass and his biggest fan Pierce Paris never misses an episode. When Pierce unexpectedly catches Alex taking a stroll and live streaming in his neighborhood he can't help but follow him to get a closer look. This turns in to an episode that Alex's fans won't soon forget.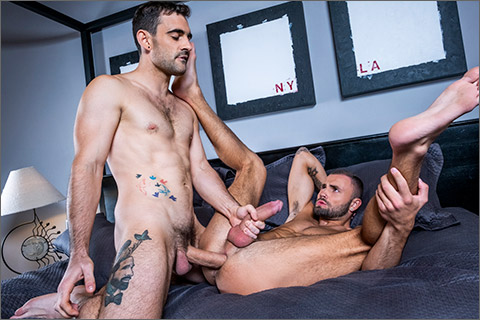 A CUCKOLD'S SUBMISSION: Jeffrey Lloyd Cheats On Manuel Skye With Max Arion
Manuel Skye adores his young partner, Max Arion, but Max is the first to admit that he has an out-of-control wandering eye. Manuel does what he can to embrace Max's sexual energy, and even fantasies about it sometimes. Manuel Skye imagines what the sexual encounter between Max Arion and the beautiful tourist Jeffrey Lloyd was like, and his imagination runs wild!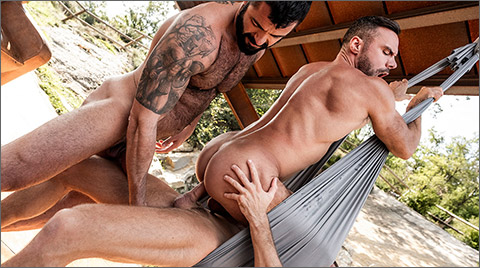 FUCKED WIDE OPEN: Logan Rogue And Victor D'Angelo Fuck Manuel Skye
Manuel Skye shows off his flexibility and gymnastic skills while hanging out in Spain with his fuck buddies Victor D'Angelo and Logan Rogue. They quickly get in on the fun too, and Logan is stomach-down in a make-shift sling sucking on Victor while having Manuel fuck him from behind. Every once in awhile, Manuel gets the urge to top, and so he rides Logan's cock as they hang in the sling!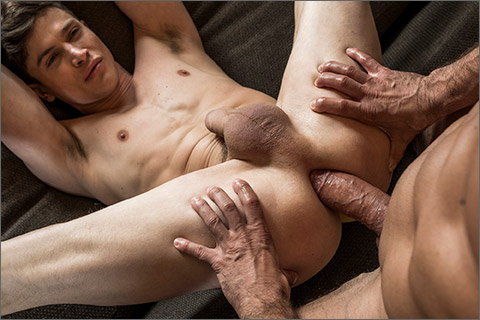 DONATO REYES' BAREBACK PREMIERE: Ruslan Angelo Takes Manuel Skye's Daddy Dick Raw
Ruslan Angelo's youthful appearance and slim, tightly muscle body have had Manuel Skye's eye for a long time. He wants to take Ruslan and make his a cum-dripping whore, and Ruslan is more than willing to give into Manuel's alpha-top desires! Manuel Skye and Ruslan Angelo are both very flexible and gymnastically inclined, so they show off just how flexible they can get during sex.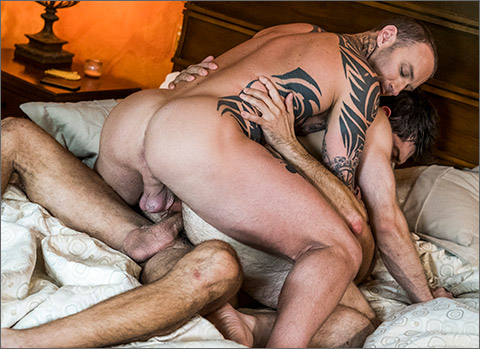 DADDY'S PLAY THING: Dylan James And Manuel Skye Double-Team Ben Batemen
Ben Batemen has quickly risen as a popular gay porn star amongst the Lucas Men, and it's no wonder. He's absolutely adorable, and his body and cock are gorgeous. It's no lie to say Ben is an amazing package. Another Lucas Man of immense popularity, Dylan James, teams up with the handsome salt-and-pepper muscle daddy, Manuel Skye, to show Ben a good time. And they certainly take their time with Ben Batemen when he stops by their bedroom. Around 13:50, Manuel and Dylan both slide into Ben's ass and fuck his hard and raw in an intense double-penetration encounter!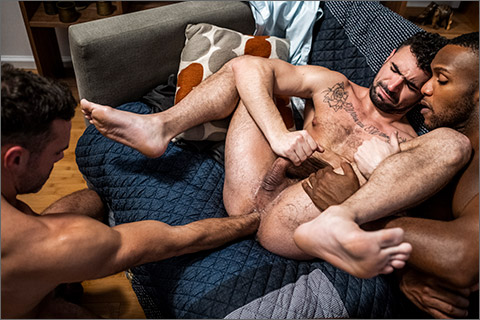 GENTLEMEN 25 – EDJI'S THE BOSS: Manuel Skye And Andre Donovan Double-Fuck Ian Greene
Manuel Skye and Andre Donovan are two top-level executives working at Edji Da Silva's company. They both take charge at work and after hours when they exploit their power over their subordinates. Ian Greene has always had a thing for both guys, but he never knew what would be in store for him when he stayed late for a special performance review. Manuel and Andre do not hold back on the guy; they double fuck his ass, shove their hands up his hole, and leave him with a rosebud he won't soon forget. And that's how you earn a promotion at Edji's company!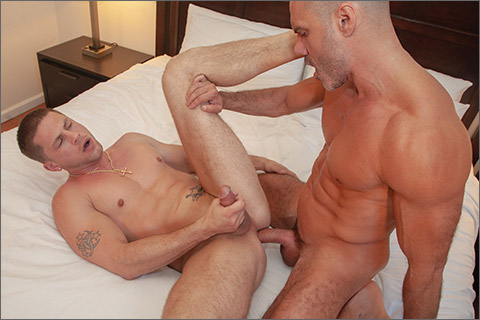 BEACH RATS OF LAUDERDALE: Manuel Skye fucks Roman Todd
It's a windy, stormy night in Fort Lauderdale when dealer Manuel Skye joins Roman Todd in the hot tub. Roman's ready to make a transaction, but he wasn't expecting Manuel to put the moves on him and expect more than the cash. When Manuel takes Roman's cock in his mouth, Roman knows he's going to have to give it up to close the deal. The two studs move it to the bedroom where Roman takes over sucking on Manuel's thick, uncut dick. With Roman's lips wrapped around Manuel's cock, he takes it to the next level by bending the tatted bad boy over to rim his ass. Roman can't get enough of Manuel's dick in his mouth and the two 69 on the bed until Manuel is ready to fuck. Roman bends over to take every inch of Manuel's raw cock deep inside his body. It's a tight fit but Manuel manages to slide it all the way in. The hung stud plows away on Roman's hole bareback until Roman decides to sit on the big dick. Manuel keeps pumping hard as Roman sits and takes every inch from the horny stud. After planting his dick deep into Roman's ass, Manuel is ready to unload. He rolls Roman onto his back and plugs away until he fucks the cum out of Roman's throbbing cock. Manuel loves seeing Roman covered in cum and takes a taste of his customer's fresh jizz. With Roman's load on his tongue, Manuel pulls out to blast Roman's smooth hole and balls with a creamy load of his own. When all is said and done, Manuel licks up all of the remaining cum and finishes Roman off with a cum-filled kiss and a stash of weed.

TWO DICK MINIMUM: Manuel Skye fucks CJ Phillips
Last call at the cruise bar has cum and gone, and with the patrons gone, the bar staff is free to do as they please. Barback CJ Phillips leans against the bar with his ass in bartender Manuel Skye's face, and he sucks eagerly on CJ's tight hole. Spreading CJ's butt wide, Manuel uses his tongue to fuck CJ's ass. When CJ's hole is nice and wet, Manuel stands up and pounds him doggy style. Their balls bounce in rhythm with their intense fucking. Laying down on the bar, CJ puts his right leg over Manuel's shoulder, giving him access to the sensitive depths of CJ's hole. Stroking his cock, CJ blasts his abs with thick, hot cum. Pulling out, Manuel lets loose with an enormous load, shooting multiple arcs of cum through the air and landing them on CJ's chest.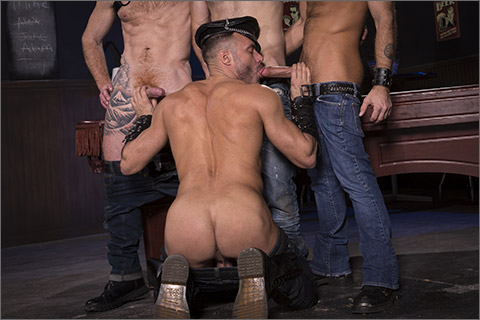 TWO DICK MINIMUM: Jack Vidra, Manuel Skye, CJ Phillips, and Jack Andy
The gritty cruise bar is closing down after a hot, sexy night, but Jack Vidra and Jack Andy aren't ready to go home yet. As the staff tries to clean up, they can't stop making out with each other. Manuel Skye announces last call, adding, "If you're not the one I'm fucking, get out of here!" Jack Andy and Jack Vidra ignore him, and instead pull their dicks out and rub them together. Manuel and his barback CJ exchange a conspiratorial look, as if to say, "Let's see how this plays out." Jack Vidra gets down on his knees and Jack Andy fucks his throat deep and hard. In the background, Manuel and CJ exchange deep kisses and grope each other's muscular bodies. As Jack Vidra worships Jack Andy's tool, Manuel and CJ come out from behind the bar and join them, instigating a four-man oral orgy. Jack Vidra sucks Manuel's massive meat as CJ attends to Jack Andy's throbbing tool. Manuel sinks to his knees to service Jack Vidra's lengthy cock, and adds to the intense pleasure by reaching up and tugging on Jack's plump, pink nipples. Jack Vidra leans against the pool table between Jack Andy and CJ, and Manuel services all their cocks at once. Using Manuel's face as a target, Jack Andy is the first to shoot, followed immediately by Jack Vidra's hot cum. With their loads blown, Manuel kicks them out (with a wink and a smile) so he and CJ can finish closing down the bar.
AMATEUR GAY POV / THE BRO NETWORK
CLICK HERE TO GO TO HIS LUCAS ENTERTAINMENT DETAILS
CLICK HERE TO GO TO HIS RAGING STALLION DETAILS
VIDEO ON-DEMAND: Manuel Skye @ AEBN SMUTJUNKIES THEATER
NOW STREAMING: Manuel Skye @ NAKEDSWORD