Handsome Hung William Higgins Czech Gay Porn Star, Jeffrey Lloyd / Milos Ovcacek
Known Aliases: Jeffrey Lloyd, Adrian, Czech Hunter 240
Years Active: 2016 – 2022
WILLIAM HIGGINS INFO:
Milos Ovacek is aged 19. This handsome straight guy lives in Prague and works as a bartender. In his spare time he enjoys, sports and in particular ice-hockey and soccer. He is such a good looking guy and is soon showing us his sexy chest as he poses. Milos does some lovely poses in his jeans, and then wearing only his underwear. With the underwear pulled down some he shows off his sexy ass. As we enjoy that ass Milos twists his body with his hands held behind his head. Then, after checking his bulging underwear we see Milos naked with his stiffening dick poking out in front of him. That is one very large cock and it is soon rock hard and standing proud as Milos poses to show it off. He sits on the bed, cock in hand with the thick vein on the underside very prominent. After more great shots of Milos' beautiful dick we get to enjoy his ass hole as well as he lays back and lifts his legs in the air. Reaching between his legs Milos grabs them and pulls them up to his sholders, which spreads his sexy ass for a perfect view of that tight hole. Then he turns over, onto his knees to give us more of his sexy ass before ending a great shoot with more of that big, hard, cock.
Age (2016): 19
Home Town: Prague
Height: 180cm/5'10"
Weight: 70kg/154lb
Foot Size: EU43/US8.7/UK8.2
Penis Size: 17cm/6.69″
Profession/Student of: Bartender
Hobbies: Sport
Favorite Sports: Ice-Hockey
Active Sports: Soccer
Movie/Music/Sport Stars: Charlize Theron
Visited Coutries: Switzerland
Want to Visit Coutries: USA
Dream of My Life: I don't know.
Zodiac Sign: Leo (July 23 – August 22)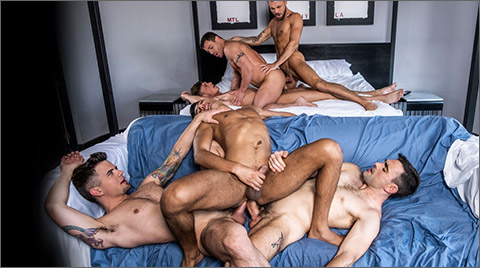 SEEDED MAN WHORES: Max Arion's Bareback Double-Penetration Orgy
Max Arion invites a small group of his fuck buddies over for something he hasn't enjoyed in awhile — a bareback orgy. Max Arion, Jeffrey Lloyd, and Braxton Boyd take on the top positions (for the most part) while Dakota Payne, Jesse Santana, and Benjamin Gomez serve up their asses to be used, though Dakota and Jesse don't miss the chance for some versatility during this gay bareback sex encounter. In fact, Max and Dakota team up to split Benjamin in two by double-penetrating his ass completely raw!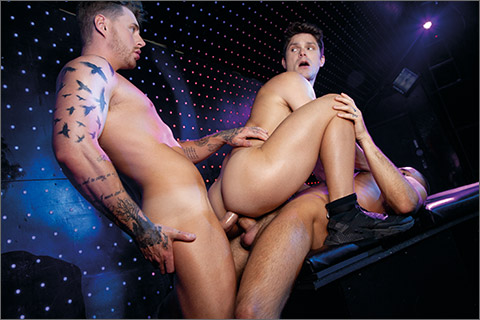 LONDON CALLING: Josh Moore & Jeffrey Lloyd DP Double-Penetration of Devin Franco
The neon lights are flashing and the music is pumping as Josh Moore and Devin Franco enjoy their last night out in London. Devin walks in, and immediately locks eyes with Josh, their pent-up attraction for each other can no longer be denied. The sparks fly and they look for a secluded spot to unleash their sexual tension. Josh pushes Devin up against a wall as they make out and get each other boned up. Josh is hard as a rock and wants a mouth around his throbbing dick. Devin is happy to oblige by getting on his knees and offering up his wet, drooling mouth to be used. While Devin is down on his knees, sexy club-goer Jeffrey Lloyd spots the two and starts rubbing his own cock to the hot and horny scene. Josh motions for Jeffrey to join in and Devin moves back and forth, servicing both cocks at the same time. Jeffrey needs more than just a mouth and bends Devin over to mount up and fuck his ass as Josh continues pounding Devin's face from the front. Taking a cock from both ends, Devin knows he's in spit roast heaven as his heartbeat matches the pumping music. As each man thrusts inside him from each end, Devin submits to his body's pleasure and takes everything they have to give. Josh and Jeffrey continue to fuck Devin with wild abandon, taking turns plugging his face and ass until they both cum all over the horny spent stud, coating his body with sticky, white cum.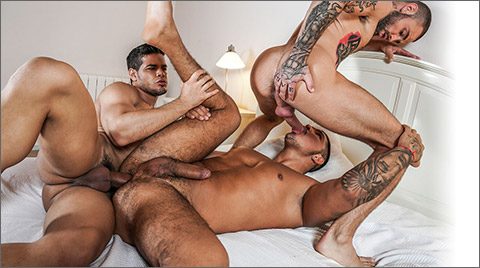 ROCK HARD & RAW: Rico Marlon And Jeffrey Lloyd Double-Team Apolo Fire
Anyone who takes a rock-hard and raw fucking from the monster between Rico Marlon's legs is left bow-legged for days after the bedroom romp. But what about when you bottom for both Rico and Jeffrey Lloyd, who is one of the few gay bareback porn stars to have a cock as big as Rico's' Apolo Fire is about to face the challenge, as he bends his jock ass over and gets slammed in both ends!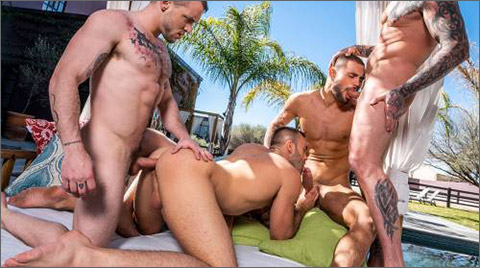 BANGING RUSLAN'S BUBBLE BUTT: Jeffrey Lloyd, Colton Grey, and Geordie Jackson Slam Jackson Radiz's Hole
If there's a bottom with a cock-hungry bubble butt that comes in at a close second place to Ruslan Angelo, it's Jackson Radiz. Jackson is all about service and submission, and he gives his ass over to three huge dicks… Jeffrey Lloyd, Colton Grey, and Geordie Jackson. It's going to be a challenge, but Jackson Radiz takes dick up his ass and in his mouth until his tops are ready to shoot their loads!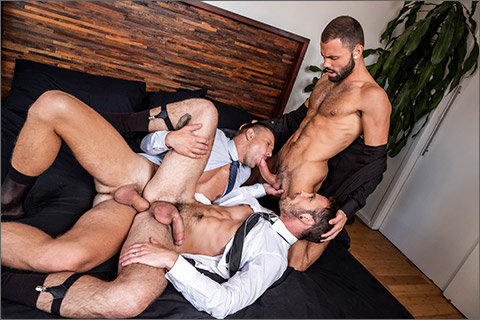 GENTLEMEN 26: LONG, HARD HOURS: Drake Rogers Works Hard For Jeffrey Lloyd And Andrey Vic
Drake Rogers has never been a guy to turn down an opportunity to get ahead in life, and if that means taking off his clothes and fucking his way to the top, he's up for it. But if Andrey Vic and Jeffrey Lloyd were your professional superiors, you would not have any issue turning unethical for an evening and fucking your bosses. Not only does Drake ride Jeffrey's huge, fat uncut cock, but Drake also gets Andrey on his back and fucks him in his ass!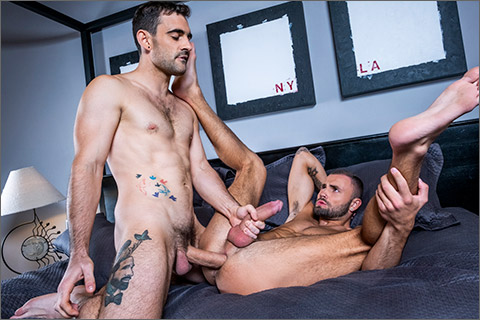 A CUCKOLD'S SUBMISSION: Jeffrey Lloyd Cheats On Manuel Skye With Max Arion
Manuel Skye adores his young partner, Max Arion, but Max is the first to admit that he has an out-of-control wandering eye. Manuel does what he can to embrace Max's sexual energy, and even fantasies about it sometimes. Manuel Skye imagines what the sexual encounter between Max Arion and the beautiful tourist Jeffrey Lloyd was like, and his imagination runs wild!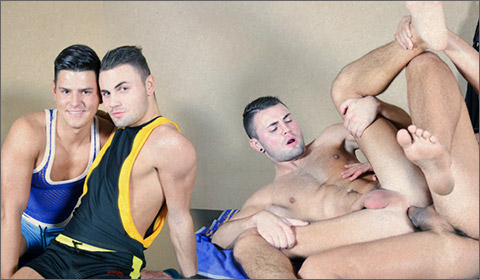 CARNAL APPOINTMENT
Shane Hirch is a handsome young masseur who horny guys like Jeffrey Lloyd love vising more than anything. Shane's charming nature and strong arms make twinks relax instantly. He knew every spot that would make Jeffrey feel good so it didn't take long for him to reach out and suck his cock. Shane was looking forward to this moment so he let the twink do what he wanted. After giving a passionate blowjob, Jeffrey bent over to have his hole oiled up by Shane's tongue. Now they were ready for bareback so they wasted no time getting to it. Shane was amazed at how good Jeffrey's tight ass felt so he picked up the momentum, making Jeffrey whimper like never before. When it was time to cum, Shane made sure to glaze Jeffrey's hole completely. Jeffrey felt glad with how his appointment went and shot a load to finish it off!

CHERRY BUSTING: VADIM COVRESCU & MILOS OVCACEK
We have another great Cherry Busting, Vadim Covrescu, is our sexy Colombian, who stayed rock hard while his ass was stretched by a dildo. This hot str8 guy has his ass busted by cock for the first time,with str8 guy Milos Ovcacek having the pleasure of being his first. As they relax on the bed Vadim is interviewed by our crew. Vadim explains that maybe he wants to try something with a guy, and maybe be fucked. Then the guys move onto their knees and kiss, and then Milos takes off Vadim's tee shirt. Then Vadim does the same to Milos and they kiss some more. As they kiss they feel each other's bodies. Milos kisses down Vadim's chest to his groin. He gropes through the pants as he sucks a nipple. Vadim's dick is responding to groping and he lays on the bed and has his pants and underwear removed. Milos takes hold of the exposed cock and starts to suck on it. His mouth works well on the stiff cock as Vadim lays back and enjoys it. Then Milos pulls Vadim's legs into the air and starts to rim his hot hole. Vadim wanks himself as he feels the wet tongue on his tight hole. Milos then gets naked, revealing his big, stiff cock. He positions himself between Vadim's legs and slides that big dick into the tight hole. Vadim's ass is stretched wide as the massive cock pushes into it. He wanks on his own dick as Milos works his pole in and out of the virgin ass. Milos' fucking speeds up as Vadim's hole gets used to the big dick. Vadim moans as he takes that cock and he keeps up his wanking. Milos fucks harder and soon Vadim's cock releases the hot cum onto his thigh and belly. He turns over, onto his knees, for Milos to fuck him from behind. That big cock pile-drives into the hot ass fucking as hard as hit can. Vadim takes it all as Milos keeps fucking. Then Milos pulls out and shoots his hot cream all over that sexy ass. Then they kiss again to end a great scene.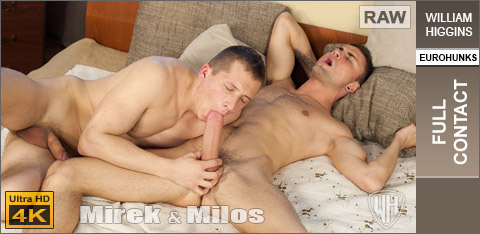 FULL CONTACT: MILOS & MIREK RAW
Milos Ovcacek is feeling very horny as he lays on the bed, so he pushes down his shorts and removes them. That frees is massive, and rock hard, cock. He takes hold of his cock and starts to wank it ad he feels his body. He is quickly joined by bare-chested Mirek Belan who kisses him Mirek takes hold of Milos' big cock and strokes iit. Then he starts to kiss and lick his friend's chest too. He moves down to suck on Milos' massive cock. His lips close tight around the head as he sucks on that big dick. Milos pushes Mirek's head down on his cock as he enjoys the feel of the hot mouth. Mirek sucks on the balls too and licks that fat shaft. Then, when Milos lifts his legs Mirek is able to lick the hot hole. He rubs his thumb over the tight hole as well before sucking on the cock some more. Then he gets naked and climbs over Milos so they can 69. Mirek's dick is rock hard too as they suck each other. Turning around Mirek straddles Milos and presses his ass hole onto that big cock. He works that huge dick into his tight hole and starts to ride it. Milos fucks his cock into the hot hole, stretching it wide. His dick goes deep into Mirek's ass as he fucks. The fucking gets harder and Milos' cock goes deeper into the hole. Mirek takes that dick so well as it pounds into his ass as hard as it can. Then Mirek lays on his bac to be fucked even harder as he wanks himself. Milo's cock rams deep into the hot ass as Mirek wanks himself. He keeps wanking as he takes the big dick in his hole. Milos' hips thrust hard as he fucks that ass while Mirek wanks himself to a cum shot. The creamy cum shoots onto his belly as he feels the dick working his tight hole. Milos' continues to fuck that ass, with Mirek turning over onto his knees to be fucked hard. Then Milos pulls out and dumps his hot cum over that sexy butt. Then they both go off to the shower to clean up.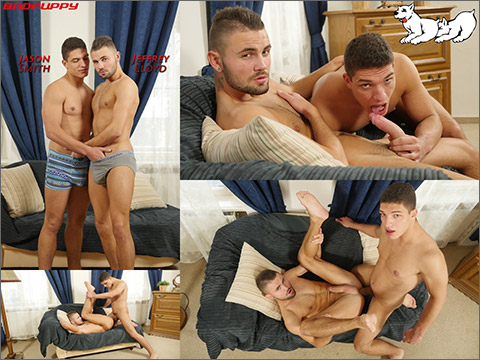 JASON SMITH FUCKS JEFFREY LLOYD
We catch Jeffrey Lloyd lying on the sofa with Jason on top of him; the pair deeply entwined in kissing and groping each other hunky, tight bodies. Jason helps Jeffrey out of his jeans to find that Jeffrey has on no underwear; but, his cock is definitely ready and standing at attention. Jason wastes no time sucking up every inch of Jeffrey's thick, long man-meat. Jeffrey sits up and as Jason takes off his shirt, Jeffrey rips off Jason's pants and swallows the entire length of his cock. Jason continues beating his thick dick while he chokes and gags on Jeffrey's hugeness. Jeffrey motions for Jason to sit down on the sofa and then Jeffrey slides right down onto Jason's thick dick. Thrusting with his legs, Jeffrey rides Jason's cock, his own dick bouncing with the rhythm, getting even thicker and harder the deeper Jason's cock goes in his ass. Jason continues to work Jeffrey's hole; legs pushed back, his hole being seriously abused by Jason. The passion intensifies as the pounding sends Jason over the edge first. He pulls his cock out of Jeffrey's ass, grabs it with his hand and with a few strokes; jizz starts flying all over Jeffrey's cock, balls and chest. Jeffrey's loving every bit of the cum soaking and; grabbing his cock, he sprays thick, juicy cum all over his tummy and chest.

MASSAGE: MILOS OVCACEK
Milos Ovcacek is a very hot guy. He came in for a massage and lays on the bed, wearing just his underwear. His back hurts, apparently, as he tells the masseur who takes some oil and begins work. Petr Zuska is the lucky masseur who gets to feel that hot body. His hands work all over Milos' back and up to his shoulders and neck. Then his hands work over Milos' arms too. He turns and works down the back, and onto Milos' legs, pushing the underwear down as a little as he works. Petr's hands work both legs at the same time and then he concentrates on each leg in turn massaging deep. He moves back up to Milos' ass, removing the underwear and massaging the hot cheeks. Milos' dick is pushed back between his legs and his ass cheeks part as the hands work it. More oil is applied to the sexy ass and Petr rubs it in, opening the cheeks to expose Milos' hot hole. Petr teases the hole with a finger and then slips it inside. His finger works that sexy hole before his hands return to massaging the ass. More oil is dripped into the ass crack and two fingers slide into the hole. They work deep into the tight hole and begin some gentle fucking. Then Petr slides a vibrator into the ass and grabs Milos' cock to wank it. The vibrator fucks the hot ass as Milos moans. He lifts his sexy ass off the bed as it is fucked my the vibrator. Petr wanks Milos' cock as he keeps up the ass play. Then Milos turns over and lays on his back. Petr takes hold of his cock and wanks it, getting it nice and hard. He uses two hands to wank it. Then Milos takes over the wanking himself moaning loudly as he shoots his hot cream all over his sexy body.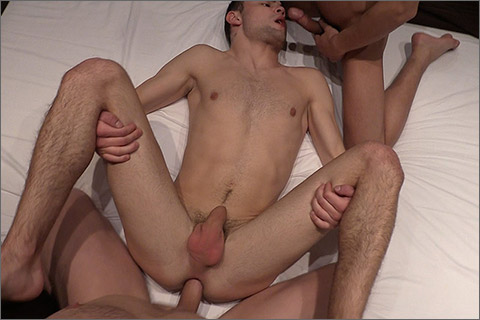 CZECH HUNTER 240
I got a call from a guy who I hunted long time ago. He mentioned having pretty serious financial problems. Not my problem, I told him. Then he promised to bring along his roommate. I was a bit reluctant but my curiosity won eventually. We met at St. Matthew's Fair, which is a very famous event in Prague. I thought it would be fun but bad weather ruined everything. The boy changed quite a bit since the last time I saw him. He got much cuter and stylish. Also his roommate was really nice and sweet. It took some time to convince him and I had to offer him a lot of money. But the effort was well worth it. I booked us a luxuriously looking room and we enjoyed a nice threesome. Just the poor boy had to endure two cocks while loosing his virginity.