Bentley Race French Student Twink Mate Gay Porn Guy, Perry Laroux
Years Active: 2015
BENTLEY RACE COMMENTS / INFO:
June 30, 2015: French student – Perry Laroux strips on my bed
Check out my newest mate Perry Laroux. This 20 year old French student wrote to me a few weeks ago asking about modelling on the site. I wasn't sure about him from the photos he sent me. But I'm glad we met. Perry is totally cute! I love shooting with French guys. There are a load of them on the site now. Perry is visiting Australia for a year, so hopefully we will get to shoot some stuff with my mates. Even though he was a little nervous doing his first shoot, he was super keen to look good on camera. Here he is stripping down to his socks on my bed whilst work his uncut cock rock hard. I'm looking forward to seeing the video we made.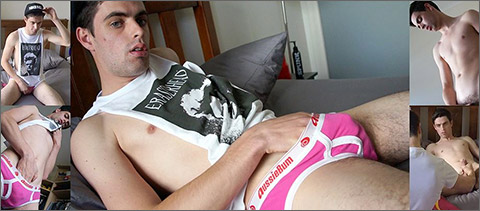 WANKING OFF MY NEW MATE PERRY LAROUX
I just finishing posting this very hot video with my sexy new mate Perry Laroux. It was his very first porn video and wasn't sure what to expect. After stripping off and stroking his cock hard, Perry asks me to give him a helping hand as he gets close to cumming. So I grab his uncut cock and started working it for him as he layer back and enjoyed reaching a climax. Perry shoots a lot of cum. Some of it got him in the face. I think Perry is a lot of fun to play with. I can't wait to see this French hottie team up with some of my mates.