Bentley Race Uncut Aussie Mate Gay Porn Guy, Simon Jones
Years Active: 2015
BENTLEY RACE COMMENTS / INFO:
I have had such a large range of guys join our group of mates this year. The latest to get in front of the camera is Aussie Simon Jones. This straight 22 year old had heard through one of his mates about the shoots that I do and wanted to give it a go. He sent me some photos and I wasn't really sure about him. But I'm glad that we met, because Simon is gorgeous! I can see that he's a big boy as he slips in to some jocks and one of my t-shirts. Simon was a little bit nervous when it came to stripping off and showing off his thick uncut dick. But there was no problem at all once it came to jacking off to some porn and getting in to a little fleshlight fucking action during his video scene. Simon is a really sweet guy and I can't wait to see more of him in some nude scenes this year. He told me he is keen to come back and try a few different things. That's very good news for all our Bentley Race fans.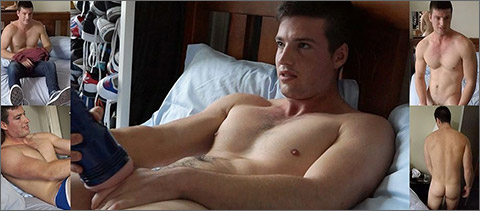 SIMON JONES MAKES HIS FIRST JERK OFF VIDEO AND CUMS A BUCKET!
My new mate Simon was pretty nervous when he started his first video scene. So I made sure that he had some porn playing on the TV and some sex toys on the bed to play with. You see this straight Aussie had never been filmed jerking off before, and definitely not by another guy. Simon had got a great bod and a nice big uncut dick. I really glad he made it through the shoot and shot a very nice big load of cum at the end. He also tried some fleshlight fucking as he watched some girls being fucked on the TV. I think Simon looks great and the photos from our shoot and this video turned out really well. Now that he is over his first timer nerves Simon tells me that he'd like to give it another go. I'm all up for seeing this hot Aussie getting naked again.