Bentley Race Hung German Jock Mate Gay Porn Guy, Brock Wyman
Years Active: 2015
BENTLEY RACE COMMENTS / INFO:
August 3, 2015: German muscle – Meet my new straight mate Brock Wyman
During my short visit to Berlin I packed in meeting as many guys as I could. I had chatted online with Brock a few times before we met. He was really unsure about doing the shoot, and I was surprised when he actually came around. He is a much bigger guy than I expected. He was towering over me as we rode the lift up to my hotel room. He was still pretty apprehensive when we started shooting, but loosened up a lot by the time he got completely naked. This straight 22 year old Berliner looks great naked and had no problem getting himself rock hard while choosing some porn on the computer. I'm looking forward to editing Brock's first video this week.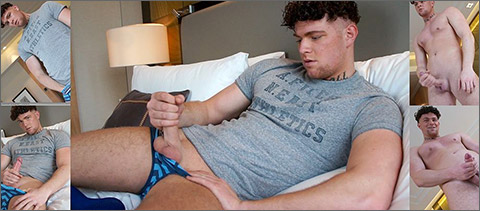 JACKING STRAIGHT MATE – BEEFY BROCK WYMAN'S HORNY AFTERNOON IN BERLIN
Brock was worked up and ready to get off by the time we finished taking loads of photos in my hotel room. Back in his shirt and jocks, Brock chooses some of his favourite type of porn on the computer and lays back on the bed, stroking his cock through his jocks. It's a pleasure getting every angle of my new straight mate working his cock stiff and getting turned on by the porn. I'd say that Brock is one of the biggest cummers I have ever filmed. I'm just glad he was pointing away from me and the camera when he proceeded to shower the room in a hot load of his cum. I reckon Brock would look very hot fucking someone. Let's see if he's up for it the next time we meet.