ChaosMen Amateur Gay Porn Guy, Pearce
Known Aliases: Dennis Slade
Years Active: 2012 – 2016
BRIAN OCKERT / CHAOS MEN INFO:
Start Age: 27
ChaosMen Debut: March 21, 2016
Height: 5'11"
Weight: 180 lbs
Cock: 7.5″ Cut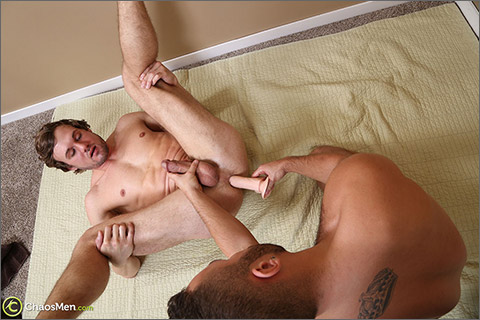 EDGE: NOAH RILEY & PEARCE
Hot muscular guy strapped to a chair! Big cock eager to be serviced! Dildos everywhere! Don't miss this video!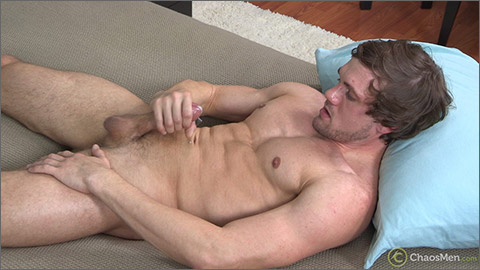 SOLO: PEARCE
Wow! Pearce is fantastic! Great face with a terrific smile, hot body, with a great cock and ass! A total package! He was a swimmer, so has been in the habit of shaving off all his body hair, but you can see he is well on his way to bringing it back.
   This guy is boyfriend material too. He is smart, works hard, and is very personable. He has had a boyfriend for two years, and his boyfriend encouraged him to try doing porn once again. He had done 3 videos elsewhere a while back, and he said the feedback was not good. I can't imagine anyone complaining about this hot guy!
   Since then, he has worked hard on his body. Pearce was incredibly comfortable doing the solo with me. For both photos and video, his cock pops out hard and ready to go! He was eager to show-off!
   Pearce loves to bottom, but tends to top with his boyfriend. So I think very versatile, but definitely loves a big cock inside him.
   He gets a little wobbly when he sits back down to stroke, so I slid between his legs, propped the camera up and lifted his ankles in the air, and that position got him bone hard again. Nothing like a little dominant camera work to make a bottom respond!
   With Pearce, you won't be able to decide if you want to see his perfect ass fucked, or see that giant cock head plunging in a hole! I hope to get both!
   This is a fantastic solo, and next week we will see him in the Edge chair!
CLICK HERE TO GO TO HIS CHAOSMEN BIO PAGE