American CockyBoys Gay Porn Star, Dillon Rossi
Years Active: 2012 – 2016
TWITTER @DillonRossi13
COCKYBOYS INFO:
Dillon Rossi's discovery is a true fairytale story in every sense of the word! Once upon a time, muscle twink Max Ryder held a contest seeking a partner for a camping trip scene in upstate New York. After reviewing tons of entries from eager applicants around the country, it was ultimately Dillon's cute smile, country boy mentality and ginormous nine-inch dick that won over the heart and the cock of Sir Max. We can't say we were disappointed either, because Dillon is a total fox! Not only does his tanned, muscular physique glow like a knight in shining armor, but his open-book personality and confidence is a huge turn-on! With all the manners of a chivalrous Ohio country boy, you can also tell that something bad and, dare I say, "cocky" lurks at his core. A thick nine inches to be precise that will be sure to make any lucky guy live cockily ever after!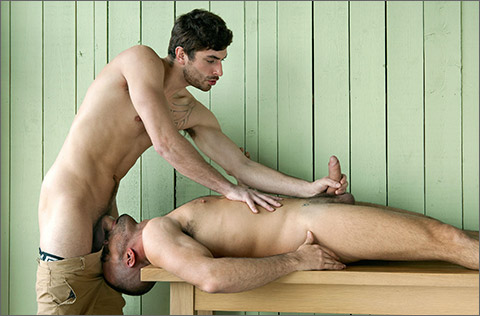 DILLON ROSSI FUCKS DAMIEN CROSSE
A weekend in the big city is just the ticket to strip away those small town inhibitions and Damien and Dillon barely made it into the hotel room before their animal desire took control. Sightseeing in the Big Apple will have to wait!
   Damien grabs Dillon and kisses him fiercely on the face as these two dig in for an afternoon fuck to remember. They make out for a couple minutes before Dillon pushes Damien to his knees and stuffs his big cock in his mouth. Damien is normally a bottom but he's not going to stop until he fucks Dillon's ass with the New York skyline in the background. These two have total chemistry and you can tell from the start that this one is going to be hot.
   Dillon enjoys a passionate blowjob from Damien before pulling him to his feet and saying "I want to face fuck you!" He lays him back on the table and slides his thick cock all the way down Damien's throat with one aggressive thrust. Damien gags a little bit but hangs in there to continue servicing his buddy's tool. Turns out Damien's got a thing for big dicks and he bends over backwards to service Dillon's sizeable manhood.
   Dillon spins him around and dives on that asshole. Rimming Damien's ass and making him moan so loud the neighbors called the front desk! He darts his tongue in and out of his asshole as he feasts on his buddy's butt before standing up and stuffing his rock hard cock up there. Dillon has got a big one and it takes Damien a couple of seconds to get used to the size of that thing but he's a quick study and before you know it he's moaning and grinding his hips into Dillon's cock like a good little bottom.
   Dillon pounds his ass relentlessly and Damien moans in approval with every deep thrust. The two end up on the bed for some furious fucking before Dillon looks Damien in the eyes and says "Fuck, you're going to make me cum!" Damien grunts, "Give it to me!" and a couple of thrusts later Dillon is squirting a thick load of cum into Damien's open mouth. Did I mention Damien is a total cum pig? Ya, he's a cum pig alright.
   The last drops are barely out of Dillon's dick when Damien wraps his lips around that rock hard shaft and shoots his load of cum. Painting his belly with splash after splash of piping hot jizz. Shuddering as the jolts of pleasure course through his body and leave him a quivering mess on the bed.
   The two take a second to recover then start making out again. Passion appreciation exchanged between their mouths as their still hard cocks poke at each other on the bed. The two finally collapse in a heap on the bed and just hold each other. A tender finish to their primal fuck session in New York City. Damn!
CLICK HERE TO GO TO HIS COCKYBOYS DETAILS