ManAvenue Muscle Stud Amateur Gay Porn, Adam Cub
Years Active: 2015 – 2016
MAN AVENUE INFO:
Handsome newcummer, Adam Cub, recently visited us to join our club of hot muscle guys that love showing off.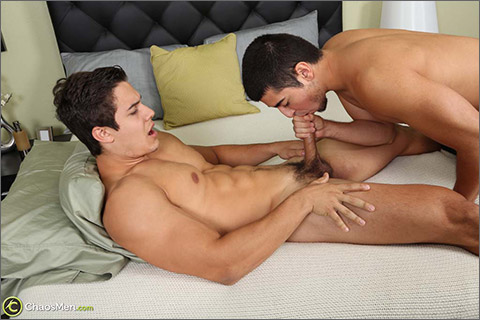 SERVICED: ADAM CUB & WEST
I really couldn't tell if Adam was nervous about getting head from a guy for the first time. He is very professional, calm, and had his mind up that he could do this. After doing cam shows for guys, he knew he would eventually level up to full-on porn.
   I had the TV on for him to start with, but after West got in there and got his cock hard, he spent most of his time with his head thrown back in ecstasy, or watching his dick get sucked, with an occasional glance at the porn playing.
   The most noticeable thing about this serviced videos, is it really looks like Adam is being electrocuted throughout this video! West learned quickly to focus on his cock head, and that kept Adam on the edge of cumming. Adam is literally vibrating throughout this video!
   Occasionally West would slow it down, fearing he might make him bust too soon.
   West tries to get some rimming in, but you can tell it was tickling Adam too much. He sure does try to stay still, but he can't help but jump away. Whiskers are tickly!
   The cum shot is crazy! Adam jerks around with giant spasms. West loses his grip but got back on top of it with his mouth and jerks the rest of his load out. Droplets of cum flying everywhere, with West sucking down most of it.
   Adam conquered getting head, and now say he will Top a guy. He isn't ready to suck back so will give him one pass. But I really want to see this hot muscle stud fucking the heck out of a dude!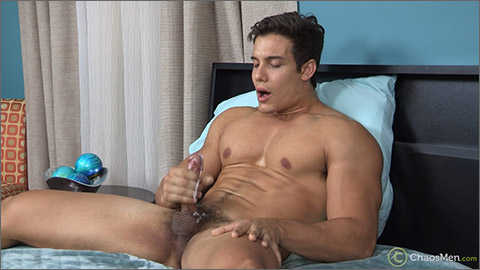 SOLO: ADAM CUB
Adam Cub has done a couple solos and a lot of cam work. Needless to say he was not shy about showing off for the cameras. He had been edging around doing guy on guy work, and decided to take the leap with ChaosMen.
   Adam is a total package too. Geeky, intelligent, social, cool, and built like a muscled god. The only flaw is he is actually straight. But thankfully with all his great qualities, 'open-minded' is also one of them! He is ready to work his way through his limits.
   He has amazing pecs, awesome quads, and cock that can get up to 8 inches on a good day.
   You will love this solo as you can tell he is really in to showing us his equipment.
   Adam will be back next week to get head from a guy for the first time!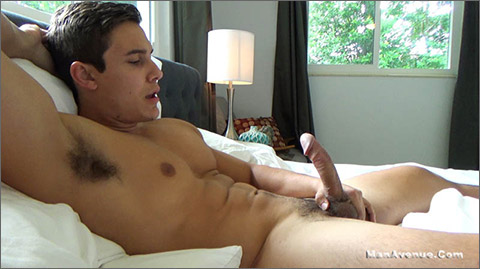 WAKING UP WITH ADAM CUB
You guys have been waiting for this hot new meat. Damn! And we do mean HOT.
   This sexy muscle guy spent the night recently and showed us everything we wanted to see…and more. Adam is so fucking sexy, but doesn't really know it…yet!
   He is horned up after a night of drinking without sex and we were there to catch all the mischief – naked, hard, flexing, jerking and blowing cum. This stud even knows we like hairy bubble butts spread wide and leaves nothing to the imagination.
   Watch him stroke his hard man meat and show off while you grab your own cock. This hot video is sure to please and get your testosterone flowing.
   Thanks, Adam. You're so fucking sexy and we hope you cum again soon!
CLICK HERE TO GO TO HIS CHAOSMEN BIO PAGE
LIVE CHAT & PRIVATE SHOWS @ FLIRT 4 FREE