Sexy American CockyBoys Gay Porn Star, Nico Leon
Known Aliases:
Years Active: 2019 – 2020
COCKYBOYS INFO:
Tall & handsome New Yorker Nico Leon has a sweet, loving & somewhat shy demeanor but he's actually adventurous & uninhibited sexually. And as he says, "the dirtier the better". He enjoys all the sensual pleasures of sex and also loves to be used and manhandled. There's no guessing what he likes and what he's feeling during sex because Nico is both verbal and vocal. For those who like intuitive, genuinely responsive and expressive sex partners Nico is a dream come true.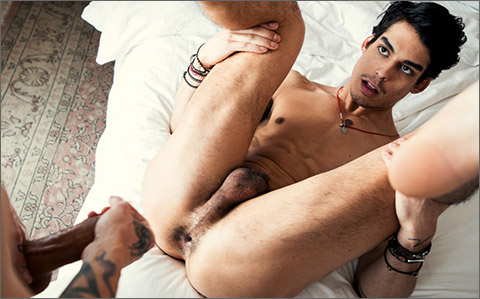 HOLLYWOOD & VINE: Tayte Hanson fucks Nico Leon
Tayte Hanson is back, hotter than ever in his long-awaited return and his first condom-free scene at CockyBoys co-starring with Nico Leon in his first CockyBoys series about the price of fame in Hollywood!
   Successful but insecure & closeted Hollywood star Nick Leon (Nico Leon) is weary of the publicity he has to do for his new movie, but his supportive personal assistant & secret love Leo Grand manages to motivate him for one more press junket. Fortunately the subsequent interview is with journalist Nathan (Tayte Hanson) who gets Nico to open up, in more ways than one: an impulsive, passionate kiss leads Nico to invite Tayte to his hotel room.
   Later, once they enter the room Nathan (Tayte) & Nick (Nico) make out with wildly unleashed passion, peppered with dirty talk. This leads to Nathan (Tayte) hungrily going down on Nick (Nico) who is dreamily swept into the pleasure. But he also wants Nathan's cock and soon has him on his back sucking him. When Nathan (Tayte) slows down to intimately appreciate the beauty before him, Nick (Nico) instead just wants to be fucked. Nathan (Tayte) obliges & gets Nick (Nico) on his back to eat and finger his ass and fuck him hard doggy style.
   In time he pushes him on his stomach to fuck him deep, only stopping to admire his beauty again before plowing Nick (Nico) on his back. Nathan (Tayte) keeps going until he blows a thick load over his hole and fucks it into him. He's also right there to gobble up Nick's thick cum when he strokes it out. As they share one last kiss, there's nary a hint of the consequences this encounter will produce by episode's end.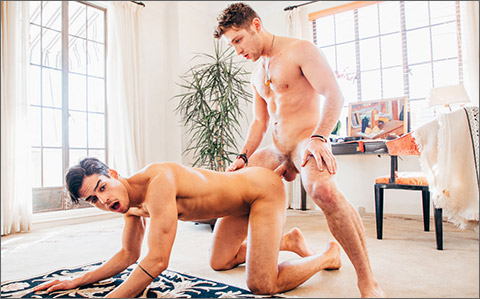 HOLLYWOOD & VINE: Calvin Banks fucks Nick Leon
Calvin Banks enters the picture as offbeat sex therapist Harmony Gold, hired to help movie star Nick Leon (Nico Leon) and his relationship with lover & personal assistant Leo Grand. They're happy to put Nick in the therapist's hands… once Harmony (Calvin) signs a non-disclosure agreement, that is. Once Leo leaves, the first session begins.
   Harmony (Calvin) begins with the gentle caressing of a half-naked Nick (Nico) and soothing words, which include details on his "unique" tantric methods. Soon Harmony (Calvin) has Nick (Nico) bent over as his hands gently massage his body, while he rubs his crotch against his crack. And once Harmony (Calvin) slips off his briefs he tongues Nick's (Nico) hole and fingers him into moaning submission.
   Harmony (Calvin) attends to another "muscle" as he turns Nick (Nico) on his back and sucks & strokes him into increasing vocal sexual ecstasy. After an intense edging Harmony (Calvin) unveils his cock and guides Nick (Nico) in the art of sucking him. With his instruction Nick (Nico) learns to deep-throat his hung therapist and Harmony (Calvin) is ready to take him to the next level.Harmony (Calvin) slides his cock into Nick (Nico) and soon he fucks him deep…with proper breathing and relaxing.
   Harmony (Calvin) then puts Nick (Nico) to the floor on all fours to plow him and teach him how to fuck himself on his big dick. Before long Harmony (Calvin) has Nick (Nico) pinned to the floor taking all his deep thrusts. The intensity builds until Harmony (Calvin) pulls out and shoots a massive load all over Nick's (Nico) hole and breeds him with it. Harmony (Calvin) then helps Nick (Nico)to shoot his own load and he milks him into trance-like state. Lesson one done: Nick (Nico) learns to love himself.
CLICK HERE TO GO TO HIS COCKYBOYS DETAILS
VIDEO ON-DEMAND: Nico Leon @ AEBN SMUTJUNKIES THEATER
DVDs & ON-DEMAND: CockyBoys @ TLA VIDEO