American CockyBoys Gay Porn Star, Tayte Hanson
Known Aliases: Tayte Hansen
Years Active: 2014 – 2020
COCKYBOYS INFO:
Tayte Hanson is one of the most intriguing, charismatic CockyBoys you'll ever meet. Originally from New Mexico but now living in New York, Tayte's a personal trainer, a dancer, a writer, and now an adult film star. He's a highly motivated jack-of-all-trades, and there's no goal that's too hard to reach for him. And all that exercise has completely paid off — one look at his perfectly muscular body will leave you drooling. He's also got a pretty big cock that he really knows how to use, and he can't wait to get his hands on as much CockyBoys ass as possible!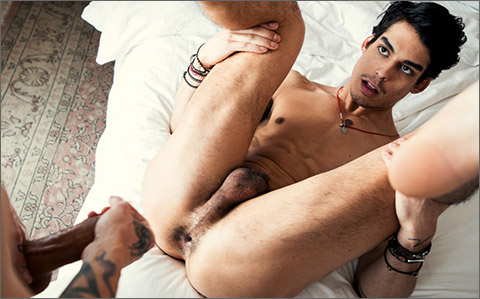 HOLLYWOOD & VINE: Tayte Hanson fucks Nico Leon
Tayte Hanson is back, hotter than ever in his long-awaited return and his first condom-free scene at CockyBoys co-starring with Nico Leon in his first CockyBoys series about the price of fame in Hollywood!
   Successful but insecure & closeted Hollywood star Nick Leon (Nico Leon) is weary of the publicity he has to do for his new movie, but his supportive personal assistant & secret love Leo Grand manages to motivate him for one more press junket. Fortunately the subsequent interview is with journalist Nathan (Tayte Hanson) who gets Nico to open up, in more ways than one: an impulsive, passionate kiss leads Nico to invite Tayte to his hotel room.
   Later, once they enter the room Nathan (Tayte) & Nick (Nico) make out with wildly unleashed passion, peppered with dirty talk. This leads to Nathan (Tayte) hungrily going down on Nick (Nico) who is dreamily swept into the pleasure. But he also wants Nathan's cock and soon has him on his back sucking him. When Nathan (Tayte) slows down to intimately appreciate the beauty before him, Nick (Nico) instead just wants to be fucked. Nathan (Tayte) obliges & gets Nick (Nico) on his back to eat and finger his ass and fuck him hard doggy style.
   In time he pushes him on his stomach to fuck him deep, only stopping to admire his beauty again before plowing Nick (Nico) on his back. Nathan (Tayte) keeps going until he blows a thick load over his hole and fucks it into him. He's also right there to gobble up Nick's thick cum when he strokes it out. As they share one last kiss, there's nary a hint of the consequences this encounter will produce by episode's end.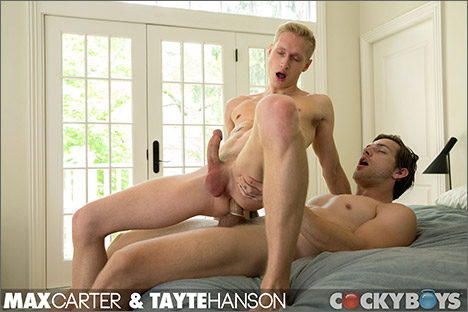 TAYTE HANSON & MAX CARTER FLIP-FUCK
Tayte Hanson has been a fan of Max Carter for three years… three years! That was before Tayte was even considering a career in porn, so you know his interest in Max is completely genuine. Max, too, has had his eyes on Tayte ever since he first became a CockyBoy about a year ago, so needless to say, there was a lot of anticipation in the air when the guys first met.
   Being such a vocal, aggressive guy really worked in Tayte's favor since Max has such a humble, thoughtful personality. Tayte first instructed Max to suck his cock, and Max could not get enough of it! They transitioned into a hot sixty-nine, with Tayte rimming Max as Max continued giving Tayte a blowjob. A short while later, Max was full-on riding Tayte's cock… but in a surprise twist, Tayte quickly decided he wanted Max to fuck him!
   Proving he's just as much in control as a bottom as he is when he's topping, Tayte was in heaven as Max pounded him hard from behind. But just as they got into a solid rhythm, Tayte flipped Max over and fucked him against the bed in the same way. Ultimately, though, the guys blew their loads with Max back on top, fucking Tayte in standard missionary. There were so many twists and turns in this flip-fuck you'd think it's several sex scenes in one!
CLICK HERE TO GO TO HIS COCKYBOYS DETAILS
VIDEO ON-DEMAND: Tayte Hanson @ AEBN SMUTJUNKIES THEATER
DVDs & ON-DEMAND: Tayte Hanson @ TLA VIDEO