American Twink CockyBoys Gay Porn Star, Avery Jones
Known Aliases:
Years Active: 2019 – 2020
COCKYBOYS INFO:
Avery Jones knows himself and what he likes. He's a vocal, expressive power bottom who describes himself a "twink boy wonder" . And he is the real deal. He's a guy who connects with his scene partners and derives much satisfaction from pleasing them and from bottoming. Handsome Avery has a enviable chiseled jawline and eyes that penetrate once they lock into the camera lens and his partners. He IS irresistible.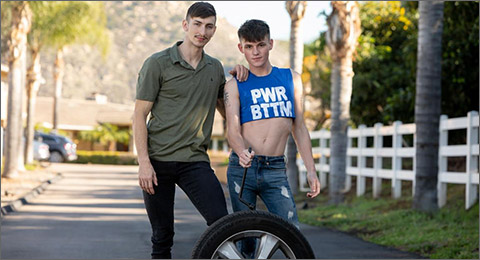 BREAKDOWN
Alluring Avery Jones just CANNOT change a tire if his life depends on it. While fumbling around with a… a… wait, what's that tool called? Sexy savior Michael Jackman insists on cumming to his rescue. He calls a mechanic and these two twinks ditch the car tools for a little manual tune up of their own.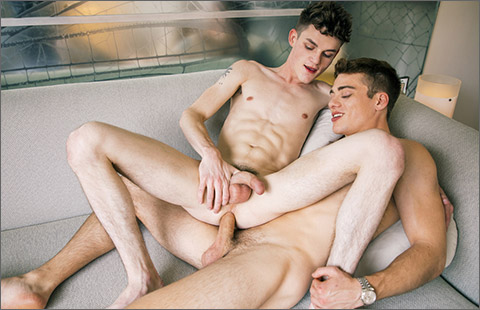 HOLLYWOOD & VINE: Blake Mitchell fucks Avery Jones
Part 2 introduces temperamental talent agent Kevin Blake, played by Blake Mitchell as you've never seen him before, and Avery Jones as his personal assistant boyfriend…and the power behind the power. If you think you know what's going on between these two lovers, you're in for a surprise. When a movie review hints Nick Leon (Nico Leon) is gay, his domineering agent Kevin (Blake) loses it, especially when he learns Nick slept with the writer (Tayte Hanson).
   In the aftermath Nick's boyfriend (Leo Grand) gets some relationship advice from Avery who also shows him by example how to handle his man. At home the sexual dynamic between Avery & Kevin (Blake) plays out on a webcam for a shocked but turned-on audience of one: Leo. Avery teases and sucks Kevin (Blake) slowly, making him beg for more more and edging him to comply with his desires. And just as Avery wants and commands, Kevin (Blake) eats out his smooth hole and teases it with his dick before letting Kevin (Blake) slowly fuck him HIS way…but only for a bit.
   Soon Avery sits down Kevin (Blake) to tease his cock more and beg Avery to ride him. Avery works his hole on his cock and when he alone is ready gets Kevin (Blake) to thrust up into him. Avery maintains perfect control as he soon switches to ride Kevin (Blake) in another position working his hole to edge them both. Soon Kevin (Blake) carries him to bed for full-on 69 in which their dynamic slowly reverses.
   After much mutual and affectionate cocksucking Kevin (Blake) gets Avery into position to fuck him from behind, knowing that's how he wants it, in front of the mirror. Kevin (Blake) soon pins him down and drills him harder, pulling out just as he starts cumming and fucking his jizz into Avery. Right away Kevin (Blake) rolls him on his back and Avery blows his load for him. And in the end Avery shows Leo he got just what he wanted. Lesson learned?
CLICK HERE TO GO TO HIS COCKYBOYS DETAILS
VIDEO ON-DEMAND: Avery Jones @ AEBN SMUTJUNKIES THEATER
DVDs & ON-DEMAND: Avery Jones @ TLA VIDEO