Spanish Power Bottom Gay Porn Star, Allen King
Years Active: 2014 – 2022
COCKYBOYS INFO:
Allen King is the type of guy who's impossible to hate. He's got a thousand watt smile that can light up any room and his positive energy is contagious. He's also got one of the most toned, beautiful bodies we've ever seen. Originally from Spain, allen found Cockyboys through his boyfriend (and fellow cockyboy) Angel Cruz, so of course his first scene with us had to be with angel. To see them together on dates, flirting in spanish, and flip-fucking is a sight to behold. Though he might be off the market, allen will surely charm the pants off any guy.
MEN.COM INFO:
Hair Color: Brown
Sign: Scorpio
Eye Color: Brown
Dick Size: 7.8 uncut
Height: 5'5″
Weight: 128
Sexual Positions: Versatile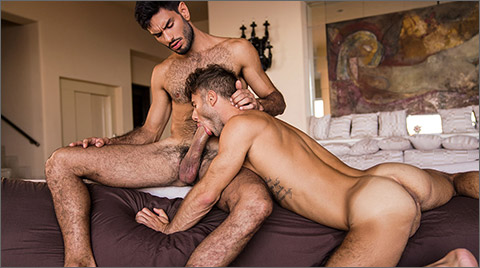 BIG BARE COCKS: Nico Zetta Fucks Allen King
When you're hankering for a big, bare cock, then look no further than Nico Zetta. Because this dude's cock is huge, he doesn't use rubbers, and he's going to fuck and breed your ass like a stallion! Allen King is well aware of this, and that's why he's stripped and ready to take his dick as soon as possible when they were paired up in this gay porn encounter. Nico and Allen first get hot and horny in the pool together, where Allen shows off his ass a boy pussy to Nico. Before you know it he is sucking on Nico's huge uncut cock and then taking it deep up his ass until they both nut! Allen King wants a deep anal fucking that is going to stretch out his ass, and Nico Zetta (and his fat, uncut cock) is the perfect man for the job!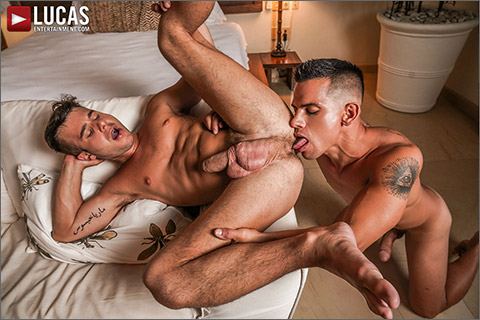 BAREBACKING BRENT EVERETT: Brent Everett Barebacks Allen King
Brent Everett has been a star in the gay porn industry for over 15 years, and he's as handsome and tightly muscled as he's ever been. It also goes without saying that his huge, fat nine-inch cock is still as hard and ready to fuck as ever. When Allen King arrived on set in Puerto Vallarta and saw Brent Everett by the pool in a Speedo, he had to have him. Brent didn't need any convincing, and the two quickly bonded and spent a lot of time together. Their chemistry explodes when they filmed their scene together. Allen King spreads his legs for Brent and offers his hole. Brent, in turn, grabs ahold of Allen and lets all of his raw sexual energy loose, fucking him without fatigue.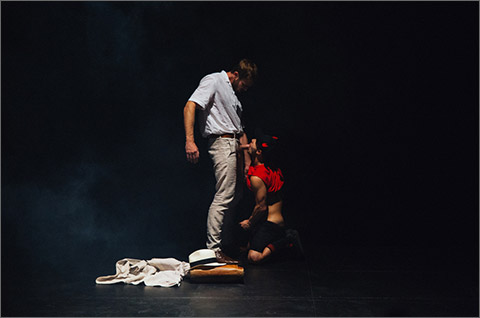 BRUCE LABRUCE'S FLEA PIT: DIABLO IN MADRID – A NEW FILM BY BRUCE LABRUCE
Allen King, Colby Keller & Sean Ford
https://cockyboys.com/scenes/Diablo-In-Madrid-Allen-King-Sean-Ford.html?type=vids
From the depths of the underworld demon Allen King crawls out of an open tomb and makes irreverent mischief on the hallowed grounds of a Madrid cemetery. He defiles graves, sexually teases a young mourner almost lured by the temptation, and struts about the cemetery, pitchfork in hand. Allen turns his wicked intentions to Colby Keller, engrossed in his book until the demon sits next to him, plays with his cock, and sparks the professorial gentleman to follow him inside a hidden mausoleum vault. In the smoky darkness Allen easily seduces Colby to his knees to suck him and then sucks Colby so expertly that that he explodes in cum within a minute.
   As he and Colby leave the tomb Allen is unaware of the presence of angel Sean Ford and he moves on, still full of lust and mischief. He mocks a vulnerable man grieving at his husband's grave and who falls prey to Allen's temptation, He is soon sucking him off inside a mausoleum and getting a demon seed facial. Allen finds another mourner to tempt but this time angel Sean intervenes and tries to wrestle him away. The diablo's lust for the angel grows intensely and he tries to kiss him as they wrestle and fight from the cemetery to the city streets and into an occupied apartment.
   Unseen by the tenant they continue to brawl as clothes come off and Allen forces himself on Sean. The angel keeps struggling until Allen's cock is shoved into his mouth and the taste of foreskin breaks down the last wall of resistance. Sean sucks Allen's cock, they kiss passionately and Sean returns to sucking Allen who smiles with demonic glee. Eventually Allen takes off the rest of Sean's clothes to sucks and rim him and his true nature is revealed triumphantly as Allen finally fucks Sean.
   Sean rides Allen's cock with unfettered desire and Allen follows up by fucking him hard from behind with heart-pounding speed. Allen determinedly fucks Sean on his back, relentlessly pounding his hole until the angelic lad shoots over his smooth torso. The demon licks up his sweet cum and then shoots his thick load in Sean's mouth and on his chin….which seasons their final kiss. They soon embark on a journey together..but which of them is more transformed by the experience?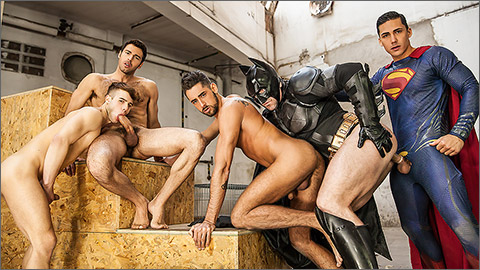 PART 3: Allen King, Dario Beck, Massimo Piano, Topher Di Maggio, Trenton Ducati
The series finale has Superman and Batman joining forces to rescue three cock hungry studs. Watch as Superman and Batman cum together with Dario Beck, Massimo Piano, and Allen King, in this extraordinary orgy finale.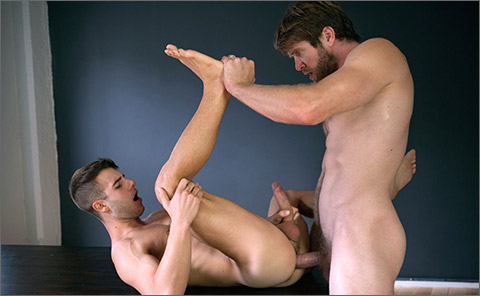 COLBY KELLER FUCKS ALLEN KING
Guess who's back! That's right, it's the one and only Colby Keller. Often described as a "sexy mountain man," Colby's rugged, scruffy, and very muscular body more than lives up to that name. He's a real charmer with effortless sex appeal, and of course there's that beer can-sized cock of his. Colby was smitten when he met Allen King for the first time, calling him his "sexy little brother." And Allen was all smiles, completely swept off his feet as their chemistry quickly escalated and they began making out.
   Colby loves being a sensual top… at first. He showed Allen a lot of affection from the start, tearing off his clothes, engulfing his cock around his bearded lips, flipping over his completely smooth body and giving him a rimjob to remember. But once Colby took off his shorts, Allen's mouth was on Colby's cock in a matter of seconds — eager to return the love! Colby always makes the best sounds and faces when he's getting a blowjob, and it was obvious Allen was a master of technique. While this was going on, Colby's hands kept gravitating toward Allen's ass, his fingers lodged deep inside Allen's crack.
   Finally, Colby lifted Allen completely off the ground, set him back on the table, and teased Allen's hole with his rock-hard cock. Proportionately, it looked like there was NO WAY Colby's rod could possibly fit inside Allen's cute, perky ass. But after a few heavy breaths, Allen took it like a champ. This gave permission for Colby to be as rough as possible, and he certainly was — propping Allen up on the table and fucking him doggy-style, letting Allen ride him on a chair, before Colby really proved his strength by picking up Allen off the ground again and plowing him in the air! For the grand finale, Colby slammed Allen back on the table, sweat now dripping from his hair, and power-drilled Allen to climax. Colby came nearly seconds later, pulling out his cock and shooting a huge load on Allen's abs. Both their bodies covered in cum and sweat, Colby kissed Allen's spent body up and down before saying, "You're amazing."

GABRIEL CLARK FUCKS ALLEN KING
Gabriel Clark always likes to make sure the lines of communication are open between him and whoever he's about to plow, which is why he asked Allen King how to say "lick your ass," "suck my dick," and "I want you to cum on me" in Spanish when they first met. Since English is not Allen's first language, he loved teaching Gabriel the words for exactly what they were going to be doing a few minutes later.
   Allen is still pretty new to CockyBoys, but he was a pro at receiving and giving Gabriel a blowjob. That was only a preview, though, because it wasn't long before Gabriel prepped and primed Allen's hole for his cock. Gabriel then completely reamed Allen in several different positions on his back, and then finally scooped him up and fucked him in the air!
   We haven't seen Gabriel fuck a willing bottom with such force and vigor in a long time — he was really, really into Allen! He almost wore himself out from all the pounding, but thankfully Allen got on top of a breathless Gabriel and rode him home. Allen came while still sitting on Gabriel's dick, while Gabriel got back on his knees to shoot his load all over Allen's torso.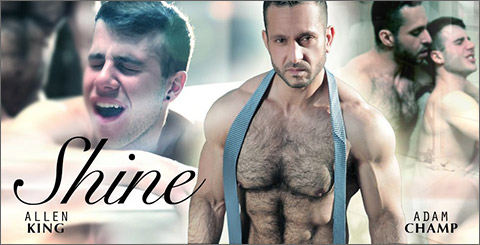 SHINE
Adam Champ has got himself a brand new toy to play with – the young and very hung Allen King. And Adam's rules are pretty simple, Allen has to do whatever he says, whenever he says, after all when you're filthy rich you can do anything you like including treat your houseboy like a total slut. Adam starts his day by ordering Allen to shine his shoes but as soon as he's on his knees Adam's head gets full of dirty thoughts and gets rock hard in his suit trousers, so he whips out his throbbing dick and Allen knows exactly what he has to and proceeds to service his master's meat. Being in this position of complete power gets Adam totally horned up and he wont be satisfied until he gets to pound the hot boy's sweet ass, long and hard. If you like you Daddies strong and hairy, and your Sons smooth and submissive you definitely don't miss this red hot scene.
CLICK HERE TO GO TO HIS COCKYBOYS DETAILS
CLICK HERE TO GO TO HIS MEN.COM BIO PAGE
ALLEN KING LIFELIKE DILDO & FLESHJACK
Don't be fooled by his small frame – Allen King is packing an impressive dick, and you won't believe how similar his lifelike dildo is to the real thing. Just like his real cock, Allen's dildo curves just where you'd want it to. And the size is perfect to use on a regular basis – this is boyfriend dick, guys and gals! Made with the highest quality, platinum cured silicone.
TAKE YOUR FANTASIES TO NEW HEIGHTS
WITH THIS REPLICA OF ALLEN'S GORGEOUS COCK.
Specifications:
Length from base to tip: 7.25″ including balls.
Insertable length: 5.5″ excluding balls.
Circumference at base of shaft: 5.75″.
GO TO: ALLEN KING'S FLESHJACK PAGE
VIDEO ON-DEMAND: Allen King @ AEBN SMUTJUNKIES THEATER
DVDs & ON-DEMAND: Lucas Entertainment @ TLA VIDEO