Hairy Handsome Canadian Gay Porn Star, Mick Stallone
Known Aliases: Mickelo Evans, Micke Stallone
Years Active: 2013 – 2017
TWITTER @mickstallonexxx
MEN OF MONTREAL INFO:
Age: 29
Sign: Libra
Height: 6'1″
Weight: 160 Lbs
Dick Size: 7″ cut
Position: Versatile
Micke Stallone is a gay guy of Maltese origin now living in Montreal. This Mediterranean dude is a student majoring in Sexology, who focuses his studies in couple relations. Slim and cut, he trains regularly, measures 6'1″ and weighs in at 160 lbs. Micke was born under the sign of Libra and he just turned 29. He sports a nice dark beard to go with his Mediterranean look and accent. Micke prefers to bottom.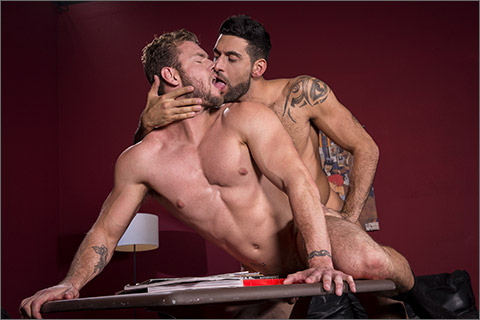 HIGH N' TIGHT: Mick Stallone fucks Ace Era
As the clippers of the 'High n' Tight' barbershop buzz in the background, Mick Stallone and Ace Era cruise each other in the waiting room. Mick unbuttons his shirt, showing off his hairy chest and tight abs. He yanks out his hard cock, and Ace eagerly gets down on his knees to perform oral worship. Ace strips off his shirt, revealing his athletic physique. Mick guides Ace by grasping the dirty blond hair on the back of his head. Ace's waistband slips below his ass, revealing the tattoo on his butt cheeks: FUCK ME. Mick is eager to do just that. Spreading Ace's cheeks, Mick delivers a slippery rim job to lube up Ace's hole. Ace presses Mick's face deeper into his crack, driving his tongue down into the tight center. Mick uses the tip of his cock to tease Ace's hole, then drives his fuck stick deep inside. Ace bends over a table, and Mick fucks him while standing, delivering an intense, expert pounding. Flipping over, Ace puts his left leg over Mick's shoulder and strokes his cock, with Mick still inside of him. Ace returns to his knees and stuffs his face with Mick's meaty tool, bringing him to the point of no return: Mick spills his load across Ace's lips and onto his tongue, savoring the taste of Mick's semen. Jerking his cock, Ace shoots his load on the floor, adding a guttural moan to his orgasm. Standing up, Ace and Mick press their lips together, sharing in the taste of Mick's cum.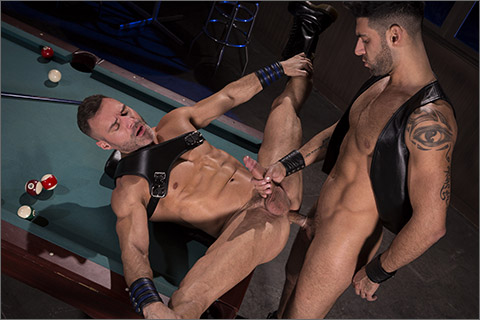 TWO DICK MINIMUM: Manuel Skye & Mick Stallone flip-fuck
It's a quiet night at the local cruise bar, which means that studs Manuel Skye and Mick Stallone can do as they please without interruption. As Mick works the pool table, Manuel works the bulge in his jeans. They approach each other and begin kissing deeply with lots of tongue. Mick grabs Manuel's nipple, then his ass. Undoing Manuel's belt and freeing his enormous cock, Mick eagerly drops to his knees and services Manuel's hard meat and hefty balls. Turning around and leaning against the pool table, Manuel gives Mick a taste of his sexy ass for a deep rim job. Rolling on his back, Manuel takes Mick's cock deep and hard. As Mick fucks him, Manuel strokes his thick cock, then pulls his legs wide apart to increase Mick's penetration. Moving to the bar, Mick bends over and takes Manuel's cock from behind. As Manuel picks up speed, Mick's ass jolts with every impact. The intense pounding brings Manuel to the brink of cumming, and he pulls out to shoot a massive, spectacular cumshot that drenches Mick's back with thick ropes of spunk. Perching himself on the bar, Mick strokes his boner until he flings his load into Manuel's open mouth. Standing up, Manuel makes out with Mick, sharing the taste of cum on his lips.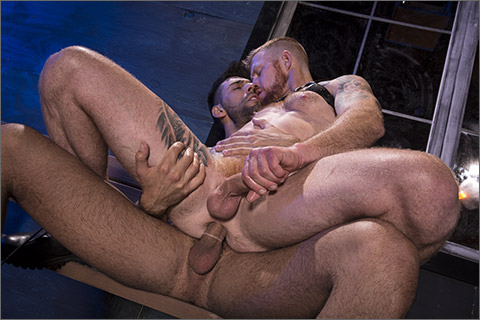 TWO DICK MINIMUM: Mick Stallone & Jack Vidra flip-fuck
Jack Vidra stands outside the cruise bar with his cock stiff and hard in his hands. He looks to the left and the right while stroking himself, and gets his wish when Mick Stallone emerges from the shadows. Kneeling down, Mick enthusiastically opens his mouth and swallows Jack's monster cock. Sitting down on a bench, Mick offers his cock to Jack, who greedily slobbers on Mick's long, hard shaft. Standing up, Jack and Mick rub their cocks together for a bit, then Mick turns around and Jack shoves his cock inside Mick from behind. Grabbing on to Mick's harness, Jack uses all the power of his muscular physique to pound Mick's tight hole. Switching roles, Jack sits down on Mick's cock, using his strong legs to fuck himself hard. Mick reaches up and pulls on Jack's supple nipples as Jack strokes his cock. With Mick filling up his hole, Jack jerks his meat until he blows a hot, white load on the ground. Kneeling on the bench, Jack pushes his ass in Mick's face, who enthusiastically rims Jack's freshly-fucked hole. Mick strokes his hard cock and blasts Jack's hairy ass with cum. After using his cock to smear his cum across Jack's hole, Mick leans forward to share a deep, connected kiss.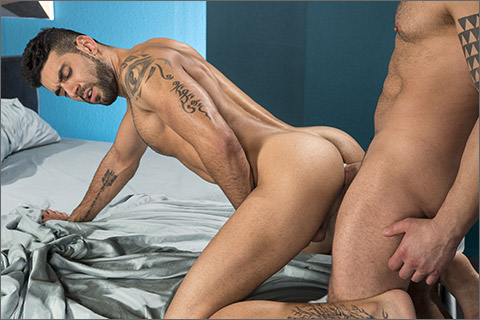 OBJECT OF DESIRE: Letterio Amadeo & Mick Stallone flip-fuck
Mick Stallone is a scruffy versatile stud from Montreal who loves making out and rimming. Letterio Amadeo is a beefy Australian top who puts all his passion into fucking. They both crave the intimacy of eye contact. As they make out and rub against each other in bed, Letterio quickly assumes a dominant position over Mick and begins giving him head. Wet saliva coats Mick's cock shaft as Letterio works the sensitive head with this thick lips. Letterio gets up on his knees and feeds his cock to Mick. Spinning Mick around, Letterio dives tongue-first into his ass. The slick spit from Letterio's rim job gets Mick's ass ready to get fucked. Standing up, Letterio begins a doggy-style fucking that stretches Mick's hole wide and deep. Exploring his versatility, Letterio lets Mick have a go at his ass: with Letterio's legs in the air, Mick pounds his hard meat into Letterio's tight hole. The intense fucking puts Mick at the cusp of orgasm, and he jerks out his load directly on Letterio's dick. Using Mick's cum for lube, Letterio strokes his thick meat until he spills his cum across his hairy stomach.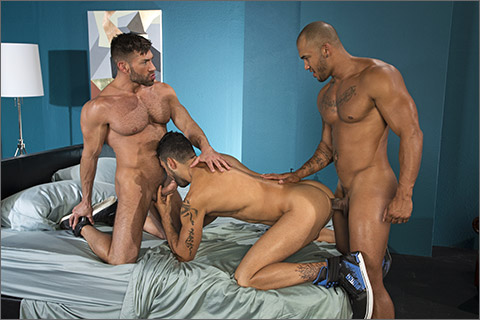 OBJECT OF DESIRE: Bruce Beckham & Jason Vario spit-roast Mick Stallone
With interview cameras pointing at them from every direction, three muscled men get intimate and talk about what they like sexually before they make out and grope each other's naked bodies. On the left, Bruce Beckham displays his massive chest. Scruffy stud Mick Stallone sits in the middle, and Jason Vario is on the right. Mick gets down on his knees to suck Jason's cock. Bruce stands up, and his massive cock swings through the air like a baseball bat. Bruce and Mick take turns deepthroating Jason's hard, uncut cock. Wet spit accumulates on Jason's shaft. Jason falls backwards on the bed, and Mick sits on his face. As Jason rims Mick's ass, Bruce uses his mouth to work Jason's dick. Spreading Bruce's ass apart, Mick blows spit right into the center of Bruce's pink asshole. Switching it up, Mick braces himself against the bed and takes Bruce's cock doggystyle. Jason moves behind Bruce and fucks him while standing. Bruce thrusts back and forth from the middle of the fuck-sandwich, turning up the heat. The three-way connection shared by these horny men amplifies the intensity of their deep, vigorous fucking. Mick is eager to have Jason's cock in his ass too. With Jason's cock stretching out Mick's ass, Bruce stuffs his cock down Mick's throat. Bruce's hand presses down on the back of Mick's neck, guiding his mouth down on the shaft of Bruce's cock. Switching sides again, Bruce pushes his huge dick into Mick's ass while Mick wraps his lips around Jason's cock. With Mick's ass stretched to the limit, he reclines in a chair and strokes his cock, watching as Bruce makes out with Jason. Jason beats out a thick, white load onto Bruce's muscular ass. Bruce unleashes his hot cum on Jason's chest. Mick lets loose with a gusher of cum across his hairy, washboard abs.

MY FIRST TIME
Do you remember your first time? Discover today Brandon Jones very first encounter with another men. 15 years ago there was no grindr or manhunt to find hook ups but there was chatrooms… Not 5 min online and one if his best friend father contacted him for hooking up. Nervous, just out of school day, he goes to meet Mick Stallone in a park nearby. The older man charm the boy right away letting him caress his body. Brandon come down to his knees to offer his him very first blowjob. Like a pro he lick the uncut dick from top to bottom. It is then his turn to get suck by Mick and feel the lips of a real man around his cock. The temptation is to strong and then turn around to receive his very first penetration. In a mixture of pleasure and pain he gets pounded by his vigorous top. The lovers then move to inside the truck for a passionate fuck. Brandon ride his dick and take every inch inside his hungry ass. From the moment he receive the precious cum all over his ass he realize how much he loves mens and would never return to girls anymore. So how was your first time? share your experiences with us.
RAGING STALLION
UK NAKED MEN
JONES EXPOSED
MEN OF MONTREAL
CLICK HERE TO GO TO HIS MEN OF MONTREAL DETAILS