Handsome Latino American Gay Porn Star, Rafael Lords
Years Active: 2015 – 2017
TWITTER
LUCAS ENTERTAINMENT INFO:
Height: 5′ 4″
Weight: 130 lbs
Dick Size: 7″
Position: Versatile
Rafael Lords is sexy, compact, and always ready for an awesome bareback fucking! We have his boyfriend, the ever gorgeous and popular Jake Andrews, to thank for bringing Rafael to our attention. This native of Cuba currently lives in Seattle, Washington and is excited to explore his opportunities in the gay porn industry. Rafael Lords' favorite sex activity is sucking dick (especially his boyfriend hard, meaty cock) and he prefers white jocks with Anglo-Saxon features — that explains why he's so turned on by Jake Andrews! Don't miss their first gay bareback sex scene together, which debuts on 26 January 2015!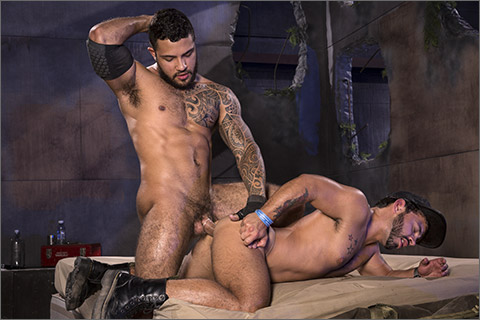 WASTELAND: Ryan Cruz fucks Rafael Lords
Lost in the desert Wasteland, Rafael Lords stumbles upon a mysterious compound. He thinks he's gotten lucky to find shelter, but out of nowhere, Ryan Cruz grabs him and warns him of the danger he's just stepped into. Ryan promises his protection – for a price. With one look at Ryan's ripped body and pierced nips, Rafael knows it's a price he's willing to pay. Dropping to his knees, Rafael stuffs Ryan's cock down his throat and sucks with desperate intensity. Ryan returns the favor, spitting on Rafael's cock and using his lips to stimulate the sensitive head. Saliva drips down Rafael's shaft as Ryan strokes himself. Moving to a bed, Rafael shows off his ass to Ryan, who dives in tongue first for a taste. Slicking up his cock, Ryan pushes himself into Rafael's eager ass. Rafael takes Ryan's cock doggy style, and his firm ass bounces with every impact of Ryan's powerful thrusting. Rolling over, Rafael raises his right leg into the air, allowing Ryan to pound his meat deep into Rafael's hole. Sweat accumulates on their bodies as their fucking reaches searing intensity. As Ryan stretches the walls of Rafael's hole, Rafael strokes his cock and shoots a massive, wet load all over his chest. Pulling out, Ryan busts his nut in a spectacular geyser, shooting multiple ropes of thick, ropey cum all the way across the room. After bending down for a kiss, Ryan and Rafael collapse back on the bed together, exhausted after their intense fuck session. When Ryan falls asleep, Rafael stealthily gets up, grabs his gear, and makes a break for it.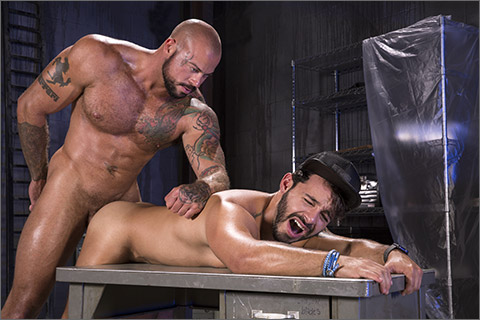 WASTELAND: Sean Duran fucks Rafael Lords
After stumbling into a post-apocalyptic dungeon full of dangerous men, Rafael Lords is trying to escape when Sean Duran stops him. "Why don't you turn around… Show me what I won today!" says Sean. "Pretty nice ass," he adds. "Think you can handle more dick in there?" Bending Rafael over a table, Sean spreads Rafael's cheeks open and shoves his tongue down Rafael's hole. Submitting to the will of his captor, Rafael gets down on his knees and services Sean's massive cock. Sean grabs his nipples to enhance his pleasure as Rafael continues to slobber on his thick rod. Ready to take his ultimate prize, Sean picks Rafael up, lays him flat on a desk, and thrusts himself inside. Feeling Sean's meat filling up his hole makes Rafael grab his own hard cock. Sweat covers their bodies as the action gets more and more intense. Rafael flips over to take Sean's cock doggy style, and he gasps and moans as Sean's pounding picks up speed. With Sean still inside him, Rafael loses control and shoots his load, which pisses Sean off. "Who the fuck said you could cum?" he bellows. Jerking his own cock, Sean blasts Rafael's hole with thick, white cum. "What am I going to do with you now?" questions Sean.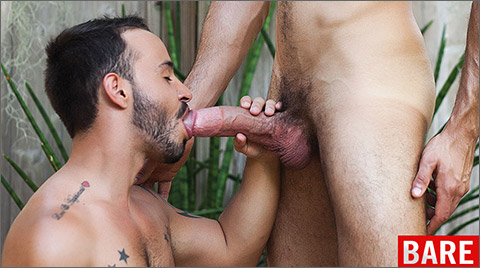 RAW LATIN HEAT: CHALLENGE ACCEPTED… Rafael Lords Takes Leo Alexander's Monster Cock
Challenge accepted indeed — Rafael Lords is a little guy, and Leo Alexander presents him with an oh-so very big dick. You really have to admire Rafael's gusto for not only handling Leo's meat, but also enjoying all of the work he puts into his encounter. Because his mouth barely fits around it, Rafael uses both oral and hand techniques while working to get Leo Alexander hard. And to what end, you might ask' Skip ahead to 24:12 to see for yourself.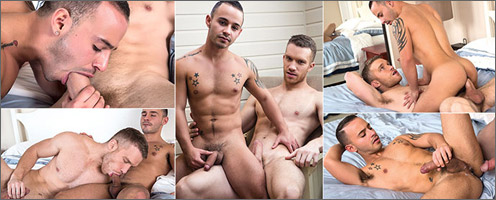 JAKE ANDREWS FLIP FUCKS RAW WITH BOYFRIEND RAFAEL LORDS
Jake Andrews flip fucks raw with boyfriend Rafael Lords: One question that's been asked quite a bit for several months from Lucas Entertainment fans is when Jake Andrews will be making a return to the studio. He had been in retirement, but recently emerged from his gay porn hibernation with his boyfriend, the newly announced Rafael Lords. Upon seeing Rafael for the first time, you might recollect the ever-popular Armond Rizzo: its no secret the first noticeable similarity is their size. Rafael Lords is compact and ready to fuck bareback! Rafael begins his scene with Jake Andrews intimately submissive: they closely hug and hold each other while removing their clothes. What follows? What else could, but Rafael sinking his teeth into Jake's big, fat cock (which looks like it's gotten bigger since last he performed). And take a look at Jake's body at 07:20 — the fucker couldn't look more cut! If watching Rafael Lords riding Jake Andrews is what you're after, take a peek at 18:05 — it's a stellar raw fuck loaded with passion and affection!
RAGING STALLION
LUCAS ENTERTAINMENT
CLICK HERE TO GO TO HIS LUCAS ENTERTAINMENT DETAILS