Australian / Swedish Gay Porn Star Stud, Letterio Amadeo / Letterio
Years Active: 2014 – 2017
TWITTER @LetterioXXX
International Adult Film Performer. Live Sex Entertainer (duo with TofficXXX).
LUCAS ENTERTAINMENT INFO:
Height: 6'1
Weight: 220 lbs
Dick Size: 9″
Position: Versatile
Letterio Amadeo is bringing back the tall, dark, and handsome appeal of the international casts Lucas Entertainment is known for. Letterio stands tall with a body heavily muscled — and the uncut nine inches he has between his legs is a nice addition, too. While Letterio was born in Australia, he currently lives in Stockholm where he is experimenting with all things sex. His introduction into porn is because of a camera fetish he has, and he's best at showing off his versatile gay sex skills in a threesome. Letterio Amadeo prefers men like himself: big, hung, and muscled.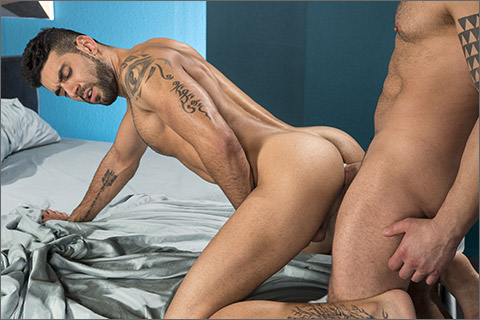 OBJECT OF DESIRE: Letterio Amadeo & Mick Stallone flip-fuck
Mick Stallone is a scruffy versatile stud from Montreal who loves making out and rimming. Letterio Amadeo is a beefy Australian top who puts all his passion into fucking. They both crave the intimacy of eye contact. As they make out and rub against each other in bed, Letterio quickly assumes a dominant position over Mick and begins giving him head. Wet saliva coats Mick's cock shaft as Letterio works the sensitive head with this thick lips. Letterio gets up on his knees and feeds his cock to Mick. Spinning Mick around, Letterio dives tongue-first into his ass. The slick spit from Letterio's rim job gets Mick's ass ready to get fucked. Standing up, Letterio begins a doggy-style fucking that stretches Mick's hole wide and deep. Exploring his versatility, Letterio lets Mick have a go at his ass: with Letterio's legs in the air, Mick pounds his hard meat into Letterio's tight hole. The intense fucking puts Mick at the cusp of orgasm, and he jerks out his load directly on Letterio's dick. Using Mick's cum for lube, Letterio strokes his thick meat until he spills his cum across his hairy stomach.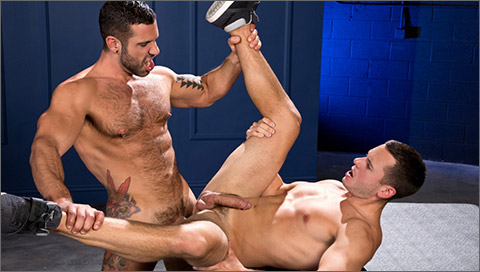 TEMPTATION: Letterio Amadeo fucks Brenner Bolton
Letterio face-fucks him with and thrusting rhythm, as spit drips down onto his thick cock for lube. Spearing Brenner's ass with two fingers of each hand, Letterio spreads and stretches the walls of Brenner's hole until his tongue can slip in easily. Letterio's tongue paves the way to loosen up Brenner's ass to get it ready for Letterio's massive uncut cock to slide in. Groans of pleasure echo through the room as fireworks of cum burst from Brenner's cock. As sweet as Brenner's hole is, Letterio saves his load for Brenner's mouth.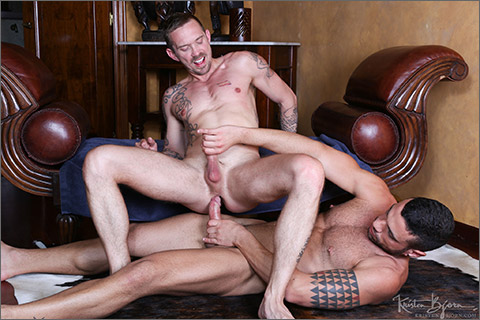 BARE TO THE BONE #7: LETTERIO AMADEO FUCKS STEPHAN RAW
Letterio made plans to meet up with Stephan and told him that if he was late he would be punished. Of course Stephan was late and Letterio started things off by showing him who was in charge. Letterio strips Stephan then forces his huge, fat cock down his throat. As much as Stephan gags on the huge cock, Letterio continues to force feed him his cock. Letterio runs his hot tongue from Stephan's hole to his taint, to balls, to cock shaft, to the uncut foreskin to tease and prepare Stephan for what is to come. Once satisfied that his hot pucker hole is ready, Letterio plunges his huge, raw cock deep inside of Stephan's ass as Stephan gasps and moans for every breath as Letterio goes deeper and deeper. Letterio builds up his rhythm and pounds away at Stephan's ass, much to the delight of Stephan. Laying down on his back and having Stephan squat down over his throbbing cock gives Letterio much better leverage to go deeper and harder in his assault on that hungry hole. Both men find their rhythm and ride like a tidal wave arriving on shore with no letting up in sight. As Letterio fucks away at that hot hole, Stephan strokes out a huge load of cum all over Letterio's muscular thighs. Letterio loves the sensation of Stephan's ass milking his cock that he has two ejaculations and Stephan wants that hot cum in his ass so he squats back down on Letterio's cum drenched cock.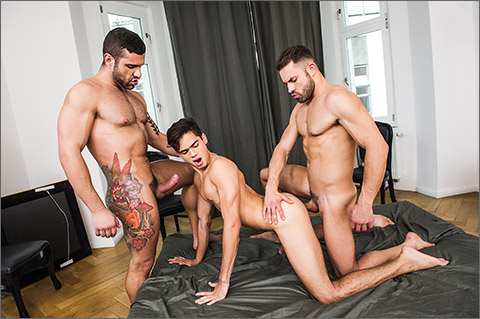 LETTERIO AMADEO AND JAMES CASTLE DOUBLE-TEAM ASHTON SUMMERS
Another Lucas Entertainment exclusive model is having his debut scene in what will be collected into the future film "Raw Threeway" — Ashton Summers. Ashton is a professionally trained ballet dancer, which comes in handy for handling his body during sex. Letterio Amadeo makes a return to give Ashton a test drive alongside James Castle (who I've taken note of having a very handsome face). Everyone gets a turn bottoming, but Ashton is first up as Letterio and James pass him around. But even though he has a deliciously tempting ass, Ashton is more than capable of pounding his tops too!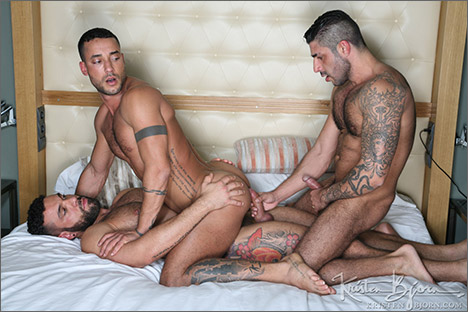 BARE TO THE BONE #4: TOFFIC, RAUL KORSO & LETTERIO AMADEO
Letterio and Toffic are hanging out having a smoke when Raul stops and asks for a light. After a brief conversation, Raul invites the handsome couple over to his place. Once in the apartment the clothes are quickly stripped away and Raul and Toffic begin tag teaming Letterio's huge, uncut cock. Sharing this massive cock and forcing it down each one's throat only gives Raul and Toffic the desire to suck it more. Toffic lavishes Raul with his ass to eat while Letterio devours his rock hard cock. Once Toffic's ass is sufficiently lubed with spit he sits his wet ass down on Letterio's giant cock. Toffic loves to sit his raw ass on his lover's big cock and it shows with the enthusiasm that he takes it and swallows it whole with his ass. As Toffic rides Letterio's huge cock Raul sucks Toffic's straining cock, with Letterio forcing Raul to swallow it whole. Letterio rides Toffic hard and furious with a savage force that Toffic pops off of his cock and Raul immediately jumps on it and lubes it up with more of his saliva then shoves it back into Toffic's hole. Raul and Toffic continue to share Letterio's cock, one fucking it the other sucking it. Letterio lies down as Toffic sits on his perfect cock and Raul comes in from behind and shoves his raw cock inside of Toffic as well. Letterio and Raul grind their raw cocks together deep inside of Toffic's ass. After some hardcore, raw double penetration, Raul pulls Letterio's cock out of Toffic and swallows the throbbing cock that is shooting a huge milky load of cum into Raul's hungry mouth. Got cum?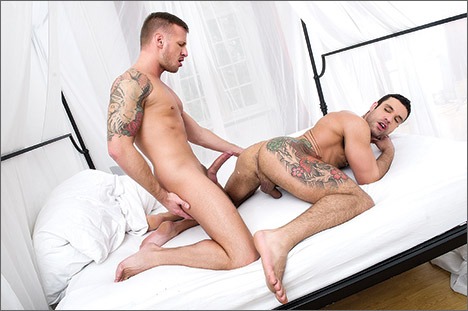 LOGAN ROGUE AND LETTERIO AMADEO SUCK AND FUCK RAW
The minute Logan Rogue and Letterio Amadeo appear on screen with one another, their encounter explodes with passion — our videographer provided very little direction, and the final edit was put together with few transitions. Logan and Letterio for a while now have been anxious to work together, so we made an effort to bring that desire to life. In the beginning, Logan is a hungry cock sucker who swallows Letterio's uncut penis with delight — and he knows to stare up at Letterio while he's balls' deep down his throat. At 16:50 minutes in you'll see what we mean. Logan Rogue is the first to get his ass fucked bareback by taking a ride on Letterio's lap. Though Logan is a good bottom, he really knows how to give it too, and Letterio bends over with his ass up to find out — check out 25:02 to see what we mean. And fans of cream pies should not miss this, either!
RAGING STALLION
KRISTEN BJORN PRODUCTIONS
LUCAS ENTERTAINMENT
DARK ALLEY DARKROOM
CLICK HERE TO GO TO HIS LUCAS ENTERTAINMENT DETAILS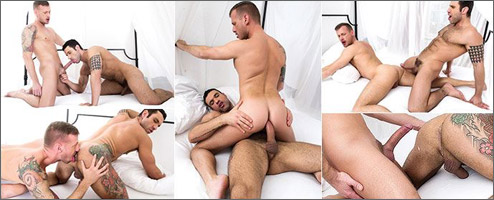 LOGAN ROGUE & LETTERIO AMADEO SUCK AND FUCK RAW
BARE TO THE BONE #1: LETTERIO AMADEO & PATRYK JANKOWSKI
BARE TO THE BONE #4: TOFFIC, RAUL KORSO & LETTERIO AMADEO
LETTERIO & THEO FORD
ROCCO STEELE & LETTERIO
LETTERIO & TOFFIC
LETTERIO & CRAIG DANIEL
LETTERIO & AARON STEELE
LETTERIO AMADEO
LETTERIO AMADEO & KAMYK WALKER
ANIMAL INSTINCT
LUSTING FOR LETTERIO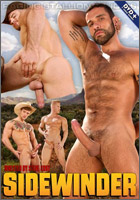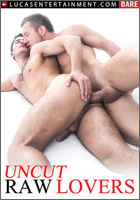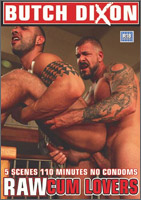 SIDEWINDER
UNCUT RAW LOVERS
GENTLEMEN 14: RAW PROFESSIONALS
RAW 3 WAY
RAW DVD
RAW CUM LOVERS