SpunkWorthy American Gay Porn Amateur, Micah
Years Active: 2015
SPUNK WORTHY INFO:
Age: 26
Height: 5′ 9″
Weight: 160 lbs
Hair: Brown
Eyes: Blue
Shoe: 8 1/2
Cock: 6 1/2″ x 5″ (cut)
Orientation: Bi-curious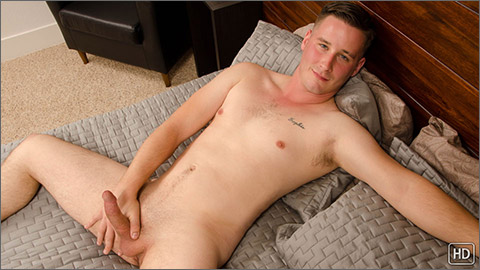 MICAH
Micah and I met a couple months ago, socially, and as much as I wanted to hand him a card, it would have been an awkward situation. Turned out, he'd been thinking about getting into porn on his own and, recently, sent in an application not realizing that it was me on the other end receiving it. True story!
   Micah is 26 y/o and made his way to San Diego courtesy of the military. He's a bit of a firecracker; the kind of guy who is willing to try anything once. He didn't tell any of his friends about coming over for a shoot, but admitted that he will probably end up telling them, if for no other reason to see their reaction.
   In the course of setting up a time for a shoot, I told him to "save up" beforehand which made him chuckle under his breath. I asked what was funny.
   "Well," he explained, "I like to edge myself, sometimes for days on end. I'll jack off every day, but I won't cum. It's been three days so far."
   That's some self control.
   Like most of the first-timers, Micah said he was a little nervous starting out. You'd never guess it, though. He clearly liked showing off, especially for the close-ups when he got to look down and see himself stroking his dick in the camera's viewfinder.
   When he got the thumbs up to let out his 3-day load, Micah's whole body started twitching as he worked himself up to the finish line. "I'm gonna fuckin' cum," he said in one final gasp, letting gobs of thick jizz pool onto his stomach.
CLICK HERE TO GO TO HIS SPUNK WORTHY DETAILS