SpunkWorthy American Gay Porn Amateur, Shane
Years Active: 2015
SPUNK WORTHY INFO:
Age: 20
Height: 6′ 2″
Weight: 200
Shoe: 11
Cock: 6 1/2″ x 5″
Orientation: Straight
Shane was a hard one to read. On one hand, he was quiet, shy and uncertain about getting naked on camera. On the other, he was clearly enjoying it once he was naked and the cameras were rolling.
   My thoughts? Closet exhibitionist. We love them.
   As for taking the next step and doing anything beyond a jerk off video… well, again, he was a hard one to read, but I have a feeling that now that Shane's tasted the adrenaline of being on camera, he'll be back. Let's just hope it's sooner than later.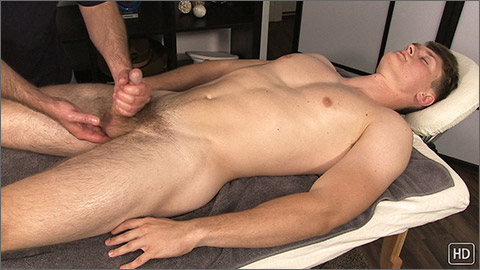 SHANE'S MASSAGE
Shane was pretty nervous about doing a happy-ending massage. He took his time thinking about it and decided to give it a shot after a little convincing. His big concern was whether he'd be able to get it up.
   He shrugged off his nerves, though, and made the leap into his first experience with a guy. It took a minute for him to relax; from the little pre-shoot "interview" to the first few minutes when my hands were rubbing down his back, the tension was running high.
   And then Shane rolled over onto his back and the story changed. Once his cock got a few tugs, it was standing at full attention. He even had to stop me once because he was getting so close to cumming.
   Shane's cumshot was a sneaker — he must have been focused on something good while I brought him up to the edge. Without much of a peep leading up to the climax, he suddenly gasped. With his eyes rolling into the back of his head, cum dribbled down my hand and onto his pubes.
SHANE'S MASSAGE
SHANE
CLICK HERE TO GO TO HIS SPUNK WORTHY DETAILS