SpunkWorthy American Gay Porn Amateur, Lance
Years Active: 2013, 2015
SPUNK WORTHY INFO:
Age: 19
Height: 5′ 8″
Weight: 149
Shoe: 10
Cock: 6″ x 5 1/2″
Orientation: Straight
When I first talked to Lance, he was clearly excited about getting the chance to do porn. I liked his gung-ho attitude!
   He showed up for his shoot and immediately started looking over all the cameras and equipment, asking questions about editing software and the technical side of things, too, so his interest in porn seemed to go beyond just getting naked.
   Lance identifies as straight and seems very secure in his sexuality. I'm not holding my breath, but I have high hopes that we'll be seeing him again in some more "interactive" scenes!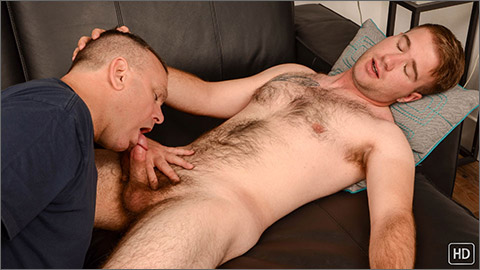 BLOWING LANCE 2
It'd been almost two years since Lance had been in touch when, out of the blue, he sent a text: "Hey, think we could do another BJ video?"
   Since I'd last seen him, Lance has started growing into his early manhood and is actually embracing his furry bod (go back and compare how he looks now to when he first showed up on the site!) Apparently, he's also started to appreciate the fact that when it comes down to it, hey… guys give pretty good head.
   When Lance showed up, the bulge behind his jeans signaled that he was horny and ready to roll. I could barely keep his clothes on him once the cameras started rolling; Lance was undressing himself in anticipation.
   One of the things Lance found out in his sexual explorations here was that he liked his ass licked. He didn't actually say as much, but when I pushed his legs back Lance instinctively grabbed them from behind his knees, pulling them back further to give me access to his hairy hole.
   Lance moaned appreciatively when I rubbed my fingers against his ass, so I lubed one up and slowly started slipping it inside. It was a tight fit, for sure, and the expressions on Lance's face made that clear. But it was also clear that he didn't want me to stop, so I got him up on all fours to keep finger-fucking him and eating his tasty bubble butt.
   Lance's cock seemed to be on a hair trigger and when he rolled back over to get finished off, his dick was rock hard. I slid a finger past his balls and rubbed his ass which was starting to push him over the edge. Lance's "O face" is one of my favorites; the intensity is so hot. As he writhed on the couch, Lance blurted out that he was about to cum in a climax that looked like it was two years overdue.
CLICK HERE TO GO TO HIS SPUNK WORTHY DETAILS