Sexy Daddy American Gay Porn Star, Max Sargent
Possible Alias: President Wilcox
Years Active: 2014 – 2022
BAIT BUDDIES INFO:
Height: 5′ 11″
Weight: 185
Hair: Brown
Eyes: Hazel
Cock: 7.5″ cut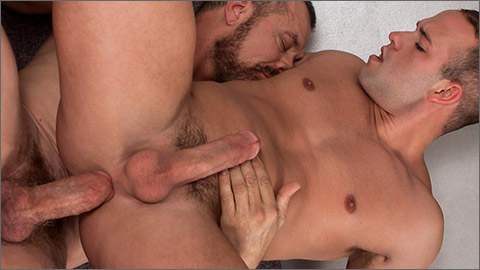 JOE GAGE'S STOPOVER IN BONDS CORNER: Max Sargent fucks Luke Adams
Daddy Max Sargent opens the door to find jock student Luke Adams in distress, claiming he just ran from a stranger in a car who flashed him. "Here, I'll show you," he says, taking out his cock. "Was it hard, like this?" asks Max, taking out his own beast. "He was going to make you suck his dick." Max guides the wide-eyed Luke down on his cock, then sucks him back. Luke slurps him again, his nose planted in Max's bush. Max eats and fucks the bottom, whose hard cock pulses as the top thrusts in deep. Luke sits down on it as his own boner bobs up and down. "You gonna come in my mouth?" asks Max, whose beard is soon coated before Luke yells "Give it to me, sir!"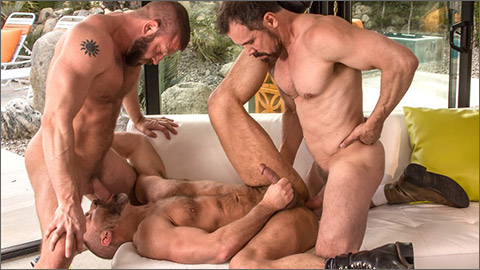 PACKAGE: Officer Dirk leads a 3-way with Hunter Marx and Daddy Max
On the deck, Max Sargent feasts on Hunter Marx's steel rod, breathing heavy from excitement as spit slides down the shaft. Max stands and feeds Hunter, who snaps his own dick up as he sucks. Officer Dirk Caber stumbles upon the scene and ushers them inside. "Down on your knees," he tells Max, making him suck Hunter. Dirk works up the bulge in his pants, a wet spot seeping through as he tastes the precum off his finger. Dirk whips his cock out and feeds Max, who sucks the studs back and forth as they kiss above him. Dirk feeds his precum to Hunter, who soon drops down to suck alongside Max. Dirk then sucks them both, repeatedly snapping up both of their boners at the same time: "Fuck yeah!" The three kiss as their dicks poke each other, Dirk then eating Hunter before fucking him. "Back to me! Fuck my cock!" yells Dirk as Hunter slides back on it. Max sits on Hunter as Dirk stuffs Hunter's mouth. Hunter rams Dirk's hole ("I love that! Fucking feeling you, every inch!"), the bottom soon covered in all three of their loads.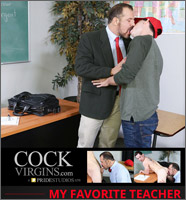 MY FAVORITE TEACHER
Toby is having a rough time with some boys at school and the only place he can turn to is Max's classroom for comfort. Max shows up and notices Toby has showed up very early to class and has something on his mind. Toby confides in Max and opens up to him about how the boys are being very mean to him and it's because they know he is gay. Toby didn't know where to turn so Max gives him a big hug and reassures him that everything will be ok. Toby looks at his teacher after the hug and goes in for a kiss but Max backs up and tells him they can't do it but Toby wants to explore and see if he really does like men. Max reluctantly moves in for the kiss and the passion begins to ensue as the teacher takes charge of his student. Max has Toby blows his throbbing cock as his dream finally comes true of banging one of his star students. Max eager to fuck that young tight high school ass bends him over the desk and gives Toby's virgin ass a deep intimate pounding. Its Toby's first time having a cock in his ass and Max goes slow and steady making sure Toby enjoys every second of his cock. The teacher and the student finish with hot loads all over the desk just in time to get ready for class.
CLICK HERE TO GO TO HIS PRIDE STUDIOS BIO PAGE
VIDEO ON-DEMAND: Max Sargent @ AEBN SMUTJUNKIES THEATER
ENDLESS STREAMING MEMBERSHIP: Max Sargent @ NAKEDSWORD