Falcon Studios American Gay Porn Star, Trent Locke
Known Aliases / aka:
Years Active: 2010 – 2011
AEBN INFO:
Height: 6 ft 0 in (182 cm)
Hair: Red
Eyes: Blue
With gingery auburn hair, blue eyes, and a buff, furry body, Trent Locke is sweet and hot at the same time, like those cinnamon candies. The studly Gemini has been doing gay porn since 2009, working for Falcon, Jake Cruise, and Pure Play Media. He started off 2011 with a big bang, starring in Mustang's blockbuster MAN UP, available exclusively across AEBN, and he stunned viewers in his bottoming debut for NakedSword's first original series, Golden Gate. Trent's also a force of nature in COLT Studio Group's FUR MOUNTAIN, Raging Stallion Studios' RUGBURN.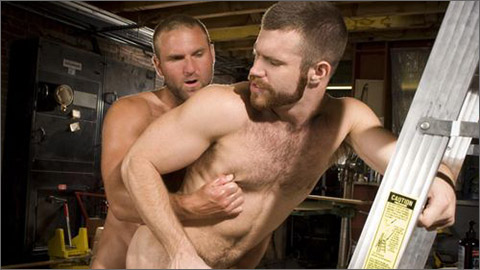 WOODSHOP: Tom Wolfe fucks Trent Locke
Tom Wolfe doesn't waste any time getting Trent Locke out of his shirt. Tom liked making out, but he wanted to work Trent's nipples and hairy chest. He nibbles and licks with his mouth and slaps and punches Trent's torso to show how into it he is. As soon as Tom has his shirt off, Trent mouths his way from Tom's pit to his fur-covered chest to his waist. Trent undoes Tom's belt and goes right for Tom's huge, veined tool. Holding on to Trent's head, Tom guides the mouth down to his balls and proceeds to fuck the bearded face of Trent. Trent looks up for approval and Tom tweaks his nipple to show appreciation for the hot blow job he's receiving. Trent, only in jock strap, climbs the shop ladder and squats down to give Tom a perfect view of his tight, hairy hole. Tom buries his face in for a taste, tonguing the stud and sending moans out his body. Holding onto the ladder, Trent steps down to let Tom fuck him right. They take turns driving, Tom thrusting forward deep into Trent and then Trent backing up onto Tom's shaft. This ride gets really blazing when Tom lays back and Trent hops on for some reverse cowboy, sliding up and down on Tom's rock-hard cock while Tom pinches Trent's nips. Trent's pace accelerates as the riding gets hotter, and he grabs on his cock to milk a long stream of cum from is piss slit. After Trent dismounts, Tom straddles him and jerks a load onto his torso.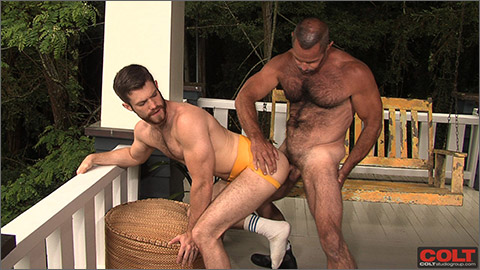 FUR MOUNTAIN: Tim Kelly fucks Trent Locke
With a thick pelt of fur on display, Tim Kelly is kicking back and enjoying dedicated service from cock worshipping Trent Locke. Trent is treated to an eyeful of body hair as he kneels before Tim's altar of fur and cock, lovingly swallowing and slurping on Tim's thick piece of man meat. Grabbing the back of Trent's head, Tim guides him down on his cock, demanding Trent handle every inch.
   Reaching over Tim, grabs Trent's jock strapped ass. Spitting on his hand Tim probes that hot manhole with his fingers. Turning Trent around, Tim turns his full attention on that butt. Tongue deep in that hole, Tim gets Trent's ass lubed and horny for cock.
   Rising up with his rock hard cock Tim spreads those mounds and buries his cock deep in that sweet ass. Trent holds on tight as Tim gives his hole a hard pounding. And after a hard pounding from behind, Trent climbs up on top and takes a wild feel good ride on Tim's big pole. Feeling that cock deep in his ass, Trent rides harder as cum begins to fly. A hot white load explodes from his cock and lands in pools in the thick fur of Tim's manly chest. As Trent leans in for a hot lip-lock, Tim reaches down to stroke his ready to blow cock. Thick wads of cum gush from his cock as his balls are drained.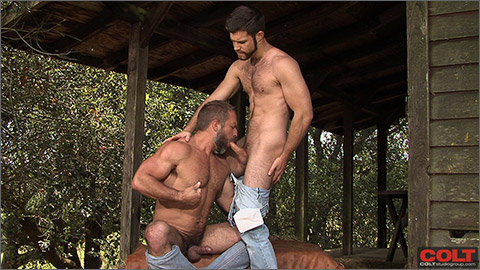 FUR MOUNTAIN: Trent Locke & Dirk Caber
Out by the barn and resting on a bale of hay, burly Dirk Caber has his furry buddy Trent Locke in his muscular arms, passionately kissing and enjoying the feel of his hairy body and his growing bulge. Finding a hole in Trent's jean, Dirk tears open a hole, exposing Trent's thick swollen cock. Dirk lets his lips explore and finds his way down to take a taste of Trent's meaty pole. Slowly undressing each other, Dirk pulls down his jeans as Trent goes down to slurp on Dirk's thick cock and big man-sized balls. It's a slow and sensual give-and-take as these men enjoy the feel and the taste of each other's furry bodies and hard and juicy cocks. Dirk loses himself in the pleasure of sucking Trent's big dick. Dirk sucks and strokes Trent to the edge before taking a white-hot load on his chest. Then with fresh cum dripping down his hairy chest Dirk strokes himself to a gushing climax as thick gobs of dick juice ooze from his swollen cock.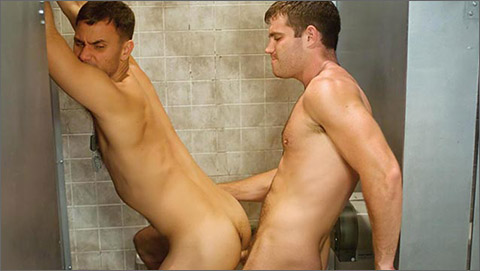 MAN UP: Conner Habib & Trent Locke flip-fuck
Conner Habib thinks he's safe, hiding out in the latrine so he can get his rocks off, masturbating to a porn rag. But Trent Locke senses something nasty's going on behind that stall's closed door so he busts inside and catches Conner in action. Startled at first, Conner now recognizes he's got a hot stud to get down'n'dirty with and he quickly surrenders himself to Trent's charms. The horny cadet sucks his big buddy's hard cock, swallowing it down his throat. Trent gets his turn to hungrily suck Conner off before he rims his ass and then fucks him fast and furious. Trent next lowers himself onto Conner's stiff dick and rides him hard. Then they leave the confines of the stall and, braced against a urinal, Conner resumes fucking Trent's ass until he pulls out and cums all over and Trent follows by shooting his load.

DIRTY TONY
CHANNEL 1 / RASCAL
MASSIVE STUDIO

CLICK HERE TO GO TO HIS FALCON STUDIOS DETAILS

WATCH IT NOW AT: Trent Locke @ AEBN / SMUTJUNKIES THEATER
NOW STREAMING: Trent Locke @ NAKEDSWORD