Handsome Ukranian Lucas Entertainment Gay Porn Star with Fat Uncut Cock, Andrey Vic
Years Active: 2016 – 2022
LUCAS ENTERTAINMENT INFO:
Height: 5′ 7″
Weight: 155 lbs
Dick Size: 8″
Position: Versatile
Andrey Vic makes his Lucas Entertainment makes his BAREBACK AUDITIONS 4: RAW RECRUITS. Who welcomes him to the studio? Both Zander Craze and Damon Heart, and they go out of their way to give Andrey a hot-and-heavy introduction!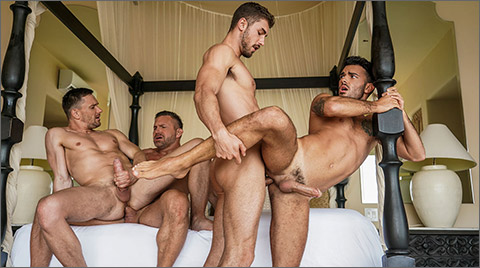 BIG BARE COCKS: Craig Marks, Tomas Brand, Andrey Vic, Pol Prince | Raw Foursome
There's no better foursome than one that features these four power-house Lucas Men models: Craig Marks, Andrey Vic, Pol Prince, and Tomas Brand, the King of All Muscle Daddies. And even though Tomas Brand comes off as a powerful alpha-male top, he has a submissive side and likes to get his ass fucked every once and awhile. And he gives it up to the tall, blue-eyed beauty that is Craig Marks, who penetrates Tomas and goes balls-deep in the macho daddy. All the while, Andrey Vic and Pol Prince are taking turns fucking each other up the ass. And to think, all of the incredible action started out as some foreplay in the pool! Don't miss the incredible dick-sucking and ass-fucking action starring the Lucas Men Craig Marks, Tomas Brand, Andrey Vic, and Pol Prince!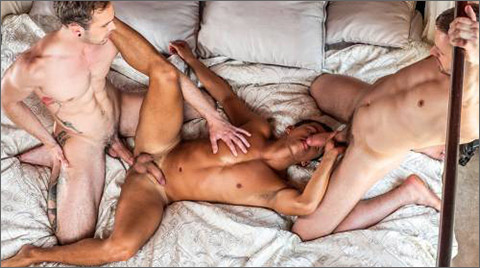 BANGING RUSLAN'S BUBBLE BUTT: Drake Rogers And Dante Lauro Service Andrey Vic's Uncut Dick
The handsome Ukranian hunk Andrey Vic is always in sexual demand. There are a lot of guys that want to go to bed with him, and sometimes he has to double up by rolling around with two guys in the sheets at the same time. It's cool, though he has plenty of sexual stamina, such as with Drake Rogers and Dante Lauro. Dante and Drake both take turns riding Andrey's fat uncut cock until their balls pump some cum!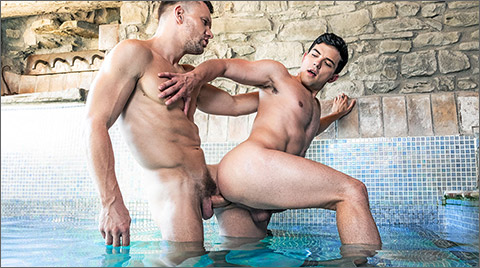 FUCKED WIDE OPEN: Dakota Payne Opens Wide For Andrey Vic
Dakota Payne is hanging out in the pool when his buddy Andrey Vic stops by. Dakota has always had a major crush on Andrey, and the thought of bottoming for him is an ongoing point of excitement. Andrey finally gives Dakota exactly what he's been looking for; Dakota blows Andrey's uncut cock in the pool before taking a seat on the erection and bouncing up and down in the water (including an underwater shot). Eventually they take it outside the pool where Dakota opens his legs wide for Andrey's raw meat.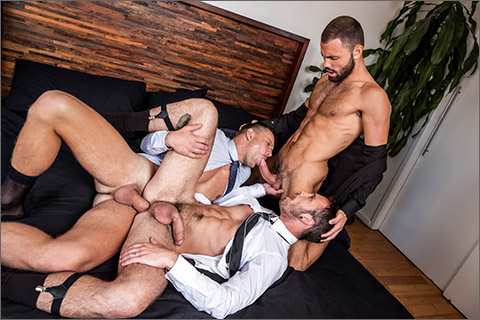 GENTLEMEN 26: LONG, HARD HOURS: Drake Rogers Works Hard For Jeffrey Lloyd And Andrey Vic
Drake Rogers has never been a guy to turn down an opportunity to get ahead in life, and if that means taking off his clothes and fucking his way to the top, he's up for it. But if Andrey Vic and Jeffrey Lloyd were your professional superiors, you would not have any issue turning unethical for an evening and fucking your bosses. Not only does Drake ride Jeffrey's huge, fat uncut cock, but Drake also gets Andrey on his back and fucks him in his ass!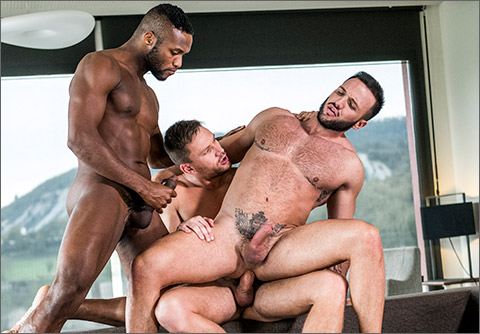 DONATO REYES' BAREBACK PREMIERE: Donato Reyes' Bareback Premiere With Andre Donovan And Andrey Vic
Donato Reyes has been out of the gay porn industry for four years now, and when he was actively filming he never once starred in a bareback sex scene. Donato is now back and he's chosen Lucas Entertainment as the studio where he's making not one, but two debuts. You'll get to see Donato in a never-before-seen gay bareback sex scene for the first time ever, and it's his first scene filmed in four years! Lucas Entertainment exclusive models Andre Donovan and Andrey Vic were hand-selected to pop Donato's bareback cherry. Andre is the first to slip in his raw dick as he goes back and forth fucking Donato Reyes and the Russian star Andrey. Afterward, Donato is used from both ends as Andre gets his cock sucked while Andrey fucks the cum out of Donato!

GENTLEMEN 25 – EDJI'S THE BOSS: Braxton Boyd And Andrey Vic Flip-Fuck
When Andrey Vic and Braxton Boyd first started working with each other at the office, it was casual. But as they got to know one another more and more, the attraction was undeniable. Braxton is tall and slender, and Andrey is thick with muscle. One day when no one else is around, they finally let go of their inhibitions and pull down their pants for some bareback play. They two studs don't even fully undress from their business attire before hopping on each other's cocks for a bareback ride!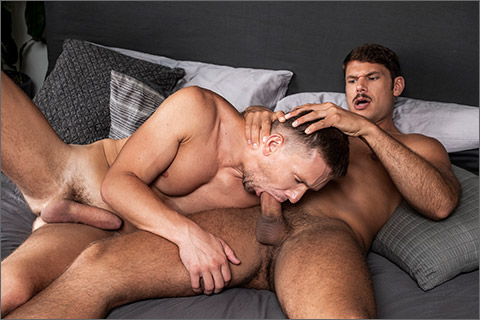 READY 4 DICK: Tyler Roberts Tops Andrey Vic Bareback
The sexual appetite of Tyler Roberts knows no bounds. He and his boyfriend, Jesse Santana, have an "open relationship" policy because Tyler cannot get enough dick sucking and wetting his raw meat in some bottom's ass. Tyler, too, makes it a point to talk guys who usually top into bottoming for him. Andrey Vic is really turned on by Tyler and his jock look, and it doesn't take much convincing, because before long Andrey is on his back getting his ass railed by Tyler!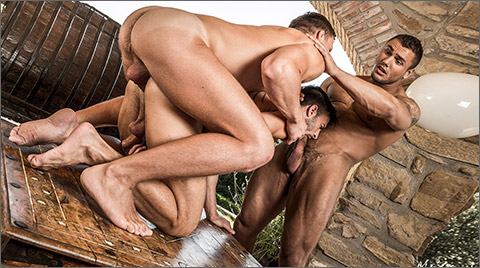 CUM HUNGRY BUTT SLUTS: Brock Magnus And Andrey Vic Double-Team Andy Star Raw
Andy Star is a cock-hungry power bottom who has proven his ability to handle two strong powers tops at the same time. Andrey Vic wants another go at Andy, and this time he brings along his buddy, the muscle jock (and new Lucas Entertainment exclusive model) Brock Magnus. Andy Star is turned on big time by worked-out guys with huge hulking bodies; because of this, he spends some time sucking on Brock's chest before taking the jock's cock down his throat while Andrey fucks him. Andrey and Brock switch off, and Brock Magnus mounts Andy Star for some hot gay bareback action!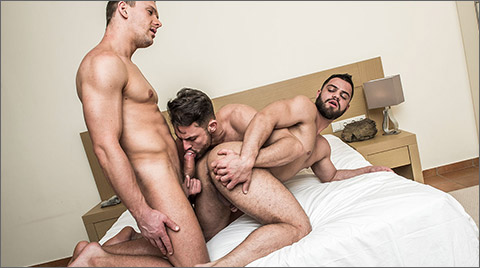 BOTTOM BOY BITCHES: Andrey Vic And James Castle Spit-Roast Ares Fly
Ares Fly is truly in his element when presented with two cocks to service. Andrey Vic and James Castle are both looking to get off, and that lands them in bed with Ares, who couldn't be more excited to help them out. Since Ares Fly loves sucking dick as well as getting fucked in the butt bareback, both his holes are put to use. Andrey Vic is the first to loosen him up while James gets his dick sucked, and then they switch off. Note that fans of ass-to-mouth get an extra something special in this scene!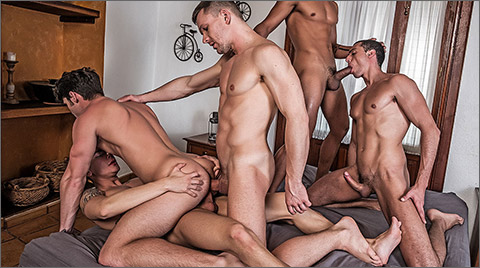 RAW DOUBLE PENETRATIONS 5: Devin Franco, Andrey Vic, Javi Velaro, Drae Axtell, Angel Cruz | Raw Double-Penetration
Devin Franco is the center of attention in this five-way raw fuck fest, and it's Andrey Vic who takes a special interest in pounding his ass bareback. Angel Cruz, Javi Velaro, and Drae Axtell get in on the fun — and it's guaranteed that you'll see plenty of thrusting asses and hard cocks ready to cum. But not before Andrey and Angel squeeze into Devin's ass and fuck him together. Two cocks in one butt is a lot of bottoming to handle, but Devin is up for it. He's one dependable bottom!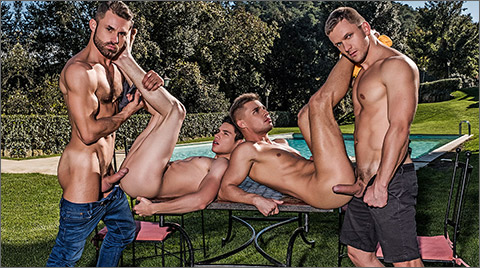 ASS-FUCKING ALPHA MALES: Klim Gromov and Ricky Verez Bottom for James Castle and Andrey Vic
Blue-eyed Russian twink Klim Gromov and sexy Latin twink Ricky Verez are two wild bottoms who need a firm hand to keep them in line and teach them how to be good receptacles for raw cock and cum. James Castle and Andrey Vic both have the skill and patience to show Klim and Ricky how to properly service the rock-hard cocks of no-bullshit alpha males. Ricky Verez and Klim Gromov both enter into the sexual encounter cocky and full of themselves, but when they wind up getting their asses pounded without mercy by James Castle and Andrey Vic, their attitudes change and they learn their place as submissive bottoms.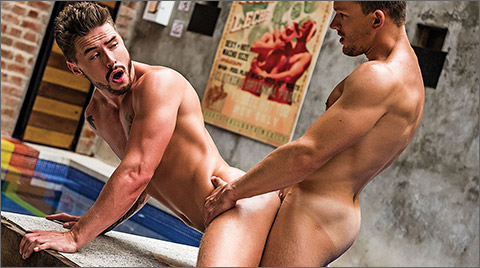 GREEDY HOLES: Andrey Vic Fucks Josh Rider's Ass Raw
Andrey Vic takes a break and soaks up some sun after his intense orgy encounter with Dylan James, Drae Axtell, Stas Landon, Alejandro Alvarez, and Koda Gold. Andrey might be tired, but Josh Rider isn't. He wasn't around for the orgy, but he's watching Andrey from afar and manages to sneak a smell from Andrey's swim trunks. But why stop at sniffing' When Andrey figures out what's going on, he finds new energy and gives Josh Rider what he really wants — a deep fucking with his uncut cock!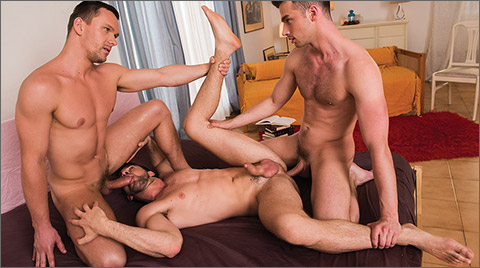 BAREBACK AUDITIONS 4 – RAW RECRUITS:
Damon Heart And Andrey Vic Double Team Zander Craze
Zander Craze has a gift for taking control of any Lucas Entertainment scene, and it's enhanced when he's getting fucked times two! Damon Heart and Lucas Entertainment newcomer Andrey Vic have a good time bending Zander over and fucking him deep and hard in the ass. That's not to say Zander doesn't want to give his dick some exercise: Damon is no stranger to getting fucked by Zander and happily takes it, and Andrey gets a poke in the butt too.
CLICK HERE TO GO TO HIS LUCAS ENTERTAINMENT DETAILS